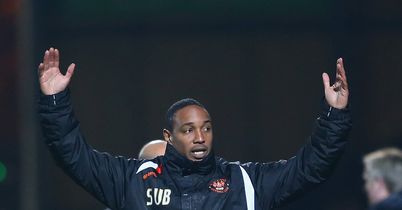 Blackpool FanZoner Adam Ogden breathes a sigh of relief after Paul Ince's sacking, and hopes that the club can get back on track this season.
I hate to say it but what a relief!
Over the last two years we have been manager-less enough times for me to be fed up with it. But for a change most Blackpool fans will be pleased to see the back of Paul Ince.
It's a cruel sentiment. I have no doubt that Ince worked extremely hard and was passionate to do well, and to give him his due he did the job that was asked in keeping us up last season but this year has just not been good enough.
There was always a feeling that our superb start to the season was a bit of a fluke. Our philosophy was to play a very negative style of football, keep a clean sheet and hope we grabbed a goal to snatch a win.
Amazingly, for the first few months of the year, it worked, before unraveling disastrously.
A defensive style of football only tends to be successful when you are able to defend. At the start of the season we were keeping clean sheets and picking up points, but the moment that we became leaky at the back, all hell broke loose.
Couple that with the fact that we can't score either and you've got a recipe for disaster.
To put it simply, nine defeats out of ten is not good enough. In fact, it's abysmal and would make an untenable situation for even the most revered of managers.
The results alone were enough to mean that Ince needed to be relieved of his duties, but believe it or not they weren't the only reason why Pool fans wanted to see the back of him.
Aside from being negative, defensive and dull, the Seasiders had become thuggish too.
The team have had more sending offs than victories this season. For a club that used to be timid and complain they were fouled all the time the tables had definitely turned.
Safe to say, everything had gone very wrong.
The same club that were previously a breath of fresh air had been turned into a horrible hungover morning whiff.
But hopefully that period is over and we can move on with a new manager. Big bad Barry Ferguson is in temporarily and I'd bet a bit of Glaswegian gold on the fact that he'll be the front runner to get it on a permanent basis providing he starts well.
Barry has seen the club change dramatically over the last few years, and has been no stranger to venting his frustration about it.
Hopefully he'll have the passion and knowledge to start turning the ship back around. Nobody is expecting miracles of him
UTP
By Adam Ogden, FanZone's Blackpool blogger. Follow him on Twitter at @acogden - and don't forget to follow @FanZone too!