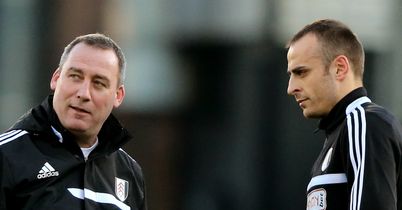 Fulham FanZoner Andy Lye expresses his unhappiness at the club's transfer dealings so far, and doesn't see things improving at Craven Cottage.
So the other thing that's going on at the moment, or at least is going on around us while we sit idly by and watch, is the January transfer window. And like everything else, our poor form and league position are affecting things.
This window is not just about signing new players and selling unwanted ones, it's also about extending the contracts of players who will otherwise be free agents in the summer. They can start talking to other clubs once they enter their final six months, and we have several of those. So far Steve Sidwell has turned down the extension offered to him, and Alex Kacaniklic has signed for just one more year, which shows that either he no longer believes Fulham is the best place for him long term, or he's safe-guarding himself against the possibility that we go down this year, and fail to come straight back up next year.
With Sidwell it's more than likely about length of contract than anything else. Given his age, we're probably trying to get him on a rolling one-year deal and he wants to have at least two years. It's probably something that will get solved, but it's another sign that we are struggling to get people to commit.
And if we're struggling to get the players we've already got to commit, what does that say about our chances of attracting new players? Before Christmas every transfer-related story which mentioned Fulham was usually a player stating he won't be joining us. Since Christmas it's been a string of failed attempts to sign players, including most publicly Ravel Morrison and Liam Moore, but there are no doubt countless others. I'm not expecting our bid for Neil Taylor to be accepted either.
What we have managed to do, and not a moment too soon, is rid ourselves of the lightweight and ineffective Bryan Ruiz for the rest of the season, which if nothing else frees up a spot in our crowded squad to bring in someone new.
In actual fact, squad places are at a premium. By my count, with the signing of Clint Dempsey, we started 2014 with a full complement of 25 over-21 players in the squad (I think Dan Burn and Pajtim Kasami don't count because they were 20 at the start of the season), and by the end of January we have to declare the 25 that will play the rest of the season.
So if we want to strengthen, we've got to shed a few. Ruiz is one, and Derek Boateng looks like a certainty to go out on loan as well. We could be tough and exclude Matthew Briggs from the named squad if he's still a long way off full fitness, but in all honesty we need to do more than that, and one space we thought we would have available, that of Dimitar Berbatov, now seems to be a non-issue if the latest comments from his agent are to be believed.
The Dempsey signing actually doesn't help on this front. Given that he'll be here at the end of January we will have to declare him in the squad, but one month later he'll be gone again, so for the final three months of the season that is actually a place wasted that we won't be able to fill unless we sign free agents.
Convincing Berbatov to stay as Rene Meulensteen has apparently done is a bad move. If he's done it in the hope that Berba will sign a contract extension in the summer then he's done it in vain, because there's no way that will happen. Once he's available on a free there'll be an endless list of clubs, mostly in Europe, who will give him a longer deal, or will pay him more, and he'll go. This was the time to cash in (albeit at a loss).
If he's done it because he thinks Berba is vital to our survival, current form strongly suggests otherwise, and a big concern is will keeping him put the club off of spending money on the new striker we desperately need? It shouldn't because Berba was never going to be worth enough money to finance a replacement anyway, but the danger is they'll think we don't need anyone. Even if they still look for someone, everyone is going to know they'll never be first choice with him around.
Apart from needing at least one dependable, quality striker, it is essential we find a back-up centre back to sit on the bench with Aaron Hughes, a back-up right back in case the unthinkable happens and Sascha Riether gets injured, and a proper left back because John Arne Riise's rapidly dwindling pace is a problem (see Adam Johnson's second goal for Sunderland) and we all know Kieran Richardson won't stay fit. At least rumours of Lazio being interested in Philippe Senderos could be a blessing. I'm sure most fans would gladly pay Lazio to take him, and throw in Fernando Amorebieta for free.
Not being able to loan anyone from domestic teams is definitely creating a huge problem for us, and judging by the depressingly regularity with which we're getting bids for average players rejected, it seems we're not offering enough money to buy alternatives either. Trying to persuade Porto to loan us Steven Defour, and the link with want-away Man City youngster Abdisalam Ibrahim, are more exciting prospects, and we can only hope the new brain trust we've got at the helm have a few more international connections than we're aware of.
By Andy Lye, FanZone's Fulham blogger. Follow him on Twitter at @jukeboxmetal - and don't forget to follow @FanZone too!