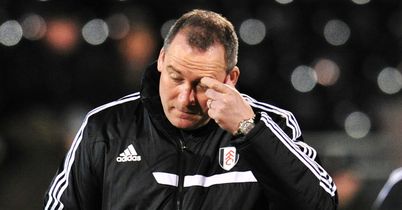 Fulham FanZoner Andy Lye believes poor tactical decisions are costing the Cottagers, and hopes the club's new signings can turn things around.
We'll have to wait until Sunday's game at Old Trafford to really see if what was probably our best transfer deadline day ever will have the effect we want, but if our desperate need for energetic players wasn't already evident, the old ones made sure it was beyond doubt with their performances this week.
We've gone backwards, it's fair to say. In fact, if I didn't know better, I'd say we were still playing under Martin Jol. When Rene Meulensteen took over our play improved overnight, and that was primarily down to one simple thing: he picked a balanced team with players in their correct positions.
Suddenly he's stopped doing that, and is compounding the issue with ludicrous substitutions, just as Jol used to. The team line-up against Southampton was obviously wrong from the moment it was announced. Against a quick team we had no pace in the starting 11 at all, with the players who should have been first choice (Ashkan Dejagah and Alex Kacaniklic) sacrificed seemingly to shoehorn new loan singing William Kvist into central midfield alongside established pair Steve Sidwell and Scott Parker.
Obviously Lewis Holtby needed to start as well, so he was stuck out on the right so, along with Rene's inexplicable persistence with Damian Duff, whose lack of confidence going forward is easy to see, we lined up with no real wide options.
Inevitably Holtby was rarely out on the right, often cutting inside to look for the ball, and with three central midfielders we crowded ourselves out in the middle. Southampton therefore enjoyed a lot of space down the flanks all day.
But the new ones were our best players. Kvist kept his passing neat and accurate, tackled sensibly, and didn't stop running. Holtby similarly was full of running and, despite a few wayward passes, he was easily our most eager, creative player. Meanwhile Sidwell was appalling, and Parker was largely anonymous having apparently lost the confidence to pass. Up front Darren Bent was also dreadful, and shouldn't have been allowed to stay on for 19 minutes, let alone the full 90. How Rene couldn't see it was a mystery.
Bent and Sidwell were the obvious changes to make, for Hugo Rodellega and a winger respectively. That would allow Holtby to move inside and feed the striker. Instead Clint Dempsey and Pajtim Kasami came on for Parker and Duff, so we still didn't have any wingers on the field and effectively had three number tens all trying to play in the same place.
Against Sheffield United, Parker was absolutely awful and looked completely demoralised. The famous pirouetting in the centre circle has started, which is a clear indication that he doesn't have the confidence to look for a pass forwards, and after an hour he simply stopped running.
Several out of position players, including Muamer Tankovic lost in central midfield, and Kasami on the right wing, doing his level best to replace Dimitar Berbatov in the ineffective-but-stroppy stakes, likewise had bad games, and although Kacaniklic got the start he deserved, Dejagah was once again left out. What he's done wrong to deserve being dropped so often is anybody's guess.
Meanwhile Rodellega had to put up with barely getting a sniff of the ball as the midfield queued up to pass backwards, so we had to rely, bizarrely, on Brede Hangeland and Dan Burn attempting long range passes to get the ball forward. Unsurprisingly that didn't work.
The solution was again simple. Giorgos Karagounis for Tankovic to get a bit of energy and confidence into the middle and allow Parker to drop back without the pressure of needing to go forward, and Dejagah for Kasami to get some pace down the right.
Instead Rene hauls off the only two players in the side who might actually achieve anything if given the chance, Kacaniklic and Rodellega, to bring on Duff and Dejagah. Kasami then spent the next few minutes completely lost because he didn't know where he was meant to be, while Rodellega looked like a man who wished he'd left in January.
I honestly thought we finally had a manager with a real tactical mind, but the last two games haven't provided particularly compelling evidence, and I'm getting tired of looking for small positives in otherwise diabolical performances. Sacking him would be a mistake, especially after backing him so heavily in the transfer window, but the new recruits simply must do the business.
Starting with Man U we have got to get a balance back to the team, get as many new players, hopefully untainted by the awful season we've had so far, into the side as possible and hope their work rate is high. If that means sacrificing Parker, Duff, Kieran Richardson, or anyone else, so be it. Every week it feels like the opposition has more men on the pitch than us, and that's because we simply aren't working hard enough to cover the pitch and close down the ball or break quickly.
That means big new striker Kostas Mitroglou must start, with Holtby behind him. We need to use real wingers, with Kvist and one other (this should really be Karagounis, at least for an hour) in the middle, and John Heitinga at left back. Although not a natural left back, he is athletic and tough-tackling, which is something we often lack in that position, and is desperate to prove a point and get into the Dutch World Cup squad.
The new signings really seem to be our only hope, because most of the old players look like they've already given up. We look like a team going down, and must change that attitude. We've ejected the right players from the squad (Senderos, Ruiz, Berbatov), and on paper signed a lot of quality, so all hope isn't lost just yet.
By Andy Lye, Fulham's FanZone blogger. Follow him on Twitter here, and don't forget you can follow @FanZone too!