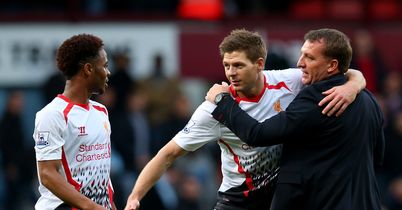 Liverpool FanZoner Richard Garnett says Man City will need 'to play the game of their lives' to win the potential title decider at Anfield.
In an era of diamonds, false nines and full-backs that play ahead of midfielders, it is reassuring to know that Sam Allardyce sticks to his principles and continues to practice the art of agricultural football.
That the once fashionable West Ham United employ this strategy may come as no shock given who their manager is but what may have surprised many is the fact that Liverpool were up to the task.
Critics were quick to latch onto Martin Skrtel's risky shirt-pulling a couple of months ago but they have been less assuming in recognition of the Slovakian's stalwart performances at the heart of defence during the now nine-game winning streak.
With Daniel Agger nursing another knock, Mamadou Sakho made a return to the side and performed with an assurance that suggested the Dane's re-selection might not be a formality.
Liverpool have blown teams off the park this season with scintillating attacking play but in the last two weeks they have been asked to dig deep against Sunderland and latterly the Hammers.
They have passed the test.
Be in no doubt, this is a Liverpool side whose targets have been realigned to achieving what was unthinkable at the start of the season.
They remain on target in that quest not just because of Brendan Rodgers' astute tactical alterations, but because this group of players want it badly enough to keep their focus in the most trying of circumstances.
Whilst the Premier League's best strikers, Luis Suarez and Daniel Sturridge, pick up plaudits for the 49 league goals they have plundered between them, Liverpool are being navigated on the path to greatness by an Anfield legend who knows exactly what it will take to become champions of England.
They say you have lose to win and Steven Gerrard has a career of false dawns in the Premier League to draw experience from that can help get his talented team of magicians over the line.
His ice-cold performances from the penalty spot tell only half the story. With every passing victory the captain's influence has been exerted furthermore.
Gerrard will be hoping to avoid the yellow card on Sunday that would disqualify him from participation in the subsequent matches against Norwich City and Chelsea but don't expect that to curb his control of proceedings an iota.
With only Agger nursing a knock, Liverpool are primed for an assault on the last five games of the season and the supporters will help push them to the very limit of their capabilities.
If City are worried about the trip to Anfield then they have good reason to be.
Supporters will congregate early on Sunday morning as Anfield prepares for it's most important league match since 1990.
These partisan fans are not going to be phased by the visit of the billionaire Premier League favourites.
That only adds fuel to a flame, which by 13:37 will explode into a cauldron of noise Manchester City's players will not have experienced before.
On paper, next Sunday's lunchtime duel would be regarded as the Premier League title decider.
But with another four games to play afterwards (six for City) including the visit of Chelsea this is just another game that needs to be won for Liverpool.
Manchester City know that if they can win at Anfield, they will remain in control of their own destiny but to even be in with a shout of doing that, they are going to have to play the game of their lives.
On the cusp of the 25th anniversary of the Hillsborough disaster emotions will run high for all associated with Liverpool Football Club.
But for 90 minutes that energy will be harnessed in a stadium that was built for occasions such as this.
Only the Chelsea team and fans that came to Anfield in May 2005 know what Manchester City can expect on Sunday. Don't be surprised if the intensity surpasses it.
Liverpool Football Club is on the march. Stop them if you can.
You can follow Richard on Twitter here, and don't forget you can follow @FanZone too.