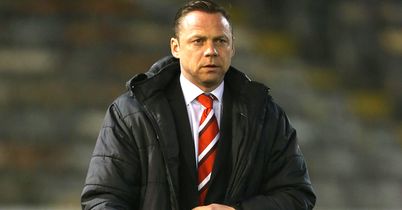 Doncaster FanZoner Rich Colby looks at the reasons behind his side's demise, but believes all hope is not lost just yet.
It comes to all football clubs at some point in their lifetime when their destiny, whether it be for a championship, a play-off place or survival, is no longer in their own hands.
Unfortunately this kind of fate has visited Doncaster Rovers after Saturdays 3-1 defeat against Reading. I think most Rovers fans would confirm that after next weekends final game against Leicester, they would expect to be a League One team again.
However there is still a glimmer of hope left. That hope being that The Blues of Birmingham City continue to be as woeful over the next week as we have been over the last month.
On Tuesday evening they host Wigan Athletic, still fighting to remain in the play-off places and visit Bolton Wanderers, who are on a decent run of form in the final league game of the season.
Defeats in both games would guarantee Rovers survival. One point for Birmingham would plunge Rovers into the relegation zone if they are defeated at Leicester on the final day.
All Doncaster Rovers fans including myself are asking the same question. How have we got ourselves into this mess? After defeating Leeds United 2-1 at Elland Road on 29th March, we were 8 points clear of the drop zone. Another 4 points from the remaining from the remaining 7 games would have guaranteed Championship football for another year, we've sadly picked up 1.
We just seem to have run out of steam at a particular point in the season where other teams in the basement battle have managed to 'dig deep' and find points where they wouldn't be expected too. Blackpool being a prime example. On Good Friday they lost 1-0 at home to Burnley, I looked at them and thought they were finished and were a cert for one of the relegation places. Just over a week later they have picked up a point at Brighton, collected all three at Wigan and virtually guaranteed their safety.
As always after games you get the social media knee-jerk reactions from supporters. Of course everyone's opinion is valid, but the bigger picture is often abandoned.
Much blame has been placed on the manager, individual mistakes from players and even the Charlton Athletic debarcle back in August.
This was the game of course where the game was abandoned due to torrential rain where Rovers were leading 3-1 at the beginning of the second half. As fate would have it, Rovers lost the replayed game 2-0.
I can understand supporters feeling aggrieved in this situation but again, bigger picture required.
At 3-1 on a waterlogged pitch we were down to 10 men and had almost a full half to play. Nobody could guarantee that all 3 points would have been collected. Plus there were a further 43 games to collect said lost points from at the time.
I prefer to look at it as a team effort rather than bad luck or individual errors. Just from the top of my head, Blackpool (H), Wigan (A), Barnsley (H) and Nottingham Forest (H) have produced late goals from the opposition that have resulted in lost points.
Seven to be precise just from these games. It hasn't happened often but abysmal team performances at Middlesborough, Yeovil and Bournemouth are 9 points that may as well not have even been available in the first place. And then there's the one point collected from 18 available in the last six games. These are the reasons why our fate is no longer in our own hands going into the last week of the season.
Something good to come out of the club this week is the number of youth team players who have been offered pro contracts.
These players will be in good hands under Brian Flynn next season as they continue to work their way up towards the first team. If the outcome of the first team does result in League One football for 14-15, I'd personally like to see some of the players from our development squad gain more minutes next season. Liam Wakefield, Alex Peterson and Luke McCullough have all had a taste of first team action this season and in my opinion didn't look too out of place given their age. Put these players in a League One team surrounded by some experience and creativity in Jamie Coppinger, Harry Forrester, Chris Brown and potentially Richie Wellens and this could result in a bright future. The emergence of James Husband from youth team to first team regular is a prime example.
All is still not lost. We have to go to the champions of Leicester City next week and be positive in everything we do.
We have focus for a full 90 minutes. We have to chase everything including every 'lost cause'. We have to take any chances. We have to believe throughout the club, players, management, tea lady and fans. From there on you never know, anything could happen.
By Doncaster FanZoner Rich Colby. Follow him on Twitter here, and don't forget you can follow @FanZone too!