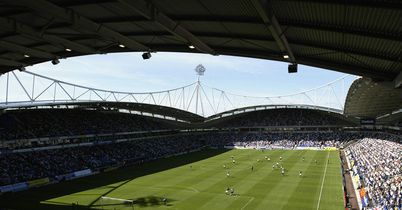 Week one of our Insider feature ends with TEAMtalk's staff joining fans to predict the outcome of Stoke's season and their opener at Bolton.
We launched The Insider on Monday and have this week given you an exclusive look at the differences between a Championship and Premier League club.
Our feature will be running for the entirety of Stoke's first season back in the top flight, though, and one of our weekly features will be 'Potters Predictions', which will see our journalists pit their wits against supporters to predict the outcome of the weekend game.
Our first edition also sees us rate City's chances of survival for the season, with TEAMtalk's own Insider, Mark Holmes, joining Editor Simon Wilkes, Deputy Editor James Marshment, Potters fan James Knowles and Bolton fan Danny Warbrick to have his say.
Mark Holmes (TEAMtalk's Insider): It's been a mixed summer with Stoke, with the buzz of promotion and a good set of friendly results offset slightly by a lack of signings. Amdy and Abdoulaye joined on Friday to make it five, though, and there is now genuine optimism that we can compete with the big boys.
We still desperately need another winger and at least one full-back but Tony Pulis has promised more signings so I'm very hopeful. We've got a solid base of pace, power and strength and, while it may not be everyone's cup of tea, it will ensure us some good results.
We're also nowhere near as one-dimensional as some people would have you believe and have arguably made the best signings of the three promoted sides, with Newcastle's Faye the best defender and Dave Kitson the best striker.
I'm a bit worried about how the defence will cope but I actually see a fair few goals in us, particularly with our threat from set pieces. I'm going to stick my neck out and say we'll finish 16th - two places clear of the bottom three.
Prediction v Bolton
As for Saturday, it will be tough but I'm hoping we can do what newly-promoted teams so often do and cause a first-day shock. I fancy a 2-1 win with Ricardo Fuller coming off the bench to set up Richard Cresswell a late winner.
Simon Wilkes (TEAMtalk Editor): Let me get one thing clear before I begin - I hate Stoke, almost as much as Wolves. But there's a reason why - we never, ever beat them (just one win in the last 22 league meetings) and they are comfortably our bogey team, which is worrying as we both head into the Premier League.
Last season's promotion, however, was fully deserved - and those tipping for them an instant return may be in for a surprise.
Tony Pulis' troops will certainly not 'do a Derby' as they play as a unit, are physically imposing and fight for each other. Some pundits have likened them to Bolton, but I'd say they're more comparable to Harry Redknapp's powerful Portsmouth line-up as alongside giants such as Carl Cort, Ryan Shawcross and Mama Sidibe they also have players like Glenn Whelan and Liam Lawrence who have real class on the ball.
Then in attack they have the pace and power of Ricardo Fuller allied with the eye for goal of Dave Kitson, who could well net 15 Prem goals as he'll play virtually every league game.
It will be a long, hard battle for survival - but they'll take a few scalps along the way, with the likes of Arsenal always having struggled against such fearsome, disruptive opponents.
Prediction v Bolton
The Potters open up at The Reebok this weekend, and although I think Gary Megson's men will win 2-0, I can seriously see the Trotters dropping out of the top flight this season, with Stoke fighting for their Premier League lives right until the final whistle.
James Marshment (TEAMtalk Deputy Editor): The Potters are amongst the bookmakers' favourites to make an immediate return to the second tier, but if they do go down, it won't be without a fight. Tony Pulis might, for me, be a little one-dimensional when it comes to tactics, but you have to play to your strengths in this, or any division, and Stoke - physically speaking at least - are capable of mixing it with the best.
With the key additions of Abdoulaye Faye, Dave Kitson and Thomas Sorenson supplementing the skill and guile of Liam Lawrence, I think Stoke have more than a fair chance of survival and I think they'll take it and finish 17th.
Prediction v Bolton
Bolton on the opening day should provide Stoke with a chance to get some immediate points on the board - and I expect them to take that chance too with a 1-0 success.
James Knowles (Stoke season ticket holder): We've added five players so far, the most impressive being Reading's Dave Kitson for a club record £5.5million. We're all hopeful he can come up with a similar return to what he achieved last season at Reading (10 goals).
Despite having plenty of money at his disposal, Tony Pulis is looking for the right character of player to add to the ranks, resulting in him turning down an exciting move for Valencia's Nikola Zigic.
However, supporters must trust his judgement after he guided Stoke to an extremely unexpected promotion last year. His record in the transfer market is largely superb and if anybody can keep Stoke afloat this season, it is Pulis.
His style might be rather dull on the eye at times but if it means 'parking the bus at Stamford Bridge' (thank you Mr Mourinho) to get a point then so be it.
We aren't going to play the attacking style of football you might see at The Emirates but they will certainly fight. And Pulis won't accept anything less than 100% from his troops - a philosophy I wholeheartedly agree with.
Make no mistake, Stoke won't 'do a Derby'. It will be a tight season at the bottom end and I hope the new faces at the Britannia Stadium have enough class to keep us above the drop line.
The positive side of me predicts we will narrowly stave off relegation with a victory against Wigan in the penultimate game. West Brom, Blackburn and Hull will fall through the trap door.
Prediction v Bolton
And I'm going for a 1-0 win on the first day too. The sun will be shining, the Stokies will be in tremendous voice and Megson's Bolton won't know what has hit them. A well discplined rear-guard effort from Stoke will lead to Johan Elmander being subbed and a corner from Lawrence will be headed home by Ryan Shawcross in the 79th minute.
Danny Warbrick (Bolton fan from fanzine and forum Burnden Aces): With Stoke being many people's tip to be in the bottom three I feel they may surprise a few people. They have made a some shrewd buys, the latest being Abdy Faye who Bolton and Newcastle fans both rate very highly. If Kitson does what he is capable of then he should bag enough goals to see them to safety.
I'm glad that Bolton will be facing them at home as I wouldnt like to be the first team to visit the Britannia - it will obviously be rocking and I can see them beating a lot of teams there early on. If Stoke can get points from the teams in and around them I see them having enough to stay up, but it will be very close, and they'll require their fair share of luck.
Prediction v Bolton
It will be a close game, but I think Bolton will just about scrape it. A close 1-0 or 2-1 will do me fine and I can see a debut goal from Elmander.