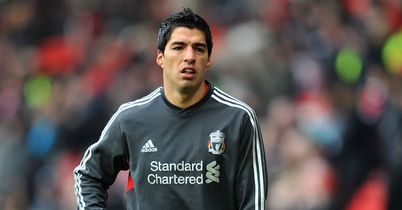 Mark Holmes rips into Luis Suarez and warns of the possible downside of Wolves' decision to sack Mick McCarthy in his latest Monday Moan blog.
In last week's blog I criticised the Football Association for their handling of the John Terry affair and this week it is Luis Suarez that receives my ire. I'm equally critical of certain Liverpool fans for the part they have played in the race row, while I've given my thoughts on Mick McCarthy's dismissal as Wolves manager.
Suarez should be disciplined by Reds
A few weeks I ago I said I was sick of the constant talk about petty matters such as the pre-match handshake but I found Suarez's actions at Old Trafford on Saturday completely abhorrent.
He maintains he did nothing wrong at Anfield back in October so, when faced with the man he believes got him unfairly suspended for eight games, I can understand why he may be reluctant to shake hands.
However, whether you agree with him or not, Patrice Evra himself believes he was racially abused by Suarez, yet he was prepared to put the issue to bed with a handshake. That Suarez could not do the same reflects badly on Liverpool and I firmly believe the Reds' hierarchy should fine the striker for bringing the club into disrepute.
Kenny Dalglish has been misguided at times, but he has always tried to act in the interests of the club. Even if you are of the opinion that Suarez did nothing wrong back in October, failing to shake the hand of Evra has created a fresh storm the club could well have done without and Suarez simply has to be punished.
Fans must Kop some blame for sorry mess
I am in the minority, but I don't particularly blame Dalglish for the past few months of madness. He has stated a number of times that he is acting in the interests of Liverpool and in the main I think he has done.
You could definitely argue that he could have prevented all the tribalism if he had spoken out against Suarez at the earliest opportunity, but the Uruguayan is the club's star player and was adamant he had done nothing wrong. He protested his innocence so vehemently that I highly doubt he would have wanted to stay at Anfield had his own manager criticised him for something he swears blind he has not done.
Furthermore, not for the last time, it appears Suarez misled the club in terms of what he actually said to Evra. I don't blame Dalglish for believing his own man's side of the story or for subsequently backing him to the hilt.
However, I think the club's owners took far too long to intervene. They should have taken the matter out of Dalglish's hands from day one but they hung the Scot out to dry. What's more, their statement which appeared in the immediate aftermath of Evra's allegations was one of the most unprofessional and more importantly unhelpful things I've ever read. Dalglish as the figurehead for the club was always on a hiding to nothing.
Thankfully, it would appear Fenway did finally intervene on Sunday evening, with Dalglish, Suarez and Ian Ayre all issuing apologies for the striker's failure to shake Evra's hand.
However, this all came after yet more ridiculous conspiracy theories from Liverpool fans - and it is their behaviour during all of this that has annoyed me more than anything else.
I know some dyed-in-the-wool Reds that are horrified by the whole saga but there is a proportion of their supporters that will stop at nothing to defend their player.
I understand their wish to stick up for Suarez, I really do, but sometimes as fans you just need to take the criticism of your club with a dignified silence. As Martin Samuel said on Sunday Supplement, I don't know one single neutral who can see this from certain Liverpool fans' point of view.
Suarez admitted himself to using the word 'negro' in what was a clearly confrontational situation and he was found guilty of racist abuse after an exhaustive investigation. He then refused to shake the hand of the man he was found to have abused and yet some Liverpool fans believe the criticism of their club comes from a pro-Manchester United or anti-Liverpool media.
Conspiracy theories have ranged from the FA committee being put together by Sir Alex Ferguson to Evra purposely lowering his hand to avoid the hand shake with Suarez. It's pathetic. Utterly, utterly pathetic and not even worthy of a response.
To all you Liverpool fans that have acted in a dignified manner, well done, but the rest of you are even more guilty than Suarez for the huge damage you have caused your club.
Hopefully now, following the long-overdue intervention from the club's hierarchy, we can get back to talking about football and all the progress Liverpool have made under Dalglish and Fenway. But that'll only happen once you myopic fans stop with the conspiracy theories and take some blame.
McCarthy sacking premature
It was announced just as I began to write this blog that Mick McCarthy had been dismissed by Wolves and my initial reaction is that it's understandable, but harsh.
After surviving in their first two seasons, Wolves fans will quite rightly have expected more in the third and I would agree that the team hasn't made the progress you would have expected from them this term.
I think Steve Morgan's intention was always to give McCarthy until the end of the season at least and I think that would have been fair. I think he'd have kept the Old Gold up and could have left with his head held high in the summer, but Morgan feels a change is needed after Sunday's 5-1 drubbing at home to West Brom.
Wolves have got a decent squad of players and we've seen countless times before the effect a new manager can have on a team so I can fully understand Morgan thinking Wanderers' best chance of survival is without McCarthy.
I do worry, however, that the decision may have been a slightly knee-jerk one after the Black Country derby. Steve Bruce and Neil Warnock have been installed as the early favourites to succeed McCarthy and I don't see either as an upgrade on the Yorkshireman.
Wolves have to make the right appointment and, for me, there is a dearth of suitable canditates available at the moment.
I'm staying on the fence for now, but Wolves fans should not automatically assume that this move will save their season - for it could just as easily ruin it.
Have your say
As always, I want to hear what has irritated you over the past week - Evra's behaviour after the game at Old Trafford was almost as bad as Suarez's before it - so get your comments in and, remember, you can also follow me on Twitter to hear me moan from Tuesday to Sunday too.