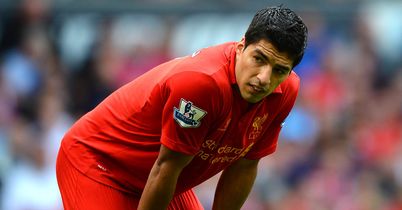 Mark Holmes sticks up for Luis Suarez, laughs at Sir Alex Ferguson's rant, and rues inconsistency at the Stadium of Light in his Monday Moan.
Last Monday I moaned about Jonjo Shelvey's red card, David Luiz's avoidance of one and the penalty Sergio Aguero was denied for trying to stay on his feet. This week I focus on similar topics after Luis Suarez was denied a penalty at Norwich, and Jordi Gomez was sent off against Sunderland. I also discuss Sir Alex Ferguson's moan about a lack of injury time.
Suarez deserves some slack
Liverpool manager Brendan Rodgers has suggested that Luis Suarez is being hampered by his reputation as a diver, with the striker denied a clear penalty at Norwich on Saturday.
I have moaned in the past that referees are sometimes guilty of judging players on their reputation - Lee Cattermole, for instance, is far more likely to be sent off for a tackle that Juan Mata might be allowed to get away with - so I understand Rodgers' frustration.
On the subject of diving, I have also regularly said that my problem is not with the players that 'make the most' of contact in the box. I would never defend a dive without contact or a dive which is engineered to create contact, but I do not blame players that fall theatrically to the floor upon feeling a touch in the box.
I don't like it one bit and wish the game would move away from the 'contact means foul' attitude, but it has been proven time and time again that players attempting to stay on their feet under contact do not get penalties. Their best option is always to go down to give the referee an easier decision.
Suarez is one of the most theatrical tumblers in the Premier League, but he almost always goes down under contact. And when referees themselves encourage players to do that, can we really criticise Suarez?
And, more to the point, how can those same referees not give penalties to Suarez for doing exactly what they ask him to?
I wish penalties were given only when contact is really enough to impede players but I can't see that happening for a long time unfortunately so Suarez should not be criticised for this theatrics and certainly should not be denied penalties that other players would get given in a heartbeat.
In a weekend which saw Jon Arne Riise blatantly dive to win a penalty and Ben Davies denied one for an equally blatant dive, Suarez deserves some slack.
Regarding the penalty he was denied at Norwich, it was noticeable to see Leon Barnett urging the ref to book the Uruguayan for simulation. As deplorable as diving is, attempting to get booked a player you know you have just fouled is equally as bad.
Ferguson a parody of himself
I'd be lying if I said I was annoyed by Sir Alex Ferguson's moan about the amount of injury time at the end of Manchester United's defeat to Tottenham. It was so ridiculous that you just had to laugh.
Even if he was right that more time should have been added on, he would do well to remember the amount of times opposition managers have complained about the excessive amount of injury time at Old Trafford down the years.
There's no doubting that top teams have to contend with time wasting from the opposition in the Premier League, but I think it's fair to say that few people would have had any sympathy for Ferguson on Saturday evening.
Ferguson went on to say that referees should not be in charge of time keeping, but it'd be madness to stop the clock for every stoppage in play as the United boss appeared to be suggesting as he complained about the amount of time Brad Friedel took over his goal kicks.
There are an awful lot of breaks in football, and I don't think it's excessive to suggest there'd be half an hour of extra time in a lot of games. Clearly, that couldn't be allowed to happen, not for the players and not for the fans. I reckon we can safely say Ferguson's idea is a non-runner.
Tackling laws need to be clarified
Ask any manager their biggest issue with referees and they will tell you 'consistency'. Rules are rules, but they seem to be interpreted completely different by different officials.
Last weekend I pointed out a 50-50 challenge in the West Ham v Sunderland game which went unpunished a day before Jonjo Shelvey was sent off for his challenge in a 50-50 with Jonny Evans, and this weekend we witnessed a lack of consistency in the same game at the Stadium of Light.
Jordi Gomez was shown a straight red card for a sliding tackle which, for me, was not even a foul, yet Sebastian Larsson escaped even a yellow card later in the game for a similar tackle on Arouna Kone that, if anything, was slightly worse.
There is a lot of nonsense said about 'two-footed' or 'studs up' tackles - Gomez could not possibly have got his trailing leg any further away from Danny Rose, and I'd like to see someone make a slide tackle from the front without their studs showing - but the fact is nobody seems to know anymore what constitutes a dangerous tackle.
If someone can explain why Gomez's tackle was a red card but Larsson's wasn't it may shed some light on the situation, but until then it looks like another shocking case of inconsistency.
Let me know what has annoyed you over the past seven days, and remember you can follow me on Twitter @Homzy.