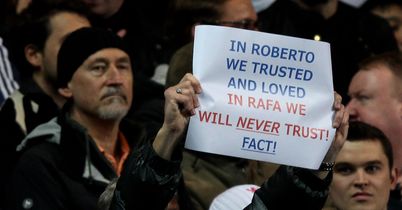 Mark Holmes urges Chelsea fans to forget the past, blasts the behaviour of West Ham fans at Tottenham, and urges discussion about another dive.
Last Monday I accused Mark Hughes of having delusions of grandeur and told Theo Walcott to stop moaning, and today I am critical of Chelsea and West Ham fans, and ask why Liam Ridgewell's dive has not provoked more discussion.
Chelsea fans need to forget past
I completely understand the anger of Chelsea fans. Roberto Di Matteo was a legend as a player at Stamford Bridge and he'll go down as a legendary manager too after leading the club to its first ever European Cup.
Yet he was axed by Roman Abramovich after a bad month of just two wins in eight games in all competitions. The Italian made mistakes - persisting with out-of-form players, for example - but his sacking was still incredibly harsh.
To make matters worse for Blues supporters, Di Matteo's replacement is Benitez, a man they they have hated with a passion since his time in charge of Liverpool.
Benitez managed the Reds during a time of an intense rivalry on the pitch with Chelsea, and it would be fair to say the Spaniard was not always entirely respectful about the London club and its fans.
In 2007, Benitez accused the Blues faithful of 'lacking passion'.
"We don't need to give away stupid plastic flags to our fans to wave, our supporters are always there with their hearts and that is all we need. It's the passion of the fans that helps us to win matches, not flags. Chelsea fans lack passion," he said.
Benitez also accused the club of buying success, accused Didier Drogba of diving and Frank Lampard of being overrated, but it was those 2007 comments that really rankled and have stuck with Chelsea fans.
So, yes, I completely understand their anger. What's more, I've been in a similar position myself: few Stoke fans wanted Tony Pulis as manager back in 2002 and I was one of those chanting 'you don't know what you're doing' when he took off fan favourite Bjarni Gudjonsson during a 4-2 defeat at Walsall in his first game in charge.
However, I have never witnessed anything like the reaction Benitez received from Chelsea fans on Sunday. Boos rang out from the moment the Spaniard first appeared; there were 'Rafa Out' banners on show; chants that he was 'not welcome' at Stamford Bridge; constant singing in support of Di Matteo.
It should have come as a surprise to nobody that Chelsea's players struggled to get going on the pitch. No Blackburn fan will ever convince me that their anti-Steve Kean chanting was anything but counter-productive last season, and no Chelsea fan will ever convince me that their anti-Benitez chanting on Sunday had anything but a negative effect on their team's performance.
As a supporter, you should do everything you can to support the team. You don't have to like Benitez and you don't have to sing his name, but booing and chanting how much you hate him is going to do no good whatsoever.
You've made your feelings known now and I have some sympathy for you. But it is not Benitez's fault that Abramovich sacked Di Matteo, and he did not force the Chelsea owner to appoint him as Di Matteo's replacement.
If you believe Abramovich has made a mistake then let him know by all means. But continue to let the Russian off the hook and direct more of your ire at Benitez in Wednesday night's derby with Fulham and the sympathy I have for you will quickly go out of the window.
Knock 'em down, act surprised
I doubt Abramovich's decision to sack Di Matteo was influenced by the media, but I wonder how many journalists that have criticised the Russian's decision had been writing Di Matteo was 'under pressure' during Chelsea's bad run of form?
Faux outrage really is very hypocritical.
West Ham fans a disgrace
I have said many times in the past that I don't like to condemn a club for the behaviour of some of their supporters. A club is directly responsible for the actions of its staff, but it's impossible for them to stop their fans from behaving irresponsibly.
For that reason, I was not one of those calling for a heavier punishment for Lazio following racist chanting by their fans in last month's Europa League game at Tottenham. Some believe teams should be docked points in these instances, but I just don't think it's fair to punish a team, manager and set of players for something they have not done themselves and can not control.
Another suggestion is for teams to be forced to play behind closed doors, but as a fan who would never chant anything racist or anti-Semitic, why should I be punished if there are morons that do?
I do, however, hope West Ham are true to their promise to hand out life bans to fans involved in Sunday's disgraceful chanting at White Hart Lane. While clubs should not be held responsible for the behaviour of idiots in their stands, they are 100% responsible for ensuring said idiots never appear in their stands again.
Ridgewell dive deserves more discussion
It is no secret that I get annoyed by the media's ability to form the opinions of football fans. I wrote only last week that I was annoyed more had not been made of another bad Luis Suarez tackle, and I wrote at the start of this month that more would have been made of the booking given to Adam Le Fondre for diving had it been a bigger-name player involved.
The same applies to Liam Ridgewell's dive in West Brom's win at Sunderland.
It was the worst sort of dive - there was no contact whatsoever and the referee was completely conned - yet it has provoked very little discussion.
Neither, incidentally, has David Luiz's holding of Vincent Kompany's shirt at every set piece on Sunday. If that had been Robert Huth on Kompany and had Ridgewell's dive come against Manchester United, rest assured the reaction would have been somewhat different.
Like I've said before, some people only seem to talk about the need to 'clean up' the game when a big club is on the end of an injustice.
Refs' attitude changed for the better
When discussing that Le Fondre dive earlier this month, I suggested referees were finally wising up to simulation in the Premier League.
I am now convinced they have been told to hand out more bookings to players they deem to have gone to ground too easily. Mario Balotelli was the latest one to be yellow carded when he ran into Luiz on Sunday and, although many people will argue he did not intentionally seek to gain an advantage, I'd personally far prefer referees to give out too many bookings for diving than not enough. The quicker players are encouraged to stay on their feet at all costs the better as far as I'm concerned.
Let me know what has annoyed you over the past seven days and remember you can follow me on Twitter @Homzy