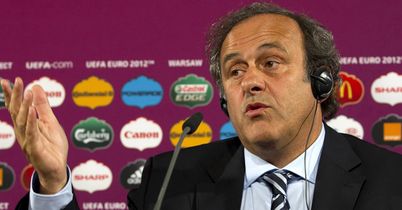 Mark Holmes blasts Michel Platini's plan for European football, defends Stoke, welcomes Gareth Bale's booking and sticks up for Liam Ridgewell.
Platini plan pure madness
The Champions League is a great tournament, but ask anyone for a criticism of it and they will undoubtedly tell you that there are too many teams in it and/or that the group stage is boring.
The Europa League, meanwhile, is potentially a great tournament, but ask anyone for a criticism of it and they will undoubtedly tell you that there are too many teams or games and that it is a competition few teams want to win.
So, the criticism of both tournaments is that there are too many teams and games involved, while the big criticism of the Europa League is that it is not attractive enough to the teams competing in it.
UEFA president Michel Platini's idea to solve the problems is to scrap the Europa League altogether and double the amount of teams in the Champions League from 32 to 64.
That would solve the problem of teams being in a competition they were not fussed about winning but it would mean a Champions League with an even smaller proportion of champions in it, it would mean more one-sided group games which could potentially see the seventh best side in England playing Barcelona, and it would mean extra games for the top teams and top players, who we are constantly told need their workloads reducing, not adding to.
In other words, it's another ridiculous idea from Platini. The stupid thing is, he has stumbled over the right idea without realising it.
If UEFA were to go ahead with his plan, 16 less teams would be competing in Europe each season - currently there are 32 in the Champions League and 48 in the Europa League, a total of 80 teams, whereas there would be just 64 under the proposals.
If Platini is willing to lose 16 teams from European competition, why not just lose them from the Europa League? Then the competition could follow the same format as the Champions League, with 32 teams in the group stage and then a straight knock-out until the final.
There would be no need for eight Champions League losers to join the competition after the group stage (does anyone think that is a good idea?), there would be two less games, and 16 less teams would surely lead to an increase of quality, too.
It would also mean UEFA could increase the prize money on offer - Atletico Madrid received just £8.5million for winning the Europa League last season - which is probably the biggest single factor holding the competition back.
But that seems far too simple for Monsieur Platini.
Stoke bashers lack brains
Contrary to popular belief, I rarely write about Stoke City on this website. In fact I avoid doing so as much as I possibly can to avoid the abuse that inevitably follows.
However, today, after hearing that Stoke were about to "get a pounding" on the Football Podcast (the words of my Editor), I feel I have to offer a defence of my team.
Yes, that's right, I am having to defend a team that has taken 13 points from their last 15 and on Saturday won 1-0 at a West Brom side that had previously won six of their seven home games, losing only to Manchester City. I am having to defend a team that restricted West Brom to one meaningful shot in 90 minutes of football.
Even now, I don't know what I am defending them against. The game at The Hawthorns was not an entertaining one, and it is not exactly uncommon for me to have said that about a Stoke away game over the past four and a bit seasons. Tony Pulis regularly sets the side to soak up pressure and play on the counter attack.
But if restricting a home side to one decent effort from outside of the area and creating three decent opportunities on the break, one of which you win the game from, deserves criticism then I honestly don't know what football has become.
As far as I'm concerned, the onus is always on the home side to entertain, and if Stoke fail to do that at the Britannia I'm the first person to complain on the way out of the ground.
Never, however, have I left the Britannia complaining that the opposition hasn't let us play our usual game or that it is the opposition's fault that we created no chances will be the day.
Frankly, anyone who believes a team should be criticised for winning away from home - and I absolutely include my colleagues in this - is a complete and utter moron.
*NB: My Editor is a West Brom fan. The host of the Football Podcast covers West Brom for Midlands radio. Read into that what you will.
Keep Bale bookings coming
Let me re-cap my thoughts on diving: I despise it, but I blame the referees, who encourage players to go to ground to 'let them know' they have been fouled, and rarely give free-kicks for those that do their best to stay on their feet but are ultimately impeded by an opponent.
I wrote a piece in support of Luis Suarez two months ago for that very reason - if players are actually told to fall over after being touched, can we really criticise them?
However, I have also said time and time again that it's ridiculous we've got to the stage that players are falling over under the slightest of touches, winning penalties and then being defended by pundits, who argue they are 'entitled to go down'.
It was said again on Saturday evening about Gareth Bale after he threw himself into the air following a nick off Steve Sidwell's boot.
Thankfully, though, referees seem to have changed their approach in recent weeks. Countless players have earned themselves what many people believe are harsh bookings for exaggerated falls recently, but as far as I'm concerned it's fantastic.
There will undoubtedly be occasions when players are unfairly booked, but surely that is preferable to players unfairly winning free-kicks and penalties, and players unfairly being yellow or red carded for good tackles?
If it leads to players like Bale fearing bookings and doing his best to stay on his feet then that can only be a good thing for the game.
Let's stop pretending that the tiniest touches send players sprawling and, in Bale's case especially, let's stop pretending that every time he dives he is doing so to avoid injury.
Only he will know whether he was doing that on Saturday, but even Spurs fans are sick of his theatrics, and long may these bookings continue for players attempting to con and to cheat.
Ridgewell banter fine
Not for the first time, one of the Sunday newspapers stirred up faux outrage from those that love to be offended when it printed a picture of West Brom's Liam Ridgewell appearing to wipe his backside with a pile of £20 notes.
The fan who sent in the picture said this of it: "The people of West Bromwich earn a fraction of what this idiot earns yet he makes a mockery of his good fortune like this. It makes me sick.
"We've always thought footballers were arrogant, overpaid buffoons and this just proves it."
As it turned out, Ridgewell had a perfectly reasonable explanation. He had won a bet with a friend and sent him the picture to 'wind him up'.
Is this a sign that footballers are completely out of touch with reality, or was it just a bloke having a bit of banter with a mate?
Some people are just too easily offended.
Let me know what has annoyed you over the past seven days and remember you can follow me on Twitter @Homzy