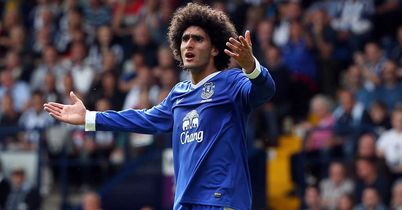 Mark Holmes hits out at those trying to rationalise the actions of Everton's Marouane Fellaini and urges more realism from Brendan Rodgers.
Only a fool would justify Fellaini actions
Stoke captain Ryan Shawcross was head-butted, punched and elbowed by Everton's Marouane Fellaini in three separate incidents at the Britannia Stadium on Saturday. It was the most shocking piece of violent conduct of the season and, obviously, completely inexcusable.
David Moyes certainly saw it that way and so to his credit did Fellaini, who quickly apologised for his actions after the game.
However, while nobody has dared to excuse Fellaini, many journalists and pundits have tried to rationalise his behaviour, and a good number have turned the tables on Shawcross.
He was holding Fellaini prior to the head-butt and, according to some, the Belgian's retaliation was understandable, if perhaps a little over the top. Now call me paranoid, but I wonder whether just as many people would have rationalised a Shawcross head-butt should he have reacted to being held by Fellaini in the opposite box.
I don't disagree that holding in the box is something that should be clamped down on, and I completely understand the frustration players like Fellaini feel when being held in the penalty area.
It's just ridiculous that the debate is about holding in the box after an incident which saw a player headbutted, punched and elbowed.
Furthermore, there are some myths that need clearing up regarding the holding that takes place.
First of all, a penalty or free-kick cannot be awarded before a set piece is taken, as the ball is not in play. The pushing, pulling and holding that takes place prior to a set piece is part of the game. A defender wants to keep the player he is marking as far away from the goal as possible, while the attacker wants to get goal side of the defender. But, until that ball gets swung in, no amount of jostling can be penalised.
Of course, it does sometimes continue after a set piece has been taken, and Stoke's defenders are no doubt guilty of it at times. But they certainly aren't the only ones. Fellaini himself certainly isn't known for his hands-off approach and recently conceded a penalty for tugging down Edin Dzeko, while Ciaran Clark had a firm hold of Daniel Agger's shirt at Anfield this very weekend.
The reason so few penalty kicks are awarded is that there is more often than not an offence being committed by both players. To use the Anfield incident as an example, Clark had a hold of Agger's shirt, but Agger had a hold of his too.
There are definitely occasions when defenders get away with impeding attackers in the box, and perhaps a better way needs to be devised for officials to keep an eye on penalty-are incidents.
But the holding is something Fellaini regularly experiences and something he does himself in his own box. His tussling with Shawcross was not an unusual situation, and he knows, Moyes knows and anyone with any objectivity knows that there was absolutely no justification for his behaviour.
Unfortunately, while I have no hard feelings towards Fellaini or anyone associated with Everton - these things happen in football and are not worth holding grudges about - I once again find myself with a sour taste in my mouth because of the way Stoke have somehow come in for criticism in the wake of an assault on their captain.
The Shawcross redemption?
I hope Shawcross' reaction to Saturday's three incidents - or should I say lack of it - proves once and for all that he is not the thug some have painted him out to be.
He hurt someone in a tackle a few years ago, and, who knows, he may do again one day. But, in spite of great provocation, he did not so much as raise his hand towards Fellaini. Despite three separate incidents, he did not seek revenge. That doesn't sound like a thug to me.
Furthermore, he didn't complain to referee Mark Halsey once. And on the one occasion he was knocked to the ground, he was quickly dragged to his feet by his team-mate, Jon Walters.
People often say they do not know how Stoke fans watch the team every week, and now you have your answer. It might be a chore to watch us sometimes, but moments of honesty, tenacity and bloody-mindedness like Shawcross' on Saturday make me prouder of my club than any amount of passes or great goals could ever do.
Rodgers needs to be realistic
I'm aware I write about Liverpool rather a lot but, after another relatively quiet weekend, the Reds' home defeat to Aston Villa stands out as a talking point.
Not because of the result particularly, but because of Brendan Rodgers' pre and post-match comments.
"We lie four points off the top four," he said in the build-up to the game. "For me the ambition is to grow higher. We are 11 points off second and that can all turn around very quickly."
I admire Rodgers' positive attitude, but after the game he tried to suggest that talk of Liverpool making the top four had come from outside of the club.
"We were talked up all week about us being top-four material but we know within the group we still have a long way to go."
I am starting to wonder whether there are two Brendan Rodgers. In some press conferences he speaks of the deficiencies in his squad and the need to strengthen, but in others he raves about average performances and the quality at his disposal.
I don't think Liverpool are as far off being top-four contenders as some of their critics would have you believe, but they're certainly not as close as Rodgers claimed last week.
The realistic Rodgers is interesting to listen to, but the deluded Rodgers does him or the club no favours whatsoever.
You can follow me on Twitter @Homzy