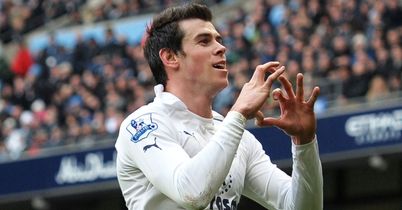 Mark Holmes presents his seven deadly sins of 2012 in the final Monday Moan of the Year.
It has been another great year of football, but this wouldn't be the Monday Moan if I went all soppy on you.
So, here are the seven things that have constantly had me tearing my hair out and shouting at a TV screen this season.
7. Manager misbehaviour: Alan Pardew pushed a linesman, tried to laugh it off and later tried to claim credit for apologising early in the season, while Sir Alex Ferguson more recently argued furiously with the referee, linesman and fourth official about a goal awarded against his team.
Those are two high-profile examples of managers behaving in a totally unacceptable manner towards officials. It's something that absolutely has to stop.
6. Punditry: I have moaned about it many times before, but the introduction of Gary Neville to our screens in 2012 has really put the ineptness of others into the spotlight.
Neville is superb, but watching football with a keen and analytical eye should be the rule rather than the exception for pundits. Yet those on the nation's premier highlights show are paid extremely good money to reel off cliches and stereotypes without any thought whatsoever, while former footballers regularly turn up at matches to provide a name and a face, but no worthwhile contribution whatsoever.
5. Ticket prices: In September I paid an extremely reasonable £20 to watch Stoke at Wigan. I paid £25 to see them at West Brom at the start of December, but chose not to pay £39 to watch them at Aston Villa the following weekend, just as I had chosen not to pay £45 to watch them at Norwich in November.
I accept it will cost more to watch us against the top clubs (I have recently paid £37 and £40 for tickets to see Stoke at Tottenham and Manchester City respectively) but how can there be such disparity in the prices of what is effectively the same product?
Just how can Norwich justify charging over double what Wigan charge for an average game of Premier League football?
Ticket prices are a bug bear of many football supporters, and surely the time has come for some sort of standardised pricing.
4. Feigning injury: There are many forms of gamesmanship in football, most of which I see as part of the game. After all, every side tries to bend their rules to their advantage in some way.
However, feigning serious injury is something I cannot abide and something I witnessed as recently as the weekend when Southampton's Jack Cork writhed around in apparent agony despite not being touched by Stoke's Steven N'Zonzi, who was subsequently shown a red card.
Staying down for longer than is needed to waste time is a common form of gamesmanship, but trying to get an opponent booked or sent off is an inexcusable form of cheating which in my opinion should earn retrospective punishment.
3. Football snobbery: This has always existed to an extent, but Brendan Rodgers' success at Swansea and subsequent appointment at Liverpool makes 2012 memorable for me as the year in which a team's 'philosophy' became more important than their results.
I will never forget Rodgers commenting that it was 'great for the public at Sunderland' to see his "wonderful" Swansea side, which was beaten 2-0 on the day - and many of his post-match comments since taking charge at Anfield have belied belief.
You can play well in defeat on the odd occasion, but you cannot claim to play good football over a period of time if results are continually poor.
Liverpool have not played good football by their standards this season, and Wigan, for instance, definitely do not play good football as they continue to struggle towards the bottom of the Premier League each season.
Possession stats, pass accuracy percentages and the rest are all irrelevant. The only stat that matters is the scoreline - and good football is winning football.
2. Diving: I have started to bore myself writing about diving, but I will continue to do so while it continues to be defended by pundits, players and managers.
As far as I'm concerned, players should attempt to stay on their feet at all times, and referees should be able to spot when someone has been impeded even if they do not hit the deck.
No player is 'entitled' to go down of their own accord, and anyone that tries to force the referee into a decision by doing so should be booked for simulation - even if they have been touched.
I doubt many people disagree with that view in principle, but diving has been so prevelant in 2012 that what should be extremely clear cut - a dive is a dive - has become a huge grey area.
Just a few days ago I watched Alan Hansen say the referee got it "dramatically wrong" to book Gareth Bale diving because his knee had been clipped.
Yet deep down Hansen, Bale, Andre Villas-Boas, every Spurs fan and everyone else who has seen the incident knows he could have stayed on his feet.
Sergio Aguero's title-winning goal for Manchester City proves the contact footballers can withstand so please, please, please in 2013 can people stop pretending that every slight touch is a foul or, even worse, enough to send a player crashing to the floor.
1. Racism: Aguero's goal aside, 2012 will be remembered most for racism.
Let's have a recap: Luis Suarez served an eight-match ban for racially abusing Patrice Evra before later refusing to shake the Manchester United defender's hand. John Terry was stripped of the England captaincy and later banned for four games for racially abusing Anton Ferdinand.
England Under-21 players, most notably Danny Rose, were racially abused by Serbia fans. Rio Ferdinand retweeted a message labelling Ashley Cole a 'choc ice' and later refused, along with a number of other players, to wear an anti-racism 'Kick it Out' t-shirt.
Chelsea accused Mark Clattenberg of making racist comments towards two of their players, claims which turned out to be wholly inaccurate. The FA were accused of being "institutionally racist" by the annoyingly vocal Society of Black Lawyers.
Throw in racism from the stands from Manchester United, Liverpool and West Ham fans among others, and 2012 has not been football's finest year.
Let us know what has annoyed you most in 2012, and follow @Homzy on Twitter for plenty more moans in 2013.