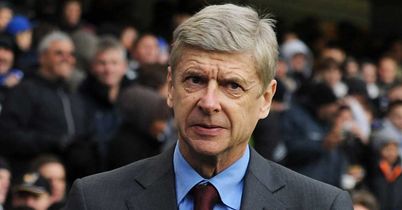 Mark Holmes blames Arsene Wenger's ego for Arsenal's downfall, calls for clarity on tackling rules, and cannot defend Nigel Adkins' sacking.
Arsenal too nice to be winners
Contrary to what some Arsenal fans may believe, I am a huge fan of Arsene Wenger as a manager.
Even during the Gunners' ongoing trophy drought I think Wenger deserves a great deal of credit for continually leading the team to a top-four place in the Premier League in the face of outlandish spending from other clubs.
I've also written in the past that I believe Wenger shoulders blame for the board of directors, who should have been more open with supporters regarding the club's financial situation.
However, Wenger made some comments prior to Arsenal's game at Chelsea on Sunday that must have had fans tearing their hair out.
"Maybe we have to go back a little bit, not less technical but a bit more physical and aggressive," he said, referring to the days when Arsenal boasted the likes of Tony Adams and Patrick Vieira in their team.
Has it really taken Wenger this long to realise the team lacks muscle and aggression? It's questionable whether there is anyone else on the planet that hasn't known that for years.
Unfortunately, Wenger's ego has held Arsenal back. They haven't just failed to progress, they have actually regressed. While his philosophy was once the club's greatest strength, in recent seasons it has become its biggest weakness.
There is not much Tony Mowbray could teach Wenger, but he made some comments while in charge of West Brom five and a half years ago that have stuck in my mind and which should be pinned on Wenger's wall: "Teams are made of soldiers and artists and you need to get the balance right.
"The warrior is just as important as the artist. We all saw it - supporters see a talented player beat three men and smash it into the top corner and become heroes - which is great because I love technical talented footballers - but I also need to try and build a team that will win week in, week out."
Wenger has forgotten about the need for soldiers. He has allowed his philosophy to get in the way of what makes a good team, buying more and more 'artists' but failing to replace 'soldiers' like Adams and Vieira that have long since left the club.
It has made the team a lot more likeable, but nice guys don't win titles.
Jack Wilshere aside, there is not a single player in the Arsenal side even remotely dislikeable.
Wilshere moans, argues with referees, makes bad, sometimes cynical tackles and battles for 90 minutes with any midfielder he comes up against, but the rest of Arsenal's players rarely dive, cheat, push, pull, cynically foul or do anything else that makes you hate them but makes them win. They do not have a win-at-all-costs mentality.
It's admirable and makes them easy to like, but this Arsenal side is living proof that being honest and playing pretty football is not enough for supporters. No matter how much some will argue otherwise, winning games and winning trophies is all that really matters.
If Wenger wants to start doing that more often he needs to make me hate Arsenal again.
FA should have explained Kompany decision
I wrote last week that Vincent Kompany's red card was correct according to the law and that I'd be 'staggered' if it was rescinded.
Well, I was staggered, and so too were the majority of Premier League managers and referees.
According to the Daily Mail, senior refereeing officials and matchday referees were 'bemused by the decision to overrule the red card and believe it sets a dangerous precedent and increases the chance of players being seriously injured'.
Even the Football Association's referees chief David Elleray admitted the decision had 'disappointed' referees, while Sir Alex Ferguson described the decision as "very unusual".
Arsene Wenger, meanwhile, said it was "technically a bad tackle (by Kompany) and it can be seen as a red card."
I suspect most managers would prefer tackles such as Kompany's not to be outlawed - Sam Allardyce said it was "ridiculous" that perfectly good tackles could still result in a yellow or red card if deemed to be made with too much force - but the FA are seen to have contradicted themselves in overturning his red card given the guidelines they have given to clubs and referees regarding such tackles.
Unfortunately, as usual, the FA has not explained why it came to the decision, creating complete confusion as to what sort of tackles are and are not allowed. I can't tell you how much sympathy I have for the next referee faced with a decision on another head-on slide tackle. What is allowed and what isn't? Nobody seems to know.
All anyone associated with football wants is clarity - perhaps if the rules were made clearer we could spend more time talking about great goals and less time complaining about controversial refereeing decisions.
Adkins sacking hard to justify
I will always defend a club owner's right to dismiss a manager they do not believe in, but Southampton chairman Nicola Cortese's decision to sack Nigel Adkins last week is extremely difficult to justify.
If Saints had been on a bad run, I could have understood Cortese wanting a change of manager, especially with the transfer window still open, but recent performances and results have been excellent.
Cortese may have felt the chance to appoint Mauricio Pochettino was too good not to take, and, who knows, it may well turn out to be a great move in the long run.
But the risk Cortese has taken in upsetting the balance of an in-form team is absolutely huge. If Saints' players feel Adkins should not have been sacked, Pochettino has a massive task on his hands to get them on side and ensure recent good results are maintained.
If he cannot manage that and Southampton are ultimately relegated, fans will know there is only one man to blame - Nicola Cortese.