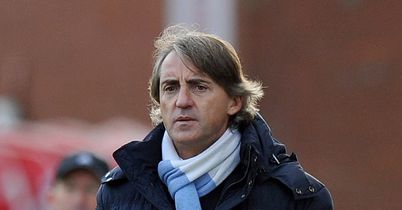 Mark Holmes criticises the Premier League spending rules, blasts Roberto Mancini but calls for more credit to be given to Andre Villas-Boas.
Spending controls closing the shop
I welcome the introduction of spending rules in the Premier League.
Frankly, it is ridiculous that so few clubs are able to post a profit - most make huge losses - despite the amount of money pumped into the world's richest league. More importantly, in no other form of business could companies get away with continually spending more than they earn. Hopefully the new rules will help make the Premier League less financially corrupt.
I worry slightly that the rules could lead to yet more increases in ticket prices - clubs are able to increase their wage expenditure more than the allotted £4million per season if their revenue also increases - but my real concern is that the door is being closed on new clubs challenging for honours in the way Chelsea and Manchester City have done in recent times.
Regardless of what you think of those clubs' spending, it has surely been good for the Premier League that new rivals have emerged to Manchester United, unlike in Spain where Barcelona and Real Madrid have monopolised the league for an eternity.
If a Russian or Arab billionaire was to take over Newcastle, the new rules would restrict him from using his own money to fund a shot at the title. He could build the club up slowly - clubs are allowed to make losses of up to £105million over three seasons - but how many billionaires would want to do things slowly? My worry is that they will be deterred from investing in Premier League clubs in future.
As a fan of a club that is owned by a rich but not extortionately rich local owner, common sense says I should welcome the fact that the rules will prevent a Wigan or Norwich suddenly leapfrogging us in the rankings on the back of a crazy spending spree.
But what about my club, Stoke? Like many others, their only chance of achieving success in the modern era was through a crazy spending spree, and that will soon be blocked. Congratulations to Chelsea and Manchester City for getting there early, but for the rest of us, faint dreams of our clubs ever challenging for titles will soon be over.
In no way do I condone the irresponsible spending that has taken place at clubs like Leeds and Portsmouth over the years, but I don't see why more shrewd businessmen like Roman Abramovich and Sheikh Mansour should be prevented from building clubs up in the way they have done theirs. Forcing owners to cover losses made is a wise move, but restricting the amount they can invest is not.
The biggest trouble with financial restrictions in football is that they are coming far too late. Fair competition in England was ruined the day the 22 top-flight clubs agreed to the inception of the Premier League and the way in which the BSkyB jackpot was shared out.
The big boys decided to keep as much money as possible for themselves, and the last 21 years have seen the likes of Manchester United become so rich that the only chance clubs like Chelsea had of catching them up was through a billionaire owner.
Once that faint, faint hope of a billionaire owner taking over your club is removed, your dream of celebrating a league title will be ended once and for all. The door to the top shop will soon be well and truly shut forever.
Mancini must take brunt of blame
Since Manchester City's title hopes were all but ended at Southampton on Saturday, Roberto Mancini has been desperately trying to shift the blame on to his players.
"It's not always the fault of the manager," the Italian protested. "The players should take responsibility - if they have big balls. If not, they can't play in a top team."
Mancini even reserved special criticism for Joe Hart after his latest mistake at St Mary's.
"Joe has made too many mistakes. He has not been good enough," Mancini said.
He does, of course, have a point. No matter what mitigating factors there may be - for example, Vincent Kompany and Carlos Tevez missed the Southampton game, while Yaya Toure struggled on his return to the team - City's players should have been good enough to win the game.
Their performance was awful by any team's standards and once they had crossed the white line there was not a great deal Mancini could do. He is absolutely right that the players should take responsibility for their poor performance on the day.
However, Mancini needs to take responsibility for the team's poor performances on the whole this season. By the standards they set last season, City simply haven't been good enough, and that is down to Mancini.
Despite being the best team in the world, Barcelona always strengthen their first team with at least one marquee signing every summer. Last summer they signed Jordi Alba, the one before that they signed Cesc Fabregas and the one before that they signed Javier Mascherano.
No matter how good a team is, it can always be improved.
City, however, did not improve their first team in the summer. In fact, if anything, they weakened it - Javi Garcia has played more but looked less useful than Nigel De Jong, while Scott Sinclair has played even less and certainly looked less effective than Adam Johnson. Matija Nastasic should develop into a top-class centre-half, but it's questionable whether even he has improved City's team. The less said about Maicon and Jack Rodwell, meanwhile, the better.
Mancini has complained he was not able to make the signings he wanted but, unless we are told differently, we have to assume he had final say on the business that was done. And the business was bad.
It is not only in the transfer market where Mancini has failed - his tactical decisions have raised eyebrows on numerous occasions, early in the season from some of the players themselves, while his man-management skills have also been called into question.
Mancini delivered the club its first Premier League title last season, but even that was handed to them on a plate by Manchester United. Given the money they had spent and the obvious weakness of their rivals, City should have won it at a canter.
This season they have gone backwards. While United have strengthened, they have got weaker. Their Champions League campaign ended in another early exit, and they are effectively now out of the title race with 12 games to go.
It will be a huge surprise if Mancini is still in charge at the Etihad Stadium come the opening day of next season. And, in my opinion, a huge mistake.
Bale brilliant, but give credit to AVB
It was debated on a national radio station over the weekend whether Tottenham have become a one-man team.
After Gareth Bale put in another mesmerising performance to see off Newcastle, it was alleged that without the Welshman Spurs would have no hope of making the top four in the Premier League.
All 'one-man team' arguments are ridiculous - take Robin van Persie out of Manchester United's team, for example, and you can bet Wayne Rooney would step up to the plate - but the lack of credit given to Andre Villas-Boas continues to perplex.
After all, fact that Bale is in the form of his life surely has something to do with the management and tactics of Villas-Boas. That Aaron Lennon has also enjoyed one of the most productive seasons of his career should say a lot.
The 'go out and enjoy yourself' approach favoured by Harry Redknapp only goes so far - Lennon, for example, now does far more work defensively than he ever has before. Bale, meanwhile, is given licence to roam the pitch because of the roles Villas-Boas has players performing in support of the winger.
Jermain Defoe is another player to have benefited hugely from the nous of Villas-Boas, and you can't help but feel Mousa Dembele is not a player Redknapp would dared to have played in central midfield.
No matter how good Bale has been this season, the credit for Spurs' achievements so far has to go to their manager.
You can follow me on Twitter @Homzy for more of my moaning. I'll also be hosting a live chat on TEAMtalk later this afternoon to discuss my latest blog and any other thoughts from the weekend you may have.