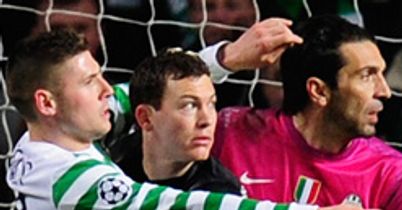 Mark Holmes hails Juventus' defending of corners against Celtic and blasts the scheduling of the Liverpool v Swansea Premier League game.
Celtic complaints will come to nothing
After doing terrifically well to make it out of the Champions League group stage, Celtic's relative lack of quality was exposed by a hugely-impressive display from Juventus at Parkhead on Tuesday night. Despite penning Juve in their own half for long periods Celtic were beaten 3-0, with two mistakes from Efe Ambrose proving costly.
However, it was not the defensive mistakes nor Juve's superb counter-attacks which dominated discussions in Britain that evening or the following day. Instead it was the apparent injustice Celtic suffered at the hands of Spanish referee Alberto Mallenco.
If you watched the game on British television, you might well believe the Hoops would have won the game were they awarded all of the clear penalties they ought to have been given. Celtic won 10 corners throughout the game and, so the story goes, saw at least one of their players impeded as each one of them was taken.
"They (Celtic's players) were being fouled at every occasion," Neil Lennon said. "They (Juventus' players) were putting their arms around players, blocking their runs, trying to pull them down."
Predictably, nothing was said by anyone about Gary Hooper's persistent attempts to stand in front of Gigi Buffon and back into Stephan Lichtsteiner, who had the task of trying to shield his goalkeeper from the Celtic striker.
Many will argue Hooper did nothing wrong. After all, there is no rule which prevents a player from standing directly in front of a goalkeeper.
However, what Hooper undoubtedly would have done had he been allowed to was to prevent Buffon from moving forward to claim any high ball in his vicinity. It is a foul to block a player from moving, but it is a foul which, David De Gea will testify, is rarely given. Goalkeepers are expected to simply shove attackers out of the way to claim a catch.
Lichtsteiner, however, made sure Buffon did not have to do that. It was good, strong defending from the Juve man, the sort which probably would have been applauded were it a Celtic defender holding off a big lump who wanted to stand in the way of the goalkeeper.
These types of battles are common between defenders and attackers in the penalty area, and it is extremely rare that there is a clear aggressor and victim. No matter how much some people on these shores might convince themselves otherwise, Hooper's battle with Lichtsteiner was not one of those rarities.
Liverpool v Swansea scheduling made no sense
Few Liverpool fans will be complaining today, but the scheduling of the Reds' game against Swansea was ridiculous.
With both clubs knocked out of the FA Cup, they were asked to play their Premier League game at Anfield, originally scheduled for next weekend, on Sunday..
In some circumstances, it might have suited Liverpool and Swansea, but the game came just three days after Liverpool played a Europa League game in Russia. They also played West Brom on Monday night and have the home leg of their tie against Zenit St Petersburg to come this Thursday. That amounts to four games in 11 days.
The situation was summed up perfectly by Brendan Rodgers: "To put it in on a week when we have played on a Monday and played on a Thursday in an away trip to Russia, and put it in between that and another important European game on Thursday...I think it is another example of the Premier League in this country not helping teams whatsoever.
"I think every other country in Europe will always try to help their teams - some of them will play on a Friday before a European game.
"So for us to have it thrown in there when there were other free weeks was bemusing to say the least."
The match was just as much of an annoyance for Swansea. Although they do not have the same fixture pile-up as Liverpool, they do have arguably the biggest game in their history, the Capital One Cup final against Bradford, to prepare for this Sunday.
Eighth in the Premier League with no chance of relegation, it was inevitable that Swans boss Michael Laudrup would effectively write off the trip to Anfield.
However, the seven changes Laudrup made to his side were not fair on the Swans supporters that made the trip to Merseyside.
League One and Two clubs are banned from making more than five changes to their team for Johnstone's Paint Trophy games, yet managers are free to field virtual reserve sides in the Premier League when it suits them.
That does the league's reputation as the most competitive no good whatsoever - Liverpool's 5-0 win on Sunday proved that - and can be unfair on other teams - West Brom, for example, were overtaken by Liverpool but may have expected Swansea to give the Reds a game under normal circumstances.
However, Laudrup cannot be blamed for prioritising a cup final over a game Swansea may well have lost anyway, which just makes it all the more ridiculous that the Premier League scheduled their trip to Liverpool for when they did.
Premier League not what it's cracked up to be
What do Arsenal, Liverpool, Tottenham, Norwich, QPR, Aston Villa, Sunderland and Newcastle have in common? Answer, they were all knocked out of the FA Cup by lower-league opposition.
For a league that likes to think of itself as not only the most competitive and entertaining but also one of the best quality leagues in the world, the Premier League's clubs haven't half struggled against apparently inferior opposition this season.
Everton were another top-flight club given a tough game by lower-league opposition in League One's Oldham on Saturday evening, while Chelsea played a fourth-round replay against Brentford the following day having drawn the original tie at Griffin Park.
And Bradford, of course, will play in the League Cup final this weekend having beaten Premier League Wigan, Arsenal and Aston Villa.
Throw in the ease at which promoted clubs are able to adapt to life in the top flight these days and the gap which an apparently average Manchester United side has built up at the top of the table, and it'd be difficult to argue the quality of the Premier League has not deteriorated in recent seasons.
Best league in the world? Not even close.
You can follow me on Twitter @Homzy for more of my moaning. I'll also be hosting a live chat on TEAMtalk from 2-4pm to discuss my latest blog and any other thoughts from the past week of football you may have.