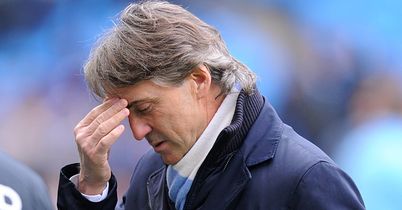 Mark Holmes backs Manchester City's decision to replace Roberto Mancini but questions whether David Moyes is right for Manchester United.
City right to move on Mancini
It is to the great credit of Manchester City's supporters that the vast majority of them remain fully in support of Roberto Mancini despite the team's rather abject surrender of their Premier League title.
In an age when, in the minds of most fans, players win games and managers lose them, it is quite extraordinary that the supporters of a club that has spent an eye-popping amount of money in recent years are not up in arms about Mancini's failure to deliver a trophy this season.
They have stayed remarkably grounded. After years of mediocrity (and that's being kind), many City fans guffaw at the notion of finishing second in the league and reaching the FA Cup final being deemed a failure.
And they will be damned if they are to turn on the man that won the club its first league title for 44 years.
There is also an argument that the biggest reason for City's failure to build on last season was their poor business in the transfer market last summer - and Brian Marwood would appear to be more culpable for that than Mancini.
However, the Italian has to at least take some of the blame for the business - it is hard to believe Nigel De Jong, for instance, was sold without his say-so or that he did not himself pinpoint the largely underwhelming Javi Garcia as a player he felt could strengthen his side.
But regardless of which players Mancini would have liked to have signed over the summer, City still started the season as firm favourites to win the Premier League title.
With the players at their disposal, they should have done much better but Mancini has made a number of tactical mistakes, unsettling the team in the early part of the season with sporadic switches to three at the back, and regularly setting up without any real width in a system which has drastically reduced City's goal threat.
Also, although they can point to tough groups in both of their Champions League forays, City have to do better in the Europe's premier competition. Mancini, though, never guided Inter Milan past the quarter-finals and could not even lead City to third spot in their group this season.
After the money Sheik Mansour has poured into the club, group stage exits and second-placed finishes in the league simply are not good enough - regardless of how far off such achievements City were before he took over.
Many football supporters have unrealistic expectations of their club, but in City's case their fans should actually expect more.
Their patience is to be applauded, but the club can't afford to dwell on the past. Fans must forget about where the the club has come from and focus on where it is now - a top European club with some of the best players in the world.
Failure isn't accepted at Manchester United, Barcelona or Real Madrid - and it should no longer be accepted at Manchester City.
It remains to be seen whether Manuel Pellegrini is the right man for the job, but City are absolutely right to replace a manager that has achieved only the bare minimum expectations in his time at the club.
Moyes appointment a gamble
As one of the biggest and most successful football clubs in the world, Manchester United demand certain standards of their employees.
When Sir Alex Ferguson announced that he was to finally retire as manager, then, the club faced an incredibly tough choice to find a suitable new figurehead for the club.
Ferguson certainly seems confident that Moyes is that man.
"There is no question he has all the qualities we expect of a manager at this club," the 71-year-old said of his successor following the confirmation of his appointment on Thursday.
The length of time Moyes remained in charge of Everton; his work ethic; his fearsome nature; his ability to mould new teams after losing big players; his willingness to give young players a chance - it is easy to understand what Ferguson sees in his fellow Scot.
However, there was perhaps a Freudian slip in Ferguson's speech on the Old Trafford pitch on Sunday.
"When we had bad times here, everyone stood by me and your job now is to stand by your new manager," he said.
United appear to have already accepted success may not be instantly forthcoming under their new manager.
For all the other boxes that Moyes ticks, it is quite astonishing that United have opted to replace the most successful British manager of all time with a man that did not win a trophy in 11 seasons at Everton. He could not even manage a league win at Old Trafford, Anfield, Stamford Bridge, Emirates Stadium or Highbury.
Moyes will certainly behave as Sir Bobby Charlton and co. expect him to, but the thing United demand more from their employees above all else, to win, seems to have been forgotten about.
It may be, of course, that Moyes is well capable of winning trophies with better players at his disposal. Despite complaints about his overly defensive attitude at times, there is certainly no Everton fan that would deny he is an extremely talented manager.
However, he must change his attitude to be a success at Manchester United. Now he must take his team to Liverpool, to Arsenal and to Chelsea to win the game. He must demand positive, attractive football from his players at all times, no matter what the circumstances. He must have the bravery to throw on substitutes in search of a late winner when he knows it could just as easily cost his team the game.
As a man, Moyes is very much right for Manchester United. But he has a long way to go to prove he is the right manager.
You can follow Mark on Twitter @Homzy to see what he moans about for the rest of the week.