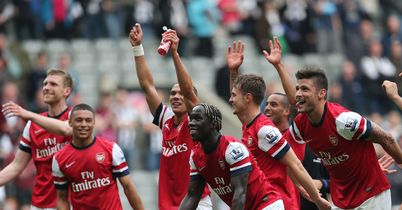 Mark Holmes defends Arsenal's right to celebrate, questions Roberto Martinez's reputation and blasts the under-appreciation of David Beckham.
Arsenal celebrations fully justified
The celebrations of the Arsenal players and fans upon securing fourth place in the Premier League on Sunday were the source of much amusement to many onlookers.
It was certainly the sign of a club, now without a trophy in eight seasons, that has been starved of success (in the traditional sense, at least) in recent times, but the celebrations were still fully understandable - and justified.
They were understandable because the fight had gone to the final day of the season - and happened to be against the club's local rivals, Tottenham.
Arsenal's fans may have hoped for better than fourth at the start of the season but that was all the team had to play for on the final day, so of course they were going to celebrate the success.
In the same vein, fans of Newcastle, Sunderland and Stoke have recently 'celebrated' survival despite having far loftier expectations back in August.
However, finishing fourth represents genuine achievement for Arsenal.
It may not have done so a decade ago when the club boasted the strongest team in the league, but expectations should not remain unchanged forever. Manchester United, for example, will not be expected to do quite as well under David Moyes next season as they would have been under Sir Alex Ferguson.
The fact is, Arsenal no longer have a squad capable of challenging for the title. Whose fault that is remains open to debate, but the only realistic expectation of the club this season was that they would once again make the Champions League.
That they have done it at the expense of Spurs, who have accrued a club-record Premier League points total and the highest-ever tally not to be enough for a top-four spot, and that they have rallied from a seemingly impossible position, further highlights the impressiveness of their achievement.
Europa League no runners-up prize
Arsenal's celebrations are further justified by Tottenham's 'prize' for finishing fifth: a place in next season's Europa League.
Every player wants to play in the Champions League - hence the delight of the Arsenal players - but few are starry-eyed about Europe's second competition.
John Obi Mikel summed it up perfectly. "You get that buzz when you hear the song of the Champions League, it's different. I don't know [what the Europa League song is].
"We want to be involved in the Champions League again next season. We've been used to it, those kind of special nights, and we want to get it back.
"I think for us and the fans, Champions League football [is the aim]. It's what this club have always been involved in and as players, it's what we want to achieve."
There may not be silverware on offer, but make no mistake about it - qualifying for the Champions League is an achievement for the players.
Meanwhile, the Europa League - despite Chelsea's success last week - can often prove an unnecessary distraction. What are the chances Spurs would have got the extra two points they needed to make the top four had they not competed in it this season?
Now they are resigned to playing in the same competition, which will hinder their chances of making next season's top four, restrict them from attracting top players, and barely boost the club's coffers at all.
To put it into context, Chelsea's prize for winning this season's competition was 5million euros, while they got 8.6million euros just for competing in the group stages of the Champions League.
Unless UEFA plan to address the balance, we will continue to witness scenes like Sunday's when teams clinch that crucial entry into the competition everyone wants to be in.
Martinez reputation makes no sense
I have written many times in this column over the past two seasons about the power of perception in football.
There was a great example of it on Sunday when Gareth Bale, perceived to be a serial diver, was given a booking for diving when a penalty would have been much fairer. A player without his reputation, Scott Parker, for example, would almost certainly have got the spot-kick.
Perception, though, can also work in your favour. Very little was said about Danny Fox's recent horror challenge on Steven Reid, for example, because he is not widely known as a dirty player.
There is no better example of perception taking on more importance than facts, though, than the reputation of Roberto Martinez.
His achievement in leading Wigan to an FA Cup final win was impressive, no doubt, but he has also presided over their relegation after three previous seasons of struggle.
General consensus says that is all the club can expect and that each of their survivals under Martinez represented achievements, yet it is rarely mentioned that Latics had finished 11th under Steve Bruce in the season before Martinez's arrival.
In fact, Wigan finished higher in three of their four Premier League seasons prior to the Spaniard taking over than they have under his stewardship, during which time their best finish was 15th last season after seven wins from their last nine games.
It is also widely accepted that Wigan play exciting, attacking football under Martinez. Yet they have been only the 16th, 19th, 17th and 13th highest Premier League goalscorers in his four seasons at the club.
They have also, of course, been atrocious at the back, conceding the second highest amount of Premier League goals for the second time under Martinez, but that only only seems to add to his allure. Damn those boring clean sheets.
Martinez is extremely likeable and talks a very good game. He has been tactically brave and innovative and, despite everything written above, he may well go on to prove himself as a top manager.
For now, though, he has proven nothing.
The standard in the bottom half of the Premier League has been atrocious this season, and for all that is said about Wigan's lack of resources, Martinez has had the time to establish a decent squad. Callum McManaman, James McCarthy, Shaun Maloney, Arouna Kone, Antolin Alcaraz and Maynor Figueroa at least will be interesting top-flight clubs this summer.
With the players he has had at his disposal and the time he has spent in charge at the DW Stadium, Martinez should have done better this season. Yet he will leave the club, no doubt for a bigger one, with his reputation better than ever.
Beckham deserves more respect
In a week that has seen a number of players retire, David Beckham has split opinion the most.
Despite playing 115 times for England and winning titles with Manchester United, Real Madrid, LA Galaxy and now Paris Saint-Germain, he is regarded by a lot of people as hugely overrated.
His profile off the pitch was more crucial than his talent on it, according to many. In fact, according to Chris Waddle, he is not even in the top 1,000 Premier League players.
Nonsense. This is a man that was World Player of the Year runner-up on two occasions and one that Madrid were willing to spend huge money on during the Galacticos era. He played alongside Zinedine Zidane, Ronaldo, Raul, Luis Figo and Roberto Carlos, for goodness sake.
Anyone that thinks Madrid bought him for purely commercial reasons - and the same applies to AC Milan and PSG - is kidding themselves.
Beckham may not go down one of the world's greatest all-time players, but at his peak he was the best set-piece taker in the world. He was arguably the best crosser in the world too, and among the best long-range passers. He did not have a great deal of pace or any outstanding skills, but he was still a truly terrific player.
Furthermore, he represented England with the same passion and pride that every supporter would have done. The way that he dragged the team to victory on occasions, most memorably back in 2001 against Greece, means he should be fondly remembered by everyone who saw him play.
His lifestyle off the pitch may have earned him some things his football talent otherwise wouldn't have done, but it also denied him the legacy he deserves as one of England's finest of all time.
You can follow Mark on Twitter at @Homzy.