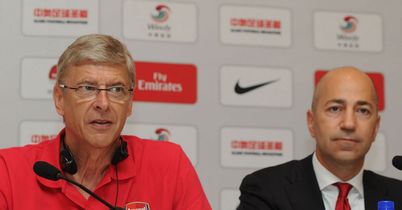 Mark Holmes blasts Arsenal's transfer policy in his first Monday Moan of the season but has some praise for Liverpool after an opening-day win.
Wenger on verge of losing supporters
When it comes to the transfer window, managers often come in for a lot of unjustified criticism from supporters.
Gone are the days when the likes of Brian Clough would negotiate contracts behind their chairmen's back; today the managers simply identify the players they want and leave the business of signing them down to the club's chief executive and/or director of football.
A manager has a part to play, of course, in convincing a potential signing of their vision for the team, but generally they cannot be blamed for targets accepting a better financial package from elsewhere or because the club has not moved quickly enough.
Arsene Wenger, however, is the exception to the rule. He is the only remaining manager in the Premier League that does hold enough power within his club to influence the money spent on transfers and wages.
Unfortunately for Arsenal fans, that influence has not necessarily been used in the right way for, although the club's policy of not overpaying is admirable, their unwillingness to compete for top players in recent years has seen them fall way behind the country's top three clubs on the pitch. 'Speculate to accumulate' are words that have seemingly not reached the Gunners' board room.
This summer, though, yet again, Wenger and the club's chief executive Ivan Gazidis have been promising it would be different.
"This year we are beginning to see something we have been planning for some time, which is the escalation in our financial firepower," Gazidis said back in June.
"It is a progression over the next two seasons and is quite significant for the club. We should (eventually) be able to compete at a level like a club such as Bayern Munich."
Wenger, meanwhile, insisted the following month that Arsenal "would not have a problem with the wages of (Wayne) Rooney."
For a man that dismissed the prospect of the club ever paying a player £200,000 a week as recently as January, this was quite a U-turn.
"We have no players on £200,000 a week and I think other clubs will come down to us with financial fair play," Wenger said when discussing Theo Walcott's contract impasse. "We have a more socialist model."
Now, six months later, Arsenal fans were supposed to believe that Wenger would happily meet the demands of a player earning well in excess of the £200,000 he had baulked at. Unsurprisingly, there has been more than a hint of scepticism around north London throughout the summer.
So far, the scepticism has been justified, with Arsenal going into the new season with only one new signing on a free transfer, Yaya Sanogo, after missing out on Gonzalo Higuain, Luiz Gustavo and numerous other rumoured targets.
The squad clear-out that was initially welcomed by supporters suddenly looks a foolish move, with 14 players replaced by just one, and only 15 days left to add the quality and quantity the squad is clearly lacking in at the moment.
Yet, to add insult to injury, despite the mass exodus and despite the continued failures in the market, Wenger has continued to insist that Arsenal can win the title with their current crop of players.
An opening-day home defeat to Aston Villa suggests differently (despite Wenger's suggestion that the referee had cost his side the game) and, although the Frenchman did hint at a frustration with others over the failure to add more players - "We do not spend the money because we do not find the players. I am not the only one for that" - he has simply made too many promises this summer to avoid the mass fan protestation that will undoubtedly come should Arsenal not do what they need to before September 2.
Time to move transfer window
Despite the criticism of Wenger, there are reasons to feel sympathetic for the likes of Arsenal, who cannot pay the sort of extortionate fees and wages PSG, for example, are willing to shell out to get their transfer business done ahead of the new season.
For those clubs that have to bide their time for the right deals - and only six or seven in Europe do not fall into that bracket - it must be hugely frustrating that the season is well underway by the time the transfer window shuts.
In a league as competitive as the Premier League, dropped points in the opening weeks of the season could easily prove fatal, and it simply isn't fair that only the handful of clubs that do not have to worry about money are the only ones able to go into those opening games with a squad they are happy with.
Every club should be afforded that same opportunity. The closure of the transfer window must come earlier.
Liverpool performance hints at improvement
Few people outside of Merseyside were predicting Liverpool to seriously challenge for a top-four place prior to the weekend's opening fixtures but, based on the evidence of their win over Stoke City, Brendan Rodgers' side may be stronger than many expected.
The additions of Philippe Coutinho and Daniel Sturridge in January added an extra dimension to the Reds' play and, albeit against a Stoke side beginning a transitional period, the duo were exceptional in the 1-0 win at Anfield on Saturday.
The hosts suffered some nervy moments in defence themselves and needed a Simon Mignolet penalty save late on to clinch the three points, but Luis Suarez is looking increasingly likely to come back into the fold after his ban, while Iago Aspas produced a promising performance on his competitive debut after a productive pre-season.
It would be wrong for anyone to get carried away by a narrow victory over a side tipped to struggle, but the energy of their midfield and movement of their forward players were a definite step up from last season.
Like Manchester United, who claimed the biggest win on the opening weekend, Liverpool may have been written off rather prematurely.
Let me know what you were moaning about over the weekend using the story comment facility below.