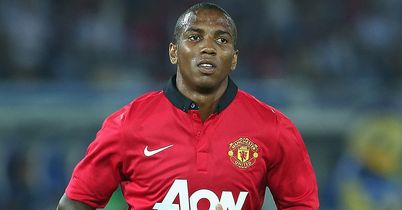 Mark Holmes says Manchester United got lucky, explains why he feels Bacary Sagna escaped red, and accuses Roy Hodgson of delaying progress.
Moss bowed to United pressure
Long-term readers of this column will know I have been petitioning for more to be done about diving for many years.
The debate over a fair punishment, whether given at the time or retrospectively, will run and run, and Ashley Young's latest dive(s) against Crystal Palace on Saturday simply reiterates the point that it is a form of cheating in our game many people would like to see dealt with in a better way.
On that, there is little I can say that I have not before, but the fact that United were awarded a penalty against Palace was quite astounding.
When Young went down under a challenge from Kagisho Dikgacoi, it was quite clear that the referee, Jon Moss, could not see from his position whether the contact had been made inside or outside of the penalty area. Instantly, he looked to his assistant, Andy Halliday, on the right-hand side for support.
Now, it was clear from replays that the contact had begun outside of the box, yet Halliday was heard saying on TV, "I can't tell you. I can't help you."
Given it is an assistant referee's job to keep up with play in their half of the pitch, it was a big mistake of Halliday to have missed the incident.
But, perhaps even more importantly, given neither Moss nor Halliday were sure where the contact occured, it is downright scandalous that the referee took a guess and awarded a penalty.
Graham Poll has admitted that referees are advised to give a free-kick just outside the area when in doubt so there does not even appear to be a defence in the rule book for Moss on this occasion.
Call me a cynic, but my guess would be that, having already booked Young for one dive and turned down another couple of separate United penalty appeals, Moss felt pressured into awarding this one.
With the score at 0-0, did Moss want to be on the wrong end from the champions' wrath by siding with Palace and then later finding out he was wrong? It would appear not, but his incorrect guess at where the contact was made has done his reputation no good whatsoever.
Arsenal escape understandable
There was another big refereeing controversy over the weekend, with Jozy Altidore denied a goal for Sunderland against Arsenal by a premature whistle from Martin Atkinson which instead resulted in a free-kick, no goal and no red card for the offender in this case, Bacary Sagna.
There is little doubt that, with only Sagna standing between Altidore and the Arsenal goal, Atkinson did not leave enough time before blowing to see whether the Sunderland striker could gain an advantage.
The red-card call is slightly more complicated, however. Having blown up, too early or not, Atkinson had to judge whether Sagna had denied an obvious goalscoring opportunity when he first fouled Altidore, which was some 30 yards from goal.
The fact that Altidore went on to score presents a strong argument that he was indeed denied a clear opportunity, but the American would almost certainly have been penalised for a push on Sagna had the defender not committed an offence first. Sunderland fans should not kid themselves that, had Atkinson not have blown up when he did, he would have allowed the goal to stand.
Had neither Sagna nor Altidore committed an offence, the Sunderland man would have entered the area at a tight angle, with Sagna still beside him.
Although Arsenal can still count themselves fortunate, unlike the incident at Old Trafford, you can at least understand why this outcome occurred.
Hodgson delaying England progress
A day after his much-lauded speech about English football on September 4, Football Association chairman Greg Dyke as good as admitted the England team had no chance of winning the World Cup in Brazil next year.
"I asked a bunch of journalists what would be seen as doing well in Brazil," Dyke said. "The consensus was if we reach the quarter-finals we'll do very well.
"That's not to say we can't win. But let's not kid ourselves, it's pretty hard to win in Latin America anyway for a European side. We're certainly not going to go there as odds-on favourites, that's for sure."
Dyke is right, of course, that realism has finally set in regarding the England team and that nobody expects them to put up any sort of serious challenge in Brazil next summer.
His speech the day before those comments, meanwhile, provided genuine hope that the FA is aware of the problems facing the national team and that they have identified ways to solve them.
However, Dyke made further comments which show the FA are actually part of the problem.
"He (Roy Hodgson) knows that we want to do the best we can possibly do at every tournament, and I believe we will qualify for Brazil and we can do OK."
If Dyke accepts there is little chance of success at next summer's finals, what does he think the England players are gaining from playing the sort of dire football witnessed in Ukraine last week simply to grind out the results needed to qualify?
If there is a long-term target to win the World Cup, why is there a short-term target to qualify for it by whatever means necessary when Dyke himself said there is a need to get all England teams "playing the right way"?
Dyke spoke about the need for "consistency in preparation, coaching and playing styles," and this is something that is hugely important for the long-term future of the national team.
The FA needs to speak to the country's best coaches, past and present, to finalise a system, a style of play and a tactical blueprint that is utilised by every England team right through to the senior side.
The days of playing to the strengths of the team's best player need to be left in the past. Instead, young players need to be taught what every player within a team, in each specific role, needs to do for the team to succeed.
Then, when England are missing key men in the future, as they were in Ukraine, absentees will not be an excuse for poor performances as there will be other players available to perform the same role as those absentees in a system they have been playing in from a young age. Just as it is for Spain, the system will be more important than the players within it.
It will be a long time before England are where Spain are now, of course - even 2022 seems an optimistic target from Dyke - but all the more reason to put this one footballing philosophy in place immediately, starting with the senior side.
Considering even those within the FA hold out little hope of a World Cup win in Brazil, what is there to be gained from delaying the changes that patently need to be made?
If players struggle to adapt to the new way of playing initially and the team does not qualify for the finals, does it really matter given the tiny chance of short-term success anyway?
Surely it is better for the team to start adapting to a style of football that offers hope of long-term success than to persist with a style that offers no hope of success in either the short or long term?
Given his remit is simply to get the team to Brazil, Hodgson cannot be blamed for the team playing in whatever way he thinks is necessary to get results.
The FA, however, needs to realise quickly that the national side playing that way is hugely counter-productive and that the short-term target of mere qualification is getting in the way of the long-term target of actually winning a major tournament.