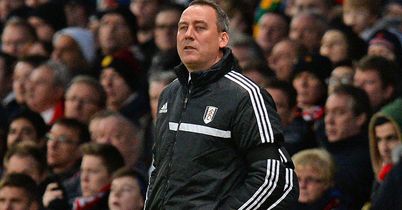 Mark Holmes uses Fulham, Wayne Rooney and Jose Mourinho to highlight the changing face of football following the passing of Sir Tom Finney.
Finney passing a reminder of what we had
Anybody in need of a reminder of how much football has changed certainly got it on Friday night, with the sad announcement of the death of Sir Tom Finney.
Finney is widely considered to be one of England's greatest ever talents, if not the greatest ever, yet there was as much space set aside in his obituaries to praise the man as there was the player.
Modesty, courtesy, decency, nobility, humility, loyalty and dignity are a selection of the words used to describe Finney over the past few days, words which have largely disappeared from football's dictionary, but it is the stories that have dominated headlines alongside Finney over the weekend that best sum up how football has changed - and not necessarily for the better.
Fulham, for example, announced just hours before news broke of Finney's passing that Felix Magath had been appointed as the club's new first-team manager.
While Finney spent his entire career with his hometown club, Preston North End, Rene Meulensteen was allowed only 75 days in charge of Fulham before being replaced.
Despite such a short reign, the Dutchman will be regarded as a failure, a word that dominated the headlines earlier on Friday after Jose Mourinho labelled Arsene Wenger a "specialist" in it. The words decency, dignity et al did not feature.
It was hard not to think of Finney later in the weekend, too, when it was reported Wayne Rooney is set to land a new £300,000 a week contract at Manchester United. Finney, a player spoken about as one of the world's best ever players, never earned more than £14 a week in the age of the Football League's maximum wage.
Then, on Sunday, as Liverpool fans raged against Howard Webb's decision not to award Luis Suarez a second penalty at Arsenal, you had to wonder what Finney, who fought in World War Two, would have made of the Uruguayan rolling around on the floor in apparent agony following a challenge from Alex Oxlade-Chamberlain.
It should have been a penalty, no doubt, but you suspect the likes of Finney, Sir Stanley Matthews and George Best might share a laugh or two watching the likes of Suarez, Ashley Young and co. given the kickings they had to withstand in their day. That's progress for you.
Mackintosh advice sums up Fulham problems
It says a lot about modern-day football that some three days after the announcement of Magath's arrival at Fulham it still has not been confirmed what role, if any, Meulensteen will take at Craven Cottage.
In a remarkably similar situation to the recent one at Leeds, Meulensteen believed he had been sacked on Friday night but may well be asked to stay on in his role as head coach. The water could hardly be muddier.
In his latest column for TEAMtalk, David Connolly argued many English clubs may benefit from the appointment of a sporting director to work as an intermediary between the chairperson and manager. His suggestion was largely greeted with scepticism, but the rash decision making at Fulham may make some think twice.
Connolly's argument is that while most owners are hugely knowledgeable in the business world, they could benefit from expert advice from someone in the football world. Someone that can make a proper assessment of the job the team's manager is doing, someone that can help find a suitable replacement when necessary, and someone that can ensure the team follows the philosophy of the club rather than the individual managers who come and go like the wind.
Shahid Khan, a man who had never worked in football prior to buying Fulham last summer, would surely have benefited from expert advice such as this, yet instead he has been taking it from the club's CEO Alistair Mackintosh, a chartered accountant who recommended the appointment of Magath.
There seems to be a feeling in this country that having a man with experience of football in a role such as sporting director can undermine the manager, but surely it is beneficial for managers to be judged by someone that truly understands the game than someone who has neither played nor coached.
Had Alan Curbishley, whose current responsibilities at the club are anyone's guess, been in such a role since the start of the season, for example, one suspects Fulham would not be in such a disastrous situation.
It may well be, incidentally, that Magath can inspire Fulham to safety - he has a good track record of saving clubs in trouble - but history suggests he is not likely to remain at Craven Cottage for too long, with player discontent seemingly almost certain.
Whenever he goes, Khan will no doubt seek advice on who to appoint next and surely even the biggest sceptic of sporting directors would not disagree that advice would not be better coming from a Curbishley than a Mackintosh.
Bayern Munich's sporting director is Matthias Sammer. Real Madrid's is Zinedine Zidane. Ajax's is Marc Overmars. Employ football people in a football position and English clubs might just benefit from some sensible advice.
Rooney and co. deserve their riches
You could be forgiven for thinking Finney might have been annoyed to hear news of Rooney's bumper new contract, but you would be wrong.
"I don't begrudge modern players a penny of what they earn," Finney once said.
He would have earned big money himself, relative to the time, were it not for Preston chairman Nat Buck rejecting an offer for the forward in 1952 from Palermo, who wanted to increase Finney's wages from £12 a week to £120 a week, and he no doubt could have commanded wages even in excess of Rooney's were he playing today.
£300,000 is, of course, a ludicrous amount of money for anyone to earn in a week, but it is relative to the game Rooney is in. Football clubs earn so much money that Rooney and co. are only really getting the crumbs off the fat cats' tables.
It would be great if those fat cats would use their massive revenues to make football more affordable for us supporters but, in the meantime, it's far preferable for the money to line the pockets of those that entertain us than those that over-charge us.