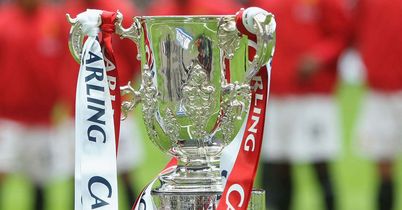 West Ham, Charlton, Crystal Palace and Bristol City have postponed their Carling Cup games after a request from police due to riots on Monday.
The Hammers, Addicks, Palace and City had been due to play Aldershot, Reading, Crawley and Swindon respectively in Tuesday night's first-round action.
Palace have rearranged their tie to Tuesday 23 August at 7:30pm.
Crawley had been preparing for their debut in the competition after beating fellow promoted side AFC Wimbledon in a qualifier on 29th July.
"I think we've all seen the news on Sky and we've all followed it," said Crawley boss Steve Evans.
"Late last night I got the call from the chief executive to say the police had been in touch with Palace and ourselves, so I think it was inevitable when you hear what is happening in West Ham and Charlton."
Violent scenes have blighted London for the last three days, after the fatal shooting of Tottenham resident Mark Duggan last Thursday prompted rioting and looting in the area at the weekend.
Following the violence in London, trouble spread to other cities including Birmingham, Liverpool and Bristol.
A statement on West Ham's official website said: "West Ham United have been asked by the police to postpone the Carling Cup first-round tie with Aldershot Town tomorrow night.
"The club were contacted and told that all major public events in London were to be arranged because of the need to focus police resources elsewere.
"Whilst neither the club or police anticipate any issues around the game itself, the club has to comply with the police request.
"No date has yet been set for the rearranged match, but the club will be in contact with the Football League and Aldershot."
Addicks chief executive Stephen Kavanagh confirmed the Charlton match at The Valley has been postponed on the club's official website.
He said: "We've been monitoring the situation as it's been developing and have been in constant contact with the police.
"Clearly the most important factor is people's safety. The police have told us they believe the match should be postponed on safety grounds, and obviously we have taken that advice."
Bristol City chairman Colin Sexstone told the club's official website: "It's disappointing but we totally understand the reasons given by the police.
"Clearly the most important factor is people's safety and these are exceptional circumstances the police are dealing with."