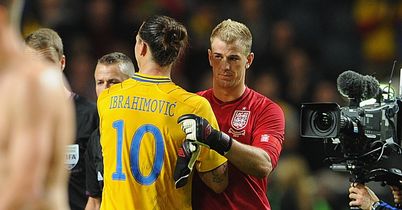 TEAMtalk guest Frank Malley says the level of criticism for Joe Hart is unjustified and calls for perspective when judging the England keeper.
There is no getting away from it. Joe Hart has not had a good couple of months.
The England goalkeeper was to blame for Poland's equaliser in Warsaw in World Cup qualifying last month when he came off his line but failed to gather a corner kick which was headed in by Kamil Glik.
He has not been at his best for Manchester City in the Premier League so far this season and in England's 4-2 defeat against Sweden on Wednesday he was directly responsible for at least two of Zlatan Ibrahimovic's four goals, including the extraordinary fourth, the overhead propellor-kick following Hart's tame header on the edge of the penalty area.
But does Hart really deserve to be up there with bankers, estate agents and 'I'm A Celebrity, Get Me Out Of Here' MP Nadine Dorris on the list of individuals people seemingly love to hate?
Does he really deserve the treatment meted out by the phone-ins and football forums which were full of hysterical tosh following Hart's performance in Stockholm?
"Over-paid", "Over-inflated ego", "Waste of time", "Arrogant", "Too big for his boots", were just some of the jibes aimed at Hart.
It was all so depressingly typical of the tall poppy syndrome which surfaces from time to time in English sport and which can shatter careers.
Why, it was only earlier this year that Hart was backed by some players and pundits to be England captain after being touted as arguably the best goalkeeper in the world.
Better than Spain's Iker Casillas, said some. Better than Italy's Gianluigi Buffon, others argued.
It was only last summer that he was universally lauded as one of the best performers at Euro 2012 after making 19 saves, the most by any goalkeeper in the tournament.
It was only two months ago that former England star Peter Shilton, who knows a thing or two about goalkeeping, tipped him to surpass his record of 125 caps, albeit with a note of caution.
"Joe Hart has done really well, he is still only young, he is still improving, he needs to continue to improve and he needs to work hard at his game," said Shilton.
"He needs to be pushed, he needs to be kept on his toes, because England are relying on him at a time when there isn't a great deal of strength in depth with England goalkeepers."
Perhaps that is where England manager Roy Hodgson missed a trick with Hart in midweek. A meaningless friendly against Sweden surely was the perfect opportunity for Norwich goalkeeper John Ruddy to gain more experience on the international stage.
Or how about a debut for Fraser Forster, the man who produced a world-class performance against Barcelona in the Champions League a week ago in Celtic's 2-1 win, so dazzling that it prompted the Spanish media to nickname him La Gran Muralla, which translates as 'The Great Wall'?
Hart needs to know there is talent snapping at his heels. He needs competition, the sort Shilton had for a time in the 1970s when he shared the England goalkeeping job with Ray Clemence, each pushing the other to greater heights.
He needs to realise that at 25 he is still learning in a position where there is no place to hide.
What Hart does not need, however, is vituperative criticism from those whose opinions sway like a reed in the breeze from match to match. You cannot be the equal of Buffon one minute and a buffoon the next.
The truth lies somewhere in between and it should be remembered that Hart has been operating in recent times behind an England defence which has lost its once-secure axis of John Terry and Rio Ferdinand.
Hart's shot-stopping quality is undeniable. So is his self-confidence. His strategic positioning, however, could do with improvement. He has had a bad couple of months. That is the bottom line and he would be the first to recognise that.
Yet he is still England's finest goalkeeper. By a distance.
By Frank Malley, PA Sport.