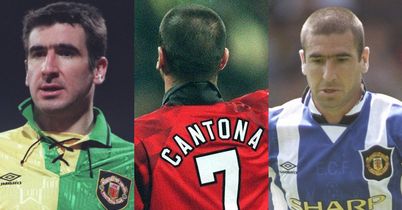 This week marks 20 years since Eric Cantona moved across the Pennines to Manchester United and TEAMtalk looks at his most memorable moments.
Exactly 20 years ago this week history was to be made in English football. Manchester United legend Eric Cantona was captured by Sir Alex Ferguson as he made the switch across the Pennines to the Reds from arch rivals Leeds United.
What was to follow was incredible; Cantona was the shining star of a very successful United team, helping them win six trophies during his five year spell at Old Trafford. Cantona's name is still sung to this day by United's hoards of fans following his prolific exploits.
The Frenchman scored over 80 goals for the club, but he also created many moments of controversy too, with one in particular standing out as one of the most memorable moments in English football history.
His famous Kung Fu kick is among ten memorable Cantona moments TEAMtalk has selected during his career in England.
Honours with Leeds United
Cantona had a short spell at Leeds United, just the year in fact, during which time he managed to help them win the old Division 1 title and the Charity Shield. Although he made only a few appearances for the Whites, he was instrumental in their success mainly through his eye for an assist. He scored a hat-trick in a Charity shield victory over Liverpool. Cantona appeared on the victory parade in the city centre and said 'I don't know why, but I love you' to the Leeds fans.
Signing for Manchester United
Shortly after declaring his love for the Leeds fans, Cantona did the unthinkable in their eyes; he made the move across the Pennines to fierce rivals Manchester United. The move came about through an enquiry Leeds' managing director Bill Fotherby made about the possible signing of Dennis Irwin from United. Talks broke down and the possibility of Sir Alex signing Cantona from Leeds began to materialise. The rest as they say is history. Cantona signed for £1.2m before the start of the rebranded Premier League season.
Cantona's 1st United goal
Saturday 19 December 1992, Stamford Bridge, Chelsea 1-1 Manchester United - this was the game Cantona registered his first goal for United; it took the Frenchman until almost Christmas to find his scoring boots in the Premier League. The strike secured a draw for United in London to keep them within reach of table toppers Norwich City, who they had beaten in their previous fixture 1-0. This was to prove the catalyst to a flurry of United goals for Cantona.
FA Cup Final 1994 v Chelsea
Manchester United faced Chelsea in the 1994 FA Cup final in front of 79,634 fans packed into the old Wembley Stadium. Cantona scored the first two in the game to ensure United lifted the cup. Both of his goals came from the penalty spot in the 60th and 66th minute. Mark Hughes and Brian McClair completed the scoring as Chelsea suffered a second half hammering.
PFA Player of the Year 1994
Following the Frenchman's fantastic run of form since joining from Leeds, Cantona became the first ever foreign footballer to win the PFA Player of the Year Award. Cantona scored 25 goals during the season he won the award, helping United secure a domestic double as they won the Premier League and FA Cup under Sir Alex Ferguson.
Infamous assault on a fan
During a 1-1 draw at Selhurst Park against Crystal Palace, Cantona was sent off after blatantly kicking defender Richard Shaw. According to Cantona, a Palace supporter was spewing racial remarks and threw a missile at the Frenchman as he made his way to the tunnel. Cantona sprinted towards the fan and launched a kung-Fu style kick. He was given 120 hours of community service after appearing in court. He was also banned from football for 8 months and fined 2 weeks wages. Without Cantona's brilliance, United conceded the league to Blackburn during this season.
Manchester United 2-2 Liverpool 1995
The chance Cantona had to redeem himself, in front of the fans he let down so badly eight months prior to this game against United's arch rivals Liverpool. It was his first game back following a sustained suspension from action for the attack on a fan. Cantona walked out to an expectant crowd, all of whom had eagerly awaited his comeback. A large number of United fans held up the French flag to welcome their favourite player back. Cantona didn't disappoint as he scored a second half penalty in a 2-2 draw.
Manchester United 5-0 Sunderland 1995
In the 80th minute Cantona created an iconic image that is sure to live long in the memory of every United fan. He picked the ball up just inside the opposition's half, beat three Sunderland players and made an exchange of passes with a team mate. He then looked up and chipped the ball beyond the goalkeeper. If the goal wasn't amazing enough, the Frenchman's celebration definitely was. Cantona stuck his chest out, arms aloft and took the cheers in with such calm and composure as he would a five-yard tap in.
FA Cup Final 1996 Manchester United 1-0 Liverpool
Cantona scored the only goal of the game to earn United the FA Cup yet again. They beat their biggest rivals in a game Cantona was made captain of United. His superb volley confirmed his status as one of the clubs biggest legendary figures in a season United again clinched the double.
Best Ever United Player Award
Before a league game against Charlton Athletic in 2001, Cantona was rewarded for his exploits as Sir Alex Ferguson presented him with the 'Best Ever United Player' award, as voted for by United fans. Cantona posed for photos with Sir Alex and waved to the fans of a capacity crowd at Old Trafford.