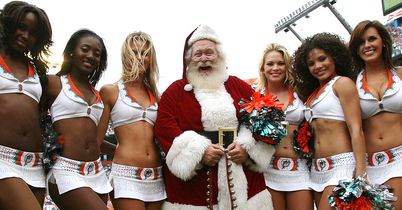 Merry Christmas to our loyal army of TEAMtalk readers - have a great day and we'll see you all for the bumper Boxing Day programme.
It has been a hectic year here at TEAMtalk, with the website going from strength to strength and now being a one-stop shop for all your sporting needs.
In a year that saw Manchester City prise the Premier League crown from Sir Alex Ferguson's grasp and Chelsea crowned European champions, TEAMtalk has added a host of new features and sections for your enjoyment.
Matty Briggs' weekly Numbers Game gives you guidance on how to leave the bookies - who give us all their latest odds in Punters' Paradise - sobbing.
And Mark Holmes vents his spleen at the start of each week in his brilliant and controversial Monday Moan.
We pile into a recording studio once a week to chew the footballing fat and tear strips off each other in our slick Football Podcast, and also take stock of the weekend action every Sunday night in our Premier Picks blog.
You'll always be able to test your knowledge of the beautiful game in our famous TEAMtalk quizzes, then crow about your score and wax lyrical about your team on the banter battleground of our Your Say page.
We approve thousands of Your Says and story comments on a weekly basis, making you a major part of the website, and select our teams of the week across the divisions in our Top Men features.
If that's not enough, remember you can ensure you know everything that's dominating the World of Sport outside of football - and as we gear up for the opening of the January window of opportunity, our Transfer Centre will be the hub of all the latest wheeling, dealing and whispers from around Europe.
In our most recent feature, we were big enough and ugly enough to admit we're just one of many fantastic football websites on t'internet, and launched our TEAMtalk Recommends page to point you in the direction of the other Great Wonders of the Web.
Finally, 2013 is going to be an exciting year as TEAMtalk will become the home of Fanzone, meaning we'll have more bespoke blogs for your perusal and a dedicated writer for each team.
Merry Christmas everyone from the TEAMtalk crew:
Simon Wilkes
James Marshment
Jon Holmes
Rob McCarthy
Mark Holmes
Matty Briggs
Ian Watson
Sam Nightingale
Pete Hall
Tom McDermott