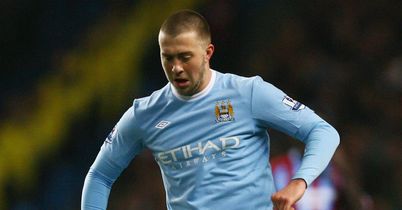 TEAMtalk guest Rich Kitto believes Michael Johnson has helped prove that talent alone is not enough to succeed at the top level in football.
'The saddest thing in life is wasted talent. You could have all the talent in the world but if you don't do the right thing, then nothing happens' - Lorenzo, A Bronx Tale
I wrote a piece last week questioning the substantial amounts of money top clubs are now prepared to hand over in order to obtain the best home-grown players in the market.
But whilst some teams pay an amount well over the odds to secure talent, occasionally the players themselves will pay the ultimate price when trying to live up to new expectations and overnight fame. Is it a case that some players simply have the wrong attitude and fall by the wayside, or that the burden of anticipation weighs too heavy on such fledgling shoulders?
Whilst for many of us being paid vast sums of money to do something you consider a hobby would be a dream come true, for others it's a reality that is too overwhelming and uncontrollable.
As news sifted out that Manchester City had released - the once hugely sought after - Michael Johnson and pictures floated round the net of his current physical state, it was greeted with much more coverage than a typical contract termination.
The fact that he was still earning £40,000 a week at the club where he hasn't featured since 2009 was certainly eye catching, but more than that was the inevitability, and somewhat tragedy, of the news. It was the recognition from many that he was no regular young professional to lose his way, but an in credibly gifted 18-year-old who impressed all that befell him, even with so few opportunities to do so.
Now 24, Johnson has finally spoken out after a long time in the shadows, he touched on the fact that he's been in the Priory Clinic as a result of suffering with mental health issues, and that now he wants to be 'left alone to live the rest of my life'. He was candid and frank in his appraisal of his career: "I am more disappointed than anyone but that's the way it goes."
Although with no reference or regard to Johnson, Arsene Wenger spoke on Tuesday about the future of his young English midfielder Jack Wilshere, and said that, while no limitations had been set, "what is important is the day he will have made his career and thinks, 'I have been as good as I could have hoped to be'". In which case, the acceptance that his career is over must be extremely hard to take for Johnson.
Of course, there is nothing to suggest, beyond vast potential, that Johnson would ever have been the star midfielder that many, including Sven-Goran Erikkson, predicted when looking at others whose tall billing has not lead to high success.
When contemplating a group of highly-talented youngsters from a few years back, my mind also draws me to Mr Wenger and his young Gunners' sensational performance against a strong Wigan side - featuring the likes of Melchiot, Palacios, Valencia and Zaki - in the Carling Cup.
Most memorable is that goal by Carlos Vela, but the manner in which Wigan were taught a lesson by a bunch of kids was staggering.
That crop was seen as the future of the club, and whilst some have lived up to expectations, others including Vela, have dropped off the map. Of the team that started the match, Fabianski, Song, Djourou, Gibbs, Wilshere and Ramsey could all say they are pleased with the way their future has been shaped since then. But Justin Hoyte (now at Middlesbrough), Mark Randall (Chesterfield), Fran Merida (Hercules), Jay Simpson (Hull) and Carlos Vela (Real Sociedad) would probably have wished things had gone differently, without any offence to the teams they now serve.
This is why the 'top, top' players in world football such as Messi, Ronaldo and Van Persie are rightfully adorned in the manner which they are. Natural talent will give one man the ability to occasionally do great things, but it is so hard to achieve that week in, week out with the expectation of millions of supporters on your back.
Such players make it look so simple to do what comes naturally at the highest level, but it should never be underestimated just how tough it is. Again, with regards to Wilshere, Wenger told the press: 'I have managed many great players in my life; the one common thing in their career is that they always wanted to improve. Every day they had 100% focus, they had that basic attitude right.'
Of course, he's absolutely right. As Sir Alex Ferguson once said when questioned on Ronaldo's amazing ability, "there is no fluke about it. I see Ronaldo practicing all the time in training". Roberto Mancini should take note from Messrs Wenger and Ferguson as Mario Balotelli continues to flit away all the apparent talent he has been given. It seems the public are beginning to get a bit fed up with the antics of Super Mario and part of it will boil down to bitterness, as here is a man that has been given a gift that so many of us have craved since our first feel of foot on leather, yet he seems almost determined to throw it all away.
Though apparent under achievement is not always associated with just the players, as the once-lauded and highly considered Frank Rijkaard has proven following his dismissal as national coach of Saudi Arabia, after the team was embarrassingly dumped out of the Gulf Cup by lowly Kuwait. I hope Pep Guardiola heard the news as he was flown over to Munich.
So when contemplating how many noughts to add onto the end of their cheque to secure the next big British prospect, clubs will need to do a bit more digging into the mentality of the young men. Because whilst it will never be completely concluded as to why hugely gifted players sometimes let everything slip, one thing can be certified - talent, and money, doesn't always buy success.