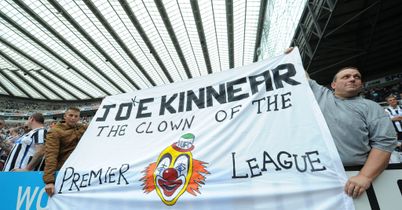 Tweet us your pictures on the way to and at one of Sunday's five games - and we will show it on the TEAMtalk homepage.
If you're heading to a game on Saturday and Sunday, tweet your pictures to @TEAMtalk using the hashtag #TTmatchday and we will host them all here on our homepage.
Whether you're travelling by car, train or foot, we want to see your pictures on your way to whatever game you're watching.
And if you're enjoying a pre-match pint, why not tweet us a picture of you and your mates getting ready for kick-off?
Then, once you're inside the stadium, we want you to capture the atmosphere amongst your supporters - whether it be good or bad!
@TEAMtalk @CardiffCityFC #unbelievablejeff pic.twitter.com/odWkTCv9OI

- Andrew Nicholls (@Nicmyster) August 25, 2013
If #cardiffcity win he has to wear this ever game, doesn't he? pic.twitter.com/kwLevhG6tM

- TEAMtalk (@TEAMtalk) August 25, 2013
@TEAMtalk Good effort from #bluebirds 1st half ! pic.twitter.com/QGiDCdy97v

- Andrew Nicholls (@Nicmyster) August 25, 2013
Is Gareth Bale going somewhere? #thfc pic.twitter.com/2tsAxd52DS

- TEAMtalk (@TEAMtalk) August 25, 2013
#TTmatchday: #AFC fans - this one, at least - not happy with Arsene Wenger & he has the banner at #FFC to prove it: pic.twitter.com/ALmmE4cBwj

- TEAMtalk (@TEAMtalk) August 24, 2013
@TEAMtalk #TTmatchday up the potters pic.twitter.com/bmxE33FAsM

- Matt C aka Nudge (@nudgeovstoke) August 24, 2013
#TTmatchday: Heading to #HCAFC v #NCFC? Get your £3 out for Programme Pete & his beautiful assistant... pic.twitter.com/5suVyXS2Lj

- TEAMtalk (@TEAMtalk) August 24, 2013
@TEAMtalk @drfc_official Refuelling before the Charlton game #DRFC http://t.co/TRMUT1bf6E

- Jack Peat (@jacknpeat) August 24, 2013
#TTmatchday: #NCFC's Ricky van Wolfswinkel has been to see Programme Pete at #HCAFC. White socks & sandals though? pic.twitter.com/wSQmnlycUC

- TEAMtalk (@TEAMtalk) August 24, 2013
#TTmatchday: Ever wondered what Roberto Martinez would look like with Fellaini's hair? Wonder no more... #EFC pic.twitter.com/nj9vec8dBv

- TEAMtalk (@TEAMtalk) August 24, 2013
@Homzy @TEAMtalk #TTMatchday Knypersley & Biddulph Stoke City Supporters Club before the rush! 6 coaches full today pic.twitter.com/B3ZInh1kTp

- Simon Robinson (@Robo10_Stoke) August 24, 2013
#TTmatchday: Rickie Lambert is popular with the old boys at #SaintsFC. New boy Dani Osvaldo is on the bench v #SAFC pic.twitter.com/FQhvKJNwdb

- TEAMtalk (@TEAMtalk) August 24, 2013
#TTmatchday: Eddie eyes up a half-&-half scarf - should he go for #SCFC/#CPFC or the one from a pre-season friendly? pic.twitter.com/l3btn1V7l9

- TEAMtalk (@TEAMtalk) August 24, 2013
#TTmatchday: How many badges? #SCFC pic.twitter.com/U7cYj29r0P

- TEAMtalk (@TEAMtalk) August 24, 2013
@TEAMtalk @GRE6STER and his son Jack Harris before the dramatic win for @OfficialWolves last night #TTmatchday pic.twitter.com/RJ1jfjJ8gR

- Amy Louise (@blountamylou) August 24, 2013