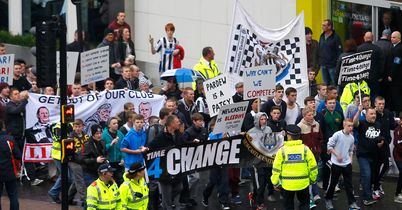 Check out the best pictures from the Premier League and Football League throughout the day - and tweet us yours from whatever match you are at.
Our photo gallery will bring you a flavour of the big matchday action from up and down the country before and during matches - but we'd also like our readers to contribute too by tweeting your pictures to @TEAMtalk using the hashtag #TTmatchday. We will host the best ones all here on our homepage.
Whether you're travelling by car, train or foot, we want to see your pictures on your way to whatever game you're watching.
If you're enjoying a pre-match pint, why not tweet us a picture of you and your mates preparing for the big kick-off?
And once you're inside the stadium, we want you to capture the atmosphere amongst your supporters - whether it be good or bad!
Some displeased Newcastle fans make their opinions clear ahead of the clash with Liverpool #NUFC #TTmatchday pic.twitter.com/X4HB8jOcwE

- TEAMtalk (@TEAMtalk) October 19, 2013
PIC: This man's header rescued #LFC this afternoon. What is it with Liverpool and second-half failings? pic.twitter.com/7tMOCC3erd

- TEAMtalk (@TEAMtalk) October 19, 2013
PIC: Quick lads, lets get him. pic.twitter.com/h4ziCOXy6P

- TEAMtalk (@TEAMtalk) October 19, 2013
PIC: Not been a particularly fruitful day for this scarf seller at #MUFC pic.twitter.com/riMXyeQfwz

- TEAMtalk (@TEAMtalk) October 19, 2013
PIC: I popped to the toilet. Did I miss anything? We are winning at Chelsea? Don't be silly! #TTmatchday #CCFC pic.twitter.com/zzVQ08H0ng

- TEAMtalk (@TEAMtalk) October 19, 2013
PIC: How high, skipper? #TTmatchday #HCFC pic.twitter.com/pxSBnOhVtm

- TEAMtalk (@TEAMtalk) October 19, 2013
PIC: Writing the headlines for the right reasons. Stunner from Jack. #TTmatchday #AFC pic.twitter.com/0cuX6XLgww

- TEAMtalk (@TEAMtalk) October 19, 2013
PIC: He bagged a hat-trick for Holland, but RvP is delighted to be back amongst the goals for #MUFC #TTmatchday pic.twitter.com/2cWUidxANd

- TEAMtalk (@TEAMtalk) October 19, 2013
PIC: Easy this management lark, isn't it? #MUFC #TTmatchday pic.twitter.com/QpprH7zEz4

- TEAMtalk (@TEAMtalk) October 19, 2013
PIC: Interesting characters down at Upton Park. #TTmatchday #MCFC #WHUFC pic.twitter.com/KVF8iXeEhI

— TEAMtalk (@TEAMtalk) October 19, 2013
PIC: "What I do is I get a comb, then push it this way, then that." #MCFC #TTmatchday pic.twitter.com/MaUgzlY5HO

— TEAMtalk (@TEAMtalk) October 19, 2013
PIC: Aguero skips with delight at opening the scoring. When he scores City don't lose. Will that run continue? #MCFC pic.twitter.com/dIAmAE2h9R

— TEAMtalk (@TEAMtalk) October 19, 2013
PIC: David Silva is head over heals that his side are in front. #TTmatchday #MCFC pic.twitter.com/c8jGCMfMtv

— TEAMtalk (@TEAMtalk) October 19, 2013