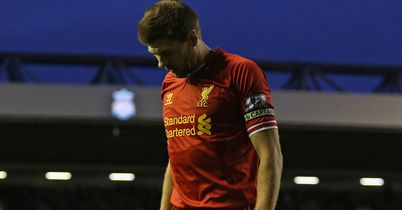 Rich Kitto believes Liverpool's fine win at Tottenham highlighted the ever-decreasing importance of Steven Gerrard to Brendan Rodgers' team.
The late, great, Nelson Mandela once famously said: 'Do not judge me by successes, judge me by the amount of times I fell down and got back up'.
It's a typically thought-provoking and evocative sentiment that can be understood and appreciated on both a personal and social level.
It's a statement that we can all admire, that inspires us, and that questions the mentality and status by which we define our lives. It portrays victory, in whatever context, as less noteworthy and easier to achieve than finding that motivation to not give up, and not be a quitter, no matter how tough it gets.
In sport, whether through participation or support, it's certainly something we can all relate to as we witness our teams going through the blinding highs and depressing lows that affect our own moods and mind-sets.
The anticipation of success, followed by the heartache of defeat, is certainly something that Liverpool fans have learnt to accept and repress over the years.
The giddy heights of the 70s and 80s, where under the guidance of Messrs Shankly, Paisley, Fagan and Dalglish Liverpool rewrote the history books, has now grown dusty as the Reds still seek to add a league title to the last one gained in 1990.
And none will feel that pain more than current skipper, supporter and die-hard Liverpudlian Steven Gerrard.
For many Liverpool fan of a bygone era the glory years of three decades ago is a wonderful recollection but, since becoming a prominent part of the team, it must in part have felt like a giant boulder of expectation weighing down the man born in Merseyside.
Supporters still cling onto the memories of those previous domestic and European titles like a kid with a balloon, and it is that nostalgic feeling which makes them believe that it can be repeated all over again.
However, as we all know, Liverpool are not the team they used to be, and the clichéd expression of 'next year is our year' is one often used to mock the perhaps foolhardy fans of the Reds.
Of course, in recent times there have been some reasons to cheer - none more so than that famous night on the May 25, 2005 at the Ataturk Stadium in Istanbul - and it is for reasons such as the manner in which Liverpool lifted the trophy that keeps their followers believing through thick and thin.
One thing is certain, at the heart of everything positive the club has achieved in modern memory is their leader Gerrard. As it stands, he can point to two FA Cups, two Super Cups, two Community Shields, three League Cups, one UEFA cup and the 2005 Champions League as a pretty decent trophy haul.
But the one thing he craves more than anything, and which he has continuously toiled and fought for without success, is the Premier League.
Therefore it felt almost ironic that Gerrard watched on from the Sky Sports studios last Sunday afternoon as his team ripped Spurs apart without him, putting in a near-perfect performance from start to end that left the opposition with no other choice than to sack their manager.
Both Gerrard and Liverpool manager Brendan Rodgers described it as the best 90 minutes of football the team has produced under the Northern Irishman's guidance, and rightly so.
You cant help but ponder what was going through the captain's head as he watched on alongside his close friend and former team-mate Jamie Carragher.
After the game Gerrard jokingly said that he'll need to look for a new team in January, and whilst that situation will never be required, there is a feeling that perhaps he's not quite the fulcrum of the team that he used to be.
Up until the injury that forced him off against West Ham, Gerrard has been a consistent name on the Reds' team sheet clocking up more outfield appearances (15) than any other player. On top of this he has contributed three goals and six assists, which is not a bad return at all.
But without him, and instead Joe Allen at White Hart Lane, Liverpool were able to press Spurs harder, quicker and higher up the pitch than ever before.
Whilst Allen is still to justify either the £15million price tag that Liverpool paid Swansea for him, or being nicknamed the 'Welsh Xavi', he was greatly improved last weekend. Alongside Lucas in the spine of midfield, and with Jordan Henderson ahead of them, they dominated the centre of the park, closing the space and isolating Roberto Soldado in the lone front man role.
With Gerrard in that position instead it would have required a different approach. Of course, the Liverpudlian still has all the attributes of a world-class midfielder, but in his now more defensive midfield role and with ageing legs he would have struggled to retain the pace of pressing that was required.
It would have allowed Spurs into the game as Gerrard sought more time on the ball, and may well have prevented the frustration that Paulinho displayed on Luis Suarez for not being able to get into the game.
The Uruguayan's performances this season are also another reason why Gerrard is not as crucial as he used to be. For years, the Englishman was the heartbeat of the team which everything flowed through; the conclusion was always (and in part correctly) that 'if Gerrard doesn't play then Liverpool don't play'.
That line can now be attributed to Suarez, whose performances since returning from his ban have been supreme. Of course, without the supply Suarez would cut a similar shadow to that of Soldado on Sunday, and Gerrard has always been vital to that, but the ability of the increasingly impressive Phillipe Countinho and Henderson to find space and the ball either out wide or between midfield and attack plugs the gap.
For games at Anfield, which has become more of the fortress it used to be, Gerrard will still be key as Rodgers will look to him to control the pace and possession of the game. But it may be that through either luck or accident, Liverpool have found a way to improve on their disappointing results away from home this season - and that is without their leader in their line-up.
Like many times before, the result against Spurs has allowed Liverpool supporters to dare to romanticise again - after all it was an emphatic result against a so called challenger.
For Gerrard, it could mark a turning point in which the dream begins to play out in front of him, instead of around him.