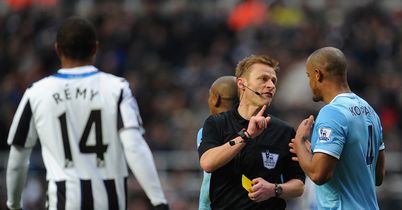 David Connolly explains how referees can be influenced, insists diving players should 'protect the sport', and talks penalties and fan owners.
David Connolly has played and scored in every division in England, as well as in the Eredivisie for Feyenoord and internationally for the Republic of Ireland. He has got the highest possible UEFA coaching licence and is still playing in Sky Bet League Two for Portsmouth.
Every Thursday, David will provide an insight into life as a footballer throughout the leagues in his brand new exclusive column for TEAMtalk.
He wrote about gay footballers and agents in his first column last week, and today he discusses fan ownership, referees and diving.
View from League Two
Hull City owner Assem Allam has been in the news again this week over his plans to change the team's name, which sums up the problems with one rich person owning a club.
Things can quickly change once ownership is given to one individual. They get their feet in the door and before you know it they want to change the name or the colour of the kit, things that were never mentioned before they took over.
Also, owners can come and go. I met the late Nigel Doughty a good few years ago about going to Nottingham Forest. It didn't quite materialise and when he passed away his family decided they didn't want to be involved with the football club anymore.
It could happen at Southampton, too. Katharina Liebherr is in charge there after her father, Markus, passed away. Now that her father's passion isn't there, maybe she doesn't want to pump in the extra money that would be needed to build a bigger stadium and to finance even better signings on bigger contracts. Does she want to spend the next 10 years investing into the football club?
It's becoming more common in the lower leagues, though, for clubs to be fan-owned. Brentford, Wycombe, Exeter and my club, Portsmouth, have all done it, and in Germany, apart from two teams (Wolfsburg and Bayer Leverkeusen), the teams have to be by legislation majority owned by fans.
It can work but in this country fan ownership only occurs in tragic circumstances. Who's going to rescue a club? The people that love it most, and that's the fans.
The only potential problem is that fans with a stake in the club might feel they should be having a say in how the club and the team is run. Ebbsfleet United had a spell where the fans could pick the team, which didn't work, and if a swift decision needs to be made to sign a player or move to a new training ground, for example, it's going to be a problem if 5,000 people need to have their say.
Thankfully at Portsmouth there are three people representing the Pompey Supporters Trust so decisions are made a lot quicker.
I just feel it's a really fine balancing act between getting what the fans want but on a budget that won't bring the club into any financial trouble but will make them competitive on the football field. A middle man is needed who knows what it's like to be part of a football club.
Some people might think that players don't care what's going on in the boardroom as long as they're picking up their wages but what goes on in the boardroom affects what happens on the pitch, too, so players definitely do pay attention.
It depends on how much information is given to the players. Sometimes you rely on what you hear or read in the press as opposed to getting information from within the club. Sometimes you're just told to get on with playing, but at Portsmouth last season we had a meeting probably every week about different cutbacks - it does impact you and the players are concerned about it.
Referees CAN be influenced
There were a couple of really controversial decisions in the Premier League at the weekend, with Newcastle having a goal disallowed and Liverpool winning a soft penalty at Stoke.
The Stoke chairman, Peter Coates, has suggested that the big clubs get the big shouts, but I would never accuse referees of bias or question their integrity.
It must be so difficult as a referee to separate emotion from making a clear decision but I do feel they are influenced, whether that's consciously or subconsciously. But it can work both ways. You can be hammering a ref from the sidelines or on the pitch and in the end get even less decisions than you were doing to begin with.
Certain things can influence whether a referee can become more stubborn or more lenient, and some managers and clubs are very skilled, both pre-match and during the match, at influencing certain decisions.
On the sidelines, before games or during games, how you speak to referees does seem to possibly work in your favour. A packed house on a Saturday can have an affect, too.
I know people like to cite statistics like the lack of penalties given to away teams at Manchester United to claim there is bias but you need to remember the away teams have probably only had 40% of the ball so they've gone into the penalty area a lot less, thus they've had less opportunities to get a penalty. It's all relative.
Players must respect sport
Gary Neville said regarding the Raheem Sterling penalty that he was right to go down. I find that hard given how honest and competitive he was as a player, but now he's got a foot in both camps.
As a coach he's saying going down under the slightest touch professionally is the right thing to do, which is maybe the case, but morally is it the right thing to do? I'm not so sure.
There have been times where I thought if I had have gone down I'd have got a penalty but I stayed on my feet. Afterwards I've thought 'why did I do that?' but it just depends whether it's in your DNA or not. I don't believe in the 'if you can't beat them, join them' attitude. I don't buy into that at all.
I feel that you should do the right things always. Personally I think you should play within the laws and the spirits of the game. I believe you should protect your sport, represent your team, and obviously yourself.
If I was managing Portsmouth I would want my players to try to win fair and square. We don't need to dive, we don't need to cheat, our play will get us there in the end. We don't want to make enemies; in fact we'll make friends along the way.
It's for the good of the game because you want people to watch you and as a team and a club you don't want to have a bad reputation and feel the tide turn.
It happened with Kenny Dalglish when he was so supportive of Luis Suarez. As a boyhood Liverpool fan I was gutted to see Liverpool sack my childhood hero but I am sure the negativity surrounding the T-shirt episode brought too much negativity to the football club and contributed to his sacking.
In the end I think the owners probably thought 'we're getting too much negative publicity here, we're going to have to do something about it.'
Penalty takers must not change routine
My old team-mate Jason Puncheon was in the news for the wrong reasons at the weekend for missing a penalty.
I've never known him to take penalties previously but his run up at Tottenham seemed different to when he scored one a couple of weeks before against Norwich. I don't know if he changed his style but his run didn't seem natural.
I missed one at the World Cup for Ireland against Spain. We had practised penalties the night before in training and I'd gone a certain way and scored but overnight I thought 'if I get a penalty, in a pressure situation maybe the keeper will dive early so maybe it'd be better to go down the middle'.
I changed my mind and it was the wrong thing to do. I probably over-analysed and over-thought it and maybe if I'd stuck to my favoured side, the side I'd scored the night before, it could have been different.
Maybe it would have been saved anyway but at least I'd have had consistency.
I feel if you're a manager or a coach, you should ask your penalty taker which way he plans to go. Then he'll stick with what he's practised and hopefully it'll come good. If the keeper saves it - it can happen - there's not a lot you can do. But what you shouldn't do is not have a set routine or change your routine.
Pressure also comes into it, of course. Against Spain when Mick McCarthy was asking who wants a penalty there were players that had played in the Premier League for 10-15 years and had 100 caps who didn't want to take one. These pressure situations can make people suddenly worry their technique will let them down.
I remember at Sunderland I was brought down for a penalty in a must-win match at the Stadium of Light. I stuck to my side and the keeper saved it but in the second half we happened to get another penalty.
I consciously thought to myself, 'don't delay, it'll look bad, not just for anyone else but for the opposing keeper.' So I stood up and put it on the spot and this time I scored. We won the game and we won the league.
Looking back, that was my job but I am pleased that I made that decision and I didn't shirk that responsibility. But that doesn't mean I feel that those who do are any less than me as they are just doing what they feel is best for the team.
Let me know your thoughts on my column and what issues you would like me to discuss next week via the comments box below.
David Connolly's column comes to you courtesy of Sky Bet, the title sponsor of the Football League.
For a wide range of match odds and specials on all Sky Bet Football League matches and a £30 free matched bet when you join, go to skybet.com.