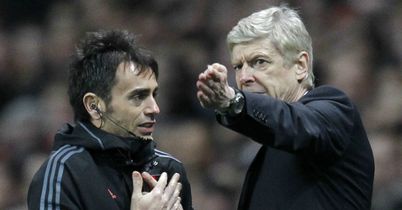 After two English sides suffered after game-changing decisions this week, two TEAMtalk writers ask whether the laws of the game should change.
In Daily Debate, two TEAMtalk writers give their views on a hot topic and then invite readers to decide who has put forward the best argument.
You can vote for your winner using the story comment facility at the bottom of the article, or by declaring your support on Twitter.
Should goalkeepers see red for denying a goal-scoring opportunity? Should the 'triple punishment' rule be revised?
After Manchester City and Arsenal's Champions League dreams were left hanging by a thread following contentious referee calls, the debate rages on as to whether goalkeepers should face red cards for denying goal scoring opportunities, and whether football's 'triple punishment' rule should be revised. Matt Stead and Joe Urquhart have their say...
Joe Urquhart (@Urquhart_journo) - CHANGE THE RULES!
Wednesday night's Champions League clash at the Emirates Stadium between Arsenal and Bayern Munich magnified yet again a need for change of one of football's strangest rules.
Arsenal keeper Wojciech Szczesny was deemed to have denied Arjen Robben a clear goal-scoring opportunity and was subsequently sent off. Why? Is it not punishment enough to have given a penalty away (another goal scoring opportunity)? To then also have to replace an outfield player with a back-up keeper who must play the following games due to your first choice serving a suspension is ludicrous. It is three punishments rolled into one.
Granted, if a goalkeeper charges out of his area and brings an opposing player down then he should be sent off, but in the penalty area where he is the last line of defence a yellow card should be the ruling. Michel Platini and his peers admit that the punishment is excessive and needs to be addressed.
A big issue with the rule is the referee's interpretation. A few weeks ago Brad Guzan brought down Luis Suarez after the striker had nudged the ball away from goal and was going out of play. Guzan received a yellow card, yet when Szczesney brought down Robben last night, the ball had clearly gone away from goal but because the foul was committed in the centre of the box the Gunners keeper received his marching orders.
Inconsistent interpretations from referees ruin game - just like last night - the rule is easily addressed by making the offence a yellow card for any goalkeeper. This would put to bed any debate and doubt.
The International Football Association Board (IFAB) will meet to discuss the rule in eight days' time and until then the rule will remain, but football needs to adapt with the times just like embracing goal-line technology. This is one rule that is definitely broken and it needs fixing, sooner rather than later.
Matt Stead (@MattStead91) - THEY DON'T NEED CHANGING!
I wonder if, when the inevitable happens and every rule that ever can be changed in football has been; all football fans will be appeased?
Wishful thinking, I know. There will always be incidents in each game where a fan, or a group thereof, feels cheated because of some perceived failure in football's justice system. Our very own message board attests to just that. The fact remains, however, that the laws of the game are there for a reason and have been for decades.
With the two cases this week seeing Martin Demichelis and Wojciech Szczesny red-carded and suspended for denying a goal scoring opportunity - and their respective teams then going on to face a penalty - the most recent calls have been to scrap football's 'triple punishment' rule. The most recent calls are, indeed, nonsense.
Let's take a look at the main alternative. A penalty is awarded and Szczesny is yellow-carded. If he saves the penalty, what advantage have Bayern received from the decision? Their goalscoring opportunity is hindered massively - as yesterday's game showed only too well, a penalty is hardly a guaranteed goal - and the guilty party hardly punished.
If the above rule overwrites the existing one, we'll have a scenario where a penalty is awarded every game, as defending players are less fearful of the repercussions (mainly because there's barely a repercussion at all).
Players are all too aware of the consequences surrounding denying a goal scoring opportunity. Why should goalkeepers be treated any differently to outfield players in this instance? Demichelis, Szczesny, and every player before and after them are correctly praised if they pull off the perfect challenge and prevent a goal, so it's only right that they should be punished properly if they get it wrong.
The perfect balance is incredibly difficult to maintain, especially when trying to ensure that all parties are satisfied. As it is, the 'triple punishment' is a necessary, and fair, deterrent.