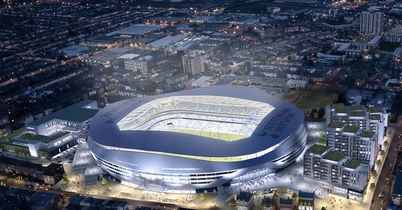 David Connolly suggests the FA misspent when building Wembley and discusses the stadium situations at Spurs, West Ham and Manchester United.
David Connolly has played and scored in every division in England, as well as in the Eredivisie for Feyenoord and internationally for the Republic of Ireland. He has got the highest possible UEFA coaching licence and is still playing in Sky Bet League Two for Oxford, on loan from Portsmouth.
Every Thursday, David will provide an insight into life as a footballer throughout the leagues in his exclusive column for TEAMtalk.
United & Arsenal problem: Last week, David argued that both Manchester United and Arsenal suffer from having too many similar players - and said David Moyes has bought badly.
Rodgers outfoxed Moyes: David credited Brendan Rodgers for Liverpool's win at Manchester United and named the Northern Irishman as his Manager of the Year.
Pardew not a monster: David offered a defence of Alan Pardew over his recent 'moment of madness' and was full of praise for Southampton and their young stars.
Europe may harm Spurs: David explained exactly how the Europa League can hinder Spurs but help Liverpool, and he backed the break Arsenal's players were given.
Fans don't fund Rooney deal: David understands Manchester United paying Wayne Rooney £300,000 a week but does not think fans should be made to fund players' wages.
Was new Wembley worth it?
I went to the Johnstone's Paint Trophy final at Wembley last weekend as it was a good opportunity to take my son to a top stadium with tickets available on the gate and lots of seats available.
Wembley is a magnificent venue, and a national stadium is a massive plus for this country, but I do wonder how justified it is when used so sporadically. It's like your best china, it's a nice thing to have and use occasionally but you really could make do with using your everyday plates.
Would the game last Sunday, for example, have been better played at Villa Park? A stadium that could have comfortably accommodated the 35,000 that the game attracted but also minimised travel for both sets of supporters.
I live close to Wembley but the train fare and tickets for my son and for a final between two lower league teams still cost me the best part of £90.
Could they have filled it by allowing children in for £1? My son thought it was great as he was too young to appreciate it when I played there, but if more children were encouraged to go and see its wonder, more adults would obviously go, too, creating a better atmosphere.
The same could be said of the FA Cup semi-finals, which take place next weekend.
Not every team will sell out their allocation and, rather than play in front of a lot of spare seats as was the case in the Johnstone's Paint Trophy final, I am sure the atmosphere would be better if the semi-finals could be played at a smaller venue if necessary, and one which is located within a reasonable distance of the teams involved.
Perhaps some fans prefer to get the chance of a special day at Wembley, but surely holding the semi-finals there devalues the experience of the final? The carrot of making it all the way to Wembley for the FA Cup final has gone.
From a player's point of view, I played in the Championship play-off final for West Ham at the Millennium Stadium whilst the new Wembley was being built and then helped Wigan to the Carling Cup final there in 2006. There weren't any complaints from players on either occasion and I certainly don't begrudge missing out on a Wembley appearance.
The abundance of top stadiums already in place up and down the UK also begs the question whether the money spent on building Wembley could have been used to promote the game better.
Funding for grassroots football has recently been cut by £1.6million due to participation dropping, but I wonder whether it might have been different had the Wembley money instead been invested in better grassroots facilities and coaching, making sure that as many young players as possible are coached by those with the relevant qualifications.
Spain have 10 times the amount of UEFA 'A' qualified coaches that England has - and Germany around four times more - but that's hardly a surprise given the cost for a licence is around £5,000 over here compared to around €1000 in those countries.
If you are a member of FA licensed coaches club you get 25% off that price, but if the cost of these courses was reduced and the cost of the FA youth module courses, which I have completed myself, reduced from the present £1000-£1500 so that it is within the reach of the man of the street, it would enable far more people to become a coach.
Wembley and St George's Park are impressive, but structures do not win matches, and grassroots football may well suffer as the investment in these facilities is paid back.
Instead of building a new national stadium, money could have been invested to bring the whole sport up to standard. The national team could have continued to play at the likes of Old Trafford, Anfield and The Emirates, just like Spain, Italy, Germany and Holland do, and the money saved could have been used to ensure coaching pays enough so that more people will take it up as a job rather than as a volunteer or parent.
Through education of coaches you will make better players and better national teams but I can't help thinking the cart has come before the horse.
Spurs move makes sense, Hammers move a shame
On the subject of Wembley, it was announced on Wednesday that Tottenham could become temporary tenants whilst their new stadium is being built.
Wembley is on the other side of London so it might not please every supporter, but it could provide a solution whilst Spurs build a stadium adequate for their needs.
Daniel Levy has made the point that Spurs have the smallest stadium capacity of the top 20 European clubs with their 36,000 seater at White Hart Lane. With the Financial Fair Play rules coming into affect, the size of your stadium could be critical to your chances of success.
It has also transpired that Spurs had made an approach to West Ham about taking over the Boleyn Ground, but it has already been sold off to property developers.
As a former Hammer myself, I think it's a shame they are leaving as the Boleyn is a great stadium. The fans are close to pitch and the atmosphere can be electric; I loved playing there.
Their new stadium will hold 54,000 and that is a lot of seats to fill. As a player I would rather play in front of a packed house every week so it is like walking a tightrope to find that balance between a stadium big enough to meet demand but not so big that you suffer from low occupancy.
At one of my former clubs, Wigan, Dave Whelan built a cracking stadium for football and rugby but for some matches it was half full - and that was when Wigan were a top 10 Premier League team.
Any club thinking of building a new stadium needs to think carefully - and realistically - about the amount of fans they can get through the gates over the coming seasons, taking into consideration what competitions they may be in, what type of trophies they may be fighting for and so forth.
Spurs have a waiting list knowing they can accommodate 57,000, but can West Ham fill the Olympic stadium?
Whatever the answer to that question, I cannot see the new stadium having the intimacy of the Boleyn, but perhaps clubs are starting to feel they have to move on or risk being left behind.
Other clubs in the Premier League with European aspirations will no doubt be looking at their stadiums and assessing whether they have the required capacities and facilities.
Will Southampton need to move to keep pace? Will Liverpool get their new 60,000 seater? Would the two Merseyside clubs ever share to make it economically viable like AC and Inter Milan do?
I just hope West Ham can fill their new stadium with competitively-priced tickets.
Old Trafford sponsor would come as no surprise
It is not only through matchday revenue that clubs make money from their stadiums, of course.
My old club Sunderland have a wonderful stadium and although they only run at around 82% occupancy, no doubt the Stadium of Light has attracted new business, not to mention players. It has been a big factor in them staying in the top flight for 11 of the past 15 years.
Stadium naming rights are also big business, and it has been alleged this week that Manchester United could sell the naming rights to Old Trafford to Nike for a colossal sum.
It wouldn't be a popular move with fans, and the club has denied it, but ultimately money talks.
Barcelona, for example, never used to have shirt sponsors but they relented in the end and now they want to increase the Camp Nou capacity from 98,000 to 105,000. It would come as no surprise if they sold the naming rights just as the two big German clubs have.
In this country, Newcastle did it despite huge opposition from fans. As with West Ham moving to the Olympic Stadium, it seems many owners will do whatever it takes to make money regardless of the opinion of fans.
With that in mind, I am hoping to take my little boy to the Boleyn on Sunday for the match against Liverpool so he can see what all the fuss is about before it's too late!
David Connolly's column comes to you courtesy of Sky Bet, the title sponsor of the Football League.
For a wide range of match odds and specials on all Sky Bet Football League matches and a £30 free matched bet when you join, go to skybet.com.