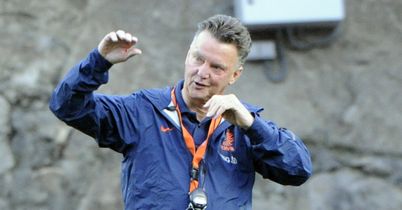 David Connolly puts Chris Hughton's sacking down to the form of Norwich's strikers and feels Louis van Gaal will improve Tottenham's players.
David Connolly has played and scored in every division in England, as well as in the Eredivisie for Feyenoord and internationally for the Republic of Ireland. He has got the highest possible UEFA coaching licence and is still playing in Sky Bet League Two for Oxford, on loan from Portsmouth.
Every Thursday, David will provide an insight into life as a footballer throughout the leagues in his exclusive column for TEAMtalk.
Wembley cash misspent: Last week, David suggested the FA misspent when building Wembley and also discussed the stadium situations at Spurs, West Ham and Manchester United.
United & Arsenal problem: David argued that both Manchester United and Arsenal suffer from having too many similar players - and said David Moyes has bought badly.
Rodgers outfoxed Moyes: David credited Brendan Rodgers for Liverpool's win at Manchester United and named the Northern Irishman as his Manager of the Year.
Pardew not a monster: David offered a defence of Alan Pardew over his recent 'moment of madness' and was full of praise for Southampton and their young stars.
Europe may harm Spurs: David explained exactly how the Europa League can hinder Spurs but help Liverpool, and he backed the break Arsenal's players were given.
Fans don't fund Rooney deal: David understands Manchester United paying Wayne Rooney £300,000 a week but does not think fans should be made to fund players' wages.
Summer spending cost Hughton
I was very sad to see Chris Hughton sacked by Norwich this week as I have come across him a lot throughout my career and always found he carries himself very well both publicly and in private.
He was the assistant manager for the Republic of Ireland when I was playing for the national team and was a great coach. He's also a very dignified, humble, hard working and diligent person who has been in football a long time and deserved his chance as a manager.
They say oak trees only start producing acorns once they are 50 years old and I felt Chris had built up all of the skills he needed over the years to equip himself as a manager but the lack of success of his summer signings had a big impact on his tenure.
Once you step over the line from coaching to managing and are put in charge of spending vast sums - and, make no mistake £8million on Ricky van Wolfswinkel was a vast sum - then you put yourself under immediate pressure, particularly when your signings do not produce what is deemed worthy of their transfer fees and salaries.
Another of Norwich's signings, Johan Elmander, has also not scored enough goals. I played with a very young Elmander at Feyenoord, and he was never an out-and-out goalscorer.
I have to admit I never thought he would score enough goals for a team that was likely to produce a relatively small amount of chances and thus needed a finisher of the highest order, of which Elmander is not.
Gary Hooper, meanwhile, like Van Wolfswinkel, is playing in the Premier League for the first time. When signing players from a different country it is a lot to expect them all to settle quickly. I wonder if trying to attract players on loan from the likes of Chelsea and Manchester City might have been a better ploy for Hughton as I'm certain he would not have been under as much pressure had he not spent the money he did last summer.
Hughton toyed with various formations in a bid to get the team scoring more goals, including 4-4-1-1 and 4-4-2, but, as we are finding out at Oxford, it is crucial if you are going to play with two strikers that they are both in good form, that they can both penetrate, hold the ball up and put opponents under pressure.
Norwich's forwards have found those things hard to do this season and when that is happening in a 4-4-2 you risk being outnumbered in midfield against generally stronger sides.
Also, if your strikers aren't scoring it puts the defence under enormous strain to keep clean sheets as you know as a team that if you concede one or two you won't be able to get back into the game.
We have found this lately at Oxford. I have scored four goals in seven starts for the club but goals and even chances have been harder to come by recently. Results have tailed off and inevitably different formations have been used.
This tends to happen during the course of a season when players have a dip in form; as a manager you need to try different formations and systems to get results. But, unfortunately for Chris, his strikers' dip continued for too long and that is what probably cost him in the end.
Having said that, it hardly helped relieve the pressure on the manager that the club's chief executive, David McNally, said he would prefer death to relegation. When directors are constantly speaking in public it can undermine the manager as players read and hear what is said and before you know it they feel a manager has lost his power and will soon be on his way out. When that happens, of course performances may drop.
A manager should be left to get on with his job without the added scrutiny of a club director heaping more pressure on the manager and players.
Rather than appoint a new coach from the outside at this late stage, Norwich have gone for someone who will know the players well, that may bring some of those who have fallen out of favour back into the fold but will maintain some form of continuity.
Portsmouth did this recently when sacking Richie Barker and appointing Andy Awford, a man who has seen the matches and knows the players.
Two wins from two has been a terrific response and Pompey I believe are more than safe now. Sometimes a steady hand from within can have this effect; now let's see whether Neil Adams can do the same.
Sherwood unfortunate, but Van Gaal a top coach
Talking of replacing coaches, it seems Tim Sherwood may be succeeded at Tottenham by Louis Van Gaal.
You have to feel for Sherwood, particularly after the 5-1 defeat of Sunderland on Monday night, which moved them back up to sixth.
I wrote previously that I believe playing in the Europa League would hinder Spurs - some people disagree with me, but Danny Rose recently seconded exactly what I had said.
"Look at Liverpool - they've played one game a week for much of the season because they're not in Europe, and they're challenging for the title," said Rose. "It's hard to argue that playing one game a week isn't better than playing two or three.
"If you look at how many injuries they've had, I imagine it's fewer than we have had. Playing once a week can only help any team."
The fact that Spurs have only taken 13 points out of a possible 33 in Premier League games after playing in Europe certainly supports the theory. That and poor results against the top teams seems to have cost Sherwood his job with another top coach coming out of employment in the summer too tempting for Daniel Levy.
When Van Gaal was in charge at Bayern Munich I travelled to watch him coach and train, and I have to say he was fantastic. He is very knowledgeable, very thorough in his approach and is very demanding of his players. They will be given so much tactical detail that they can only improve.
Saying that, I also know players that have played under him and believe his full-on approach - he takes every session, every day - can wear you down. A year or two playing for him seems to be the most many players can handle.
Van Gaal is such a good coach, though, that he has probably said he can work with and improve the players that are already at Spurs, and that is bound to be an attraction for Levy after the money the club spent last summer.
If Van Gaal was not available I would have hoped Sherwood would stay in charge at Spurs as it is important for British coaches to get these opportunities, but, as well as being a top coach, Van Gaal is also used to working with a technical director, which was no doubt yet another attraction for Levy.
Congratulations in order
I also wanted to use this week's column to offer my congratulations to one of my former clubs, Leicester City, who are back in the Premier League after a 10-year hiatus.
To have secured promotion already is a wonderful achievement by Nigel Pearson and his players, and the club has the infrastructure in place to really kick on now. There could be some exciting times ahead again finally for the Leicester fans.
I also wanted to mention Crystal Palace, who have had a tremendous upturn in results under Tony Pulis, aided recently by some crucial goals from a former team-mate of mine, Jason Puncheon.
He was in the youth team at Wimbledon when I was a pro there and then later joined me at Southampton.
There was never any doubt that he had all of the ability - and he is a good athlete, who can run all day - and he is now showing what he can do on the biggest stage. Sometimes when a player has a loan move made permanent their form tails off, but Jason has got his head down and continued to shine, helped by a no-nonsense manager that gets the best out of what he has available.
David Connolly's column comes to you courtesy of Sky Bet, the title sponsor of the Football League.
For a wide range of match odds and specials on all Sky Bet Football League matches and a £30 free matched bet when you join, go to skybet.com.