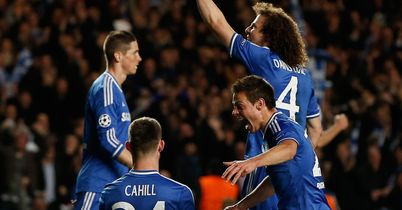 Paul Merson has predicted weekend wins for Tottenham, Chelsea, Arsenal and Manchester City but reckons both Liverpool and Everton will be held.
Tottenham v Fulham
I think Tottenham will win but what a result Fulham have had. They're back in it now. This game is a bonus game, Fulham have got nice fixtures.
As long as they don't get hammered and it gets silly and they lose confidence and momentum. It's a free swing and then they concentrate on their next home game.
PAUL PREDICTS: 3-1
Aston Villa v Southampton
I think Southampton have got to liven up, there's a lot of players trying to get to the World Cup and losing at home to Cardiff was bordering on a joke.
I don't think Villa are safe. If they lose this I'll be seriously worried.
PAUL PREDICTS: 2-2
Cardiff v Stoke
If Cardiff win this game they could be joint on points with the fourth-bottom team. If they win this game that relegates Norwich.
The problem with Cardiff - they come out of the blocks, start off on fire, they don't get a goal, then the other team scores and that's the end of the match. I don't like going against Stoke but I think Cardiff will keep the race alive.
PAUL PREDICTS: 1-0
Newcastle v Swansea
Newcastle have gone, haven't they? Completely and utterly gone. You need to finish with momentum for next season so the fans keep the faith. They get 40,000 and if they lose their next three or four people start thinking "I'm not renewing my season ticket, it's a waste of time".
Swansea are in danger, they play good football but they don't win. They've been dragged into it - if Cardiff win and they get beat then they're bang in trouble.
I think Swansea will nick this, Newcastle are shot.
PAUL PREDICTS: 1-2
West Ham v Crystal Palace
If this was January I'd half fancy Palace to get in the Europa League, they're flying aren't they! If they draw, they're both safe.
PAUL PREDICTS: 1-1
Chelsea v Sunderland
I think it's a big advantage for Chelsea playing first. If Chelsea win they go top, which is a psychological blow [to Liverpool].
Sunderland have to win, a draw isn't any good. They're a bag of Revels. One minute they're alright - they were unlucky at Man City - then you watch them at Tottenham. They're not going to Chelsea and scoring two goals.
PAUL PREDICTS: 2-0
Norwich v Liverpool
I think Norwich will get something out of this game. I think it'll be a draw.
People might think I'm mad and talking a load of rubbish but there's no Daniel Sturridge and no Jordan Henderson, which has gone under the radar.
Henderson is out for three games, he's a massive player and now he's out you'll realise. He's the legs in midfield, making runs and getting around the pitch. He's a massive, massive miss.
Norwich don't have to chase the game, they can sit behind the ball and not go anywhere. It'll be 'you break us down'. They're not the worst team at home, they're decent. Against the big boys at home they haven't let themselves down.
This will blow the title race open and all of a sudden Chelsea have to go to Liverpool and draw rather than win.
PAUL PREDICTS: 1-1
Hull City v Arsenal
I don't think Hull are safe yet but they won't go down. If Arsenal finish fourth, Hull go into the Europa League even if they lose the FA Cup Final - that's a massive thing for them. I'm not saying they'll let Arsenal win but they wouldn't be disappointed if Arsenal win.
Nikica Jelavic and Shane Long come back who are big for them but it'll be an open game and I think if Arsenal win then they'll finish fourth.
If Arsenal come fourth and win the FA Cup that's a massive season.
PAUL PREDICTS: 0-2
Everton v Manchester United
I don't understand Roberto Martinez. I think he's done great then all of a sudden he'll rest players. What are you doing?
[Against Crystal Palace] James McCarthy's a sub, Ross Barkley's in central midfield. Barkley isn't a central midfield player, he plays more advanced. He leaves Steven Naismith out and, for me, he's been their best player recently. He's scored some massive goals.
It's backfired and they've done themselves in now. By being complicated and resting players, it's blown up in their face.
Man United have turned the bend, they haven't turned a corner. They can get a draw here. Wayne Rooney will be fit. Everton have to win and that plays into United's hands on the counter. They've just had a big result at Newcastle.
PAUL PREDICTS: 1-1
Manchester City v West Bromwich Albion
I don't give Man City a chance anymore. It's alright with 10 games to go but with only four you can't have it out of your hands.
If you said to me this time last week that Man City would be completely out of it, I would have laughed at you! I would have laughed even more when it was 2-2 after 70 minutes at Anfield because they looked like they would win that.
They've been a beat too "we'll beat Sunderland" and that's been their problem. Littler clubs, they're not wiping the floor with them because they're too over-confident.
Vincent Kompany doesn't look fit, all three goals were down to him last Sunday.
City will win this game, they owe it to their fans to put a performance in.
PAUL PREDICTS: 3-0
Think you know better than Merse? Prove it with our Super 6 game and win £250,000