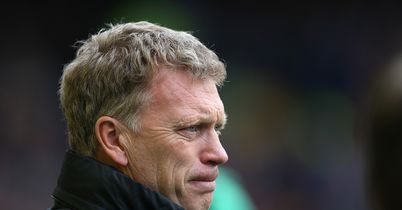 The Secret Footballer suggests that the lack of pace in the Manchester United side proved David Moyes is out of touch with modern football.
As a footballer playing in the Premier League, the Secret Footballer wondered whether people would be interested in knowing what life is really inside the game.
After a hugely popular weekly column in a national newspaper and two best-selling books, he has now joined TEAMtalk.
His anonymity allows him to tell fans how it is, from inside the game without the shackles of pre-conception or fan bias.
Read the Secret Footballer's regular insights from inside the world of football at thesecretfootballer.com and follow his views on Twitter @TSF.
- City right to surround ref: Last week, TSF wrote he had no issues with Chelsea and Manchester City trying to influence a ref, claiming Luis Suarez's red card escape proves bias exists.
- Dealing with depression: TSF wrote about his experience with depression after a study found one in four pro footballers suffer from the illness.
- Players the problem at Sunderland: TSF said Liverpool are expected to slip up, Tottenham have stopped trying and Sunderland's players are the problem.
- Arsenal plan failed: TSF said Arsenal's financial prudence has backfired, while he was critical of Cesc Fabregas but stuck up for Shane Long.
- Sherwood will go: TSF claimed Tottenham's players already know Tim Sherwood will leave in the summer, while he heaped praise on Liverpool boss Brendan Rodgers.
- Pards a ticking bomb: TSF labelled Alan Pardew a 'bomb waiting to go off' and admits he once 'squared up' to one angry manager in the dressing room.
- Ignore Sol claims: TSF dismissed Sol Campbell's claims, revealed what the League Cup means to players, and also discussed Vincent Tan and Nicolas Anelka.
- Dodgy deals rife: TSF claimed dodgy deals are still rife in football, talked racism in the game and questioned what the future holds for Newcastle.
Lack of pace cost Moyes his job
Well, I can't say that I'm surprised. Eleven defeats in a season is simply too many for Manchester United.
And it is clear to even the biggest David Moyes fan, whoever that is, that the team are not playing at the tempo expected of a top team and that is because of the tactics and the fact that the players have simply had enough.
Tactically, Moyes has been caught absolutely cold this season.
In a year that has seen the top teams across Europe strengthen their attacks with brutal pace, United have added Marouane Fellaini and Juan Mata.
Take out Antonio Valencia, who isn't the player he was, and Ashley Young, who is desperately treading water this season, and it is frightening to think that United have a shocking lack of pace in their squad.
When the whole of Europe was shifting their focus towards fast, counter-attacking football, thanks largely to the success of Barcelona and Bayern Munich, teams like Borussia Dortmund followed suit and reached the Champions League final.
Real Madrid broke the world record for the best counter-attacking player in the world, Gareth Bale, but, with domestic clubs such as Chelsea, Manchester City and Liverpool flooding their squads with speed, United simply stood back and watched it all happen.
So with all that in mind, would you hand Moyes £150million and ask him to rebuild the team?
Certainly, the people that I know at Old Trafford, including one very wealthy shareholder friend of mine based in New York, whom I've mentioned before, tell me that the list of names presented to the board by Moyes as potential signings for this summer was particularly underwhelming.
Everybody knows that United need an overhaul and it looks as if that will start with the manager. In fairness, the warning signs have been there almost from the off.
Consider Rio Ferdinand's tweets this season. First, he grumbled that he didn't like the way the new manager was going about his team selection, informing the players of the starting XI not on the Friday, which is perhaps the most common method, but on the morning of the game.
Then, he had a subtle dig when he said that this season has been frustrating. It's hard to imagine the defender getting away with the first of those tweets under Sir Alex Ferguson and if you have players undermining you at a club the size of United, then you are bang in trouble.
Personally, I think that it was a really tough job to take on. Forget the Ferguson factor for a moment; the United squad was on its knees at the start of this season.
However, Moyes could still have done something about it by signing the right players and following the trend of modern football.
The scary thing is, is that perhaps the quickest player, Danny Welbeck, doesn't even feature on a regular basis, despite Robin van Persie being injured. And that is simply unfathomable.
Let me give you a very quick synopsis of modern football. Maybe Moyes can print this out and stick it on his office wall at his next club.
If my team play United, we will defend with a bank of four behind a midfield five, in our own half and back ourselves that they won't be able to play through us. When build-up play is slow, as it was in the 2-0 defeat against Everton, the ball will eventually go wide. It has to.
What happens then is that the team are reduced to switching the ball endlessly until, eventually, somebody crosses it. Invariably, the goalkeeper catches it or it is headed out to two lightning fast players playing on the shoulders of United's central midfielders, who then set off at pace.
The closest full-back breaks his neck to get up there and the lone striker runs the centre halves towards their own goal, leaving more grass to run into. When that happens, you create chances and score goals.
You score goals like Kevin Mirallas and you make chances like Romelu Lukaku did because United's back four had been pushed so deep.
It is no surprise that Liverpool are top of the Premier League.
Cross, catch, throw out to Raheem Sterling or Philippe Coutinho, sprint up the pitch, keep Luis Suarez high so the centre halves stay deep because they are scared of the ball in behind them. Suddenly, there is even more space to run into.
What results is three fast attackers against three defenders running backwards towards their own goal.
But at United, you have this slow build-up - side to side, back and forth and, eventually, the cross comes in and the move breaks down. So that is where modern football is today, folks.
Let me give you one stat to prove the point that crossing the ball is going the way of the dodo as a result of counter-attacking strategies: This season, Liverpool have crossed the ball around 400 times. United have crossed the ball nearly 800 times.
As a result, Liverpool have had more counter-attacks than any other club and scored more counter-attacking goals. United are outside the top six for both stats.
And that is the value of a manager who understands the modern game, even pre-empts it. Moyes is out of touch and it has showed this season with both his tactics and his signings.
I could mention the fact that Roberto Martinez spotted the way the game was going and revolutionised the way that Everton play, with largely the same players that Moyes had.
But I think I've made the point...
Read the Secret Footballer's regular insights from inside the world of football at thesecretfootballer.com and follow his views on Twitter @TSF.