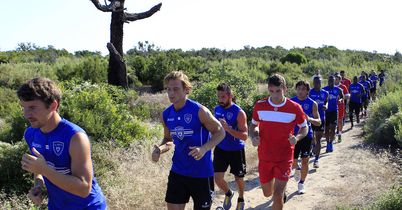 MK Dons manager Karl Robinson and Brighton midfielder Rohan Ince tell Mark Holmes about pre-season from a manager and player's perspective.
With clubs now well into their pre-season campaign, we look into the methods, technologies and good old hard work being put in by players, managers and coaches before the big kick off next month.
Part One: In part one of our pre-season feature, we visited the off-season performance camp put on by legendary sprinter Michael Johson at St George's Park.
Part Two: Stoke City head of sports science Damian Roden provides an insight into pre-season at a Premier League club in part two of our special feature.
The Manager
Pre-season is a time not just for players to work on their fitness but also a key period for managers to work on tactics for the new season and bed in any new signings.
MK Dons boss Karl Robinson, however, admits he has little involvement in the first few weeks after players return from their summer break.
He said: "I remember Sam Allardyce saying it's not a manager's job to get involved in the first two weeks of pre-season; you spend enough time shouting at the players over the course of the season.
"Damien Doyle, our fitness coach, generally leads the first three weeks of pre-season and tells us what type of football work needs to be done and what needs to be done to try to replicate the physical output over the course of the season.
"In the games so far there's been no style, no rotation, nothing really that you'd expect to see from our players in the season but moving on to Forest (which MK Dons won 1-0) and into the last four friendlies we should start seeing more coaching, more guidance and more development in how they play.
"I leave it to the fitness coaches to begin with and then in the last 10 days it'll be mine and (assistant manager) Richie Barker's job to encourage some tactical implications.
While Robinson is particularly hands-on during the early stages of pre-season, he will fine players that do not keep themselves in shape over the summer.
"It's not nice but sometimes you have to have rules and regulations," he said. "It's not me being overly strict, it's me trying to seek a bit of an advantage so we're at a better level when the season starts.
"We take snapshots of the players in the last month of the season so we have a rough guidance of where they are in terms of their physical output and their percentage of body fat.
"Then I write a little list to the players saying if you're more than two per cent over your body fat where you left you'll be fined a week's wages. They all have to counter sign that and thankfully not one player has been fined any wages.
"At the end of the day, they're professionals. As much as they say they have time off, they're only allowed to do nothing for two to three weeks and they've still got to look after their body.
"The word professional means that they are professional 24/7, every day of the year.
"If they lose out and they don't do it right they find they're behind the group and they won't play at the beginning of the season."
With the MK Dons players now ready for action physically, Robinson will now spend the rest of pre-season ensuring they are up to speed tactically, too.
"With GPS and heart rate monitors we can generally figure out where we are at this stage of pre-season compared to last year, and to be fair to the boys they're 20% higher than where they were.
"So it's a good starting point, a good bonus, and now it's up to us to start developing the coaching side of it and the tactical implications in the next three weeks.
"Integration of players we've bought, integration of youth players into the first team is a massive part of what we're trying to do.
"But obviously every year we're seeking more, there's one or two components of our game that we will improve this year so it's important we use this time to develop that.
"I'll watch DVDs of last season, show the players where we went wrong and where we want to improve and hopefully they'll take things on board. But the only true test is to see where you stand this time next year."
The Player
Although Rohan Ince and his Brighton team-mates were not given any specific fitness instructions over the summer, the former Chelsea youngster insists the days of players letting themselves go during the off-season are long gone.
He said: "We weren't given a programme as such but obviously you know you've got to keep yourself in shape.
"I had about two and a half weeks of doing nothing and had the odd burger but I eat a lot less carbs because otherwise you're going to put on weight when you're not exercising as much. So I cut back on those and eat a lot of vegetables and no fizzy drinks.
"Then I had about three weeks of seeing a personal trainer doing a lot of track work, speed, endurance work and aerobics. I did a lot of work before pre-season actually started to give me a little kick start.
"Obviously we knew we'd got a new manager (Sami Hyypia) coming in so I wanted to do as much as I can do to impress him. Anything that will give me a kick start I want to do so I think that the pre-season work I did with my personal trainer has helped me a lot.
"Everyone came back in new shape. There's a new manager so everyone wants to impress, everyone wants to play and give the manager a good first impression."
Ince admitted that the first day of pre-season is "one of the things that everybody least looks forward to" but with a new training base as well as a new manager at Brighton, the 21-year-old spoke positively when we caught up with him at the end of his first full week back at work.
He said: "On day one after the testing there was a lot of introductions to the gaffer and the new staff, and we also got shown around the new building.
"Everyone was buzzing for the first training session after the tests so it was a high-tempo session, everyone wanted to do their best to impress. It was a lively session.
"We've done ball work and fitness work (in the first week back) so it's been a good mixture, it's not just all boring running but it's not all football either. It's a good mixture so we get really fit for the season."
Although Ince was glad to see the balls out in the first week of training, he insists players do understand and appreciate the benefits of the testing and fitness work undertaken in the early stages of pre-season.
He said: "We did a test similar to the VO2 max that shows your maximal work output and see how much you can work under heavy load, and we also did a lot of screening to see if we're tight in any areas and liable to get an injury. It's done to prevent injuries as well as find out your maximum output.
"We have heart rate monitors and GPS which tracks how far you've run, how much load is on the muscles and how hard we're working in each session, and then the fitness guys get that information together on computers and devise a session for us based on how hard we're working so we're not pushed us too far above our max and get injured.
"They've got all the information down and then the session will be really hard but not so hard that we'll run ourselves into the ground. Everything's well looked into and the facilities at Brighton are amazing now.
"Obviously I've been at Chelsea before so I've experienced great facilities but the facilities here are definitely Premier League standard. I can't imagine a lot of Premier League teams will have better facilities than Brighton do now. They're world class."
The Expert
Ian Aylward is the lead strength and conditioning coach at Perform, based at St George's Park, which recently hosted the Michael Johnson Performance pre-season preparation camp for footballers looking to get a head start.
Aylward says that, while rest is important after a nine-month season, the off-season is a crucial time for players to work on any physical weaknesses.
"The clubs themselves tend to a lot of work now in the off-season; when the off-season starts players go with a programme," he said.
"Footballers need a massive amount of recovery after a nine-month season so first of all they'll have a break to chill out and then it's into pre-season.
"The off-season is a crucial time for me. In most other sports you use off-season productively to work on an athlete's weaknesses, and that's how I see it in football.
"You evaluate what happened in the season, you look at physical benchmarks for the club and you provide the player with a programme they can utilise during the off season to work on those deficiencies.
"Recovery and rejuvenation is really important, that's the first stage, but then I want my players to become really robust and strong.
"I want to be in a position where, like a building, you're formulating really strong foundations to work from so that when they come in for pre-season they're ready, they're strong and robust, they've got that foundation of strength that they need to then develop power, speed, strength.
"Without strength you haven't got speed; you have to have that robustness and that strength in your body, and the off-season is an opportunity for that."
The Coach
Kevin Phillips knows all about how tough pre-season can be after a 20-year career as a professional footballer.
Now, however, after finally hanging up his boots at the end of last season, he is experiencing pre-season as a coach at Leicester.
He wrote about his first week back at work in his blog for Sky Sports: "I always pushed myself hard in training as a player and I've not ducked out of any fitness sessions this summer. But what I have had to get used to are the long hours. Being a coach is like having a proper job!
"I'm leaving home at 7.30am and not getting back until about 5pm. It's necessary and I'm not moaning, but it's something I have to get used to after 20 years of arriving at the training ground about 10am and leaving at 1.30pm as a player.
"I bumped into Gary Rowett, the Burton Albion manager, on the way home from holiday and he wished me good luck in my new role. I asked him if he had any advice and he said 'say goodbye to your family'!
"Coaching is something I want to do, though, and I'm a great believer in doing it right. If that means I have to stay for long hours and have meetings and so on, then I'm more than happy to do it.
"I'm under no illusions, I may be at a Premier League club, but I'm starting my coaching career on the bottom rung of the ladder and it's going to be a learning curve for me. I had to do it the hard way as a player, though, where I came through non-league and now I'm trying to work my way up in coaching.
"Fortunately I've got excellent teachers in Nigel Pearson, Craig Shakespeare and the rest of the coaching team at Leicester and I'm taking plenty of notes - something I haven't done for 20 years!
"As for the training, it's amazing how football has come on because the first week or two of pre-season are governed by the sports science department, in terms of what the players can and can't do. They dictate how much work load should be put on the players and it's been interesting to see it from that side.
"The key thing at the moment is minimising the risk of injury. That's so important at this stage of the season. The lads will naturally get stronger and fitter as the weeks go on, but an injury would set them back.
"Talking about shape and structure will come later. Right now, it's about getting them fit, keeping them bubbly and making them look forward to each session.
"On the first day back, everyone was buzzing, with the prospect of Premier League football on the way.
"However, as is always the way, the lads have got quieter as the week's gone on and they've become more tired from the sessions. So, the coaches' challenge is to keep the sessions enjoyable and keep the players focused.
After a nice summer break, I began my new career as a coach at Leicester last week - but don't worry, I've still been doing all the pre-season running!"
Sky Bet are the title sponsor of The Football League.
For a wide range of match odds and specials on all Sky Bet Football League matches and a £30 free matched bet when you join, go to skybet.com