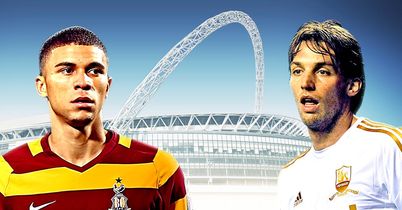 Swansea FanZoner Sion Cleaver explains why Michael Laudrup's men must be on their guard against Bradford in Sunday's Capital One Cup final.
Sunday will see Michael Laudrup's Swansea make the trip over the Welsh border for their Capital One Cup final clash at Wembley, a game that could potentially see the south Wales club bring Europa League football to the Liberty Stadium next season.
Swansea's opposition, League Two Bradford City, may look like they have no hope on paper, but after wins over top-flight clubs Wigan, Arsenal and Aston Villa, the Football League outfit will be high on confidence despite coming up against one of the Premier League's harshest defences.
Preparation may be key to deciding who lifts the cup come Sunday. The Swans returned from a warm-weather training camp in Dubai, before fielding a weakened outfit at Liverpool last weekend, where the Welsh club were subjected to a 5-0 drubbing.
The drastic defeat at Anfield is unlikely to cause unease within the Swansea camp ahead of Sunday's showpiece, but the defensive frailties that were exposed will definitely need to have been rectified if the Swans are to win their first cup since their Football League Trophy victory in 2006.
Seven changes were made to the Swansea side that started at Anfield, with the majority of those changes likely to be reverted ahead of Sunday. Top striker Michu, as well as Wales captain Ashley Williams, are guaranteed recalls, amongst others.
Bradford will be looking to register an early goal in Sunday's final, with the Swans likely to tire out their League Two counterparts with their flowing, Barcelona-esque possession style of play once the game begins to age.
The lower-league outfit could adopt a physical, almost hack-and-slash style of play in anticipation of a free-flowing attack from their Welsh opponents, so a mix of strong, physically-abled players will be needed in midfield and attack (new signing Itay Schetcher comes to mind) if such a tactic is to be tackled head on.
On the subject of Schechter, his physical attributes may be needed for their Captial One Cup final clash but his workrate and overall performance up front against Liverpool last time was bordering on abysmal at times, and will definitely need to be corrected if Swansea are to be on their finest form come Sunday.
Local youngster Ben Davies was also guilty of underperforming at Anfield, his usual momentum on the wing was not present, with the 19-year-old often opting to hoof long balls up front when faced with danger from the opposing defenders.
Swansea's talismanic striker Michu is sure to provide Bradford with a tough defensive test at Wembley, with the Spaniard reportedly bringing 25 family members from Spain over to the UK for the tie.
On paper, the final may look over before it's even begun for Laudrup's men, but the worst thing the Swans can possible do ahead of the game is to take their opponents lightly because of their lower-league status. Such a tactic could prove to be very costly.
By Sion Cleaver, FanZone's Swansea City blogger. Follow him on Twitter at @SionCleaver - and don't forget to follow @FanZone too!