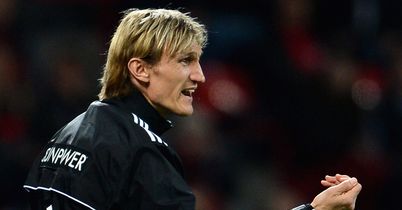 Bayer Leverkusen joint coach Sami Hyypia has warned his players of complacency against struggling Wolfsburg on Sunday.
Hyypia's warning comes despite his side being on an unbeaten run of 12 games.
That statistic is not the only one which indicates an away win at the VW-Arena, where the Wolves have lost three and drawn only one so far this season.
However, Wolfsburg have not yet played a home league fixture under the guidance of their caretaker-coach Lorenz-Gunther Kostner and Hyypia is aware that they are now a different prospect in their own back yard.
"Wolfsburg have a very good team with good players," he said. "It is going to be difficult for us.
"A change in coach always changes something within a team and we experienced that ourselves here last season.
"But then every game is hard in the Bundesliga, regardless of a change in coach."
Hyypia was not happy with his own side's performance in midweek, despite beating Rapid Vienna 3-0 to reach the knockout stage of the Europa League with two group games to spare.
"Everybody has a bad day at the office and I hope it was our last one before Christmas," he told the pre-match press conference.
"We are delighted to have reached the knockout stage, but we all know that we can play better."
Hyypia is still without number one goalkeeper Bernd Leno, who has an elbow injury, but otherwise has enough options to rotate his side again after Thursday night's exertions.
The home team have the advantage of no match in midweek, but their coach Kostner does not expect Leverkusen to be any weaker because of their game on Thursday night.
"If a team is doing well, such strains don't make a difference," he said.
"I don't therefore think it is going to be any easier for us.
"I just hope that my side has more focus and concentration and maybe it is an advantage for us to play against such a top team right now."
Kostner is unlikely to be able to name Vieirinha in his side after he picked up a thigh injury in training while Marcel Schafer missed a few days of training this week due to the flu.