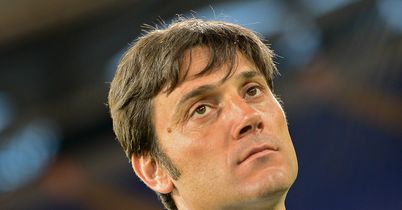 Adriano Galliani has dropped a strong hint that Fiorentina boss Vincenzo Montella could have a future at AC Milan.
Montella is among a clutch of young tacticians making a name for themselves in Serie A, and AC Milan vice-president Galliani can see signs that the 38-year-old's footballing philosophy matches that of Rossoneri owner Silvio Berlusconi.
Galliani told Gazzetta.it: "He's very good and will have a good career.
"He knows how to get the best out of his teams.
"Good football like that certainly pleases president Berlusconi, who decided back in 1987 that he was going to take Milan to the top of the footballing world."
La Viola may currently be six places and seven points better off than their hosts, but Galliani is predicting a bright future under current boss Massimiliano Allegri.
"It looks like Milan are rising quickly up the league table, so I can assure our sponsors that we will return to occupy the positions we have been used to under president Berlusconi," he said.
"We need to be a team of devils. Our red and black colours represent both fire and the fear that haunts our opponents."
This week, Galliani was twice forced to deny holding discussions with Pere Guardiola, the brother of ex-Barcelona boss Pep, with a view to the latter replacing Allegri at the end of the season.
"If I ever want to speak to Guardiola I will call his agent directly," he added. "But we are happy with Allegri and we will go forward with him.
"If the season had started now, things would have been different.
"We have now taken seven points from three games, having taken the same amount from our first eight games."
Meanwhile, Fiorentina midfielder Gonzalo Rodriguez has echoed Galliani's praise of Montella, claiming the Tuscans' early season success is all down to the ambitious coach.
The ex-Villarreal man said: "I think it's correct to say that this team plays the Spanish way.
"Our coach knows how to get the most out of the squad, taking inspiration from Barcelona and the other La Liga clubs.
"If I've managed to get used to this league quickly then it's down to the way that Fiorentina play.
"It's a bit early to talk about the Champions League but we definitely want to get into Europe."
Stevan Jovetic and Michele Camporese will definitely miss the trip to the San Siro, but ex-Liverpool midfielder Alberto Aquilani is in line to make his first start of the season.