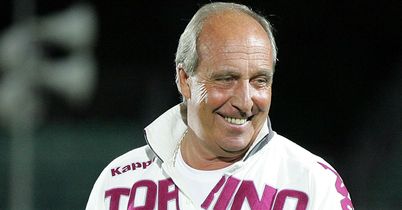 Manager Giampiero Ventura thinks Torino will be facing the strongest side in Italian football in the Turin derby on Saturday.
Torino travel to face Juventus at the Juventus Stadium for the first time since their fellow stadium tenants left the Stadio Olimpico 18 months ago, and Ventura admits there is still a league between the two sides, despite their promotion back to the top flight last season.
"We are honoured to go to the Juventus Stadium and we go there humble enough to know we are facing the strongest team, but at the same time we are aware that if we do our best, well then it will be the result to decide things," he said at a pre-match press conference.
"It's going to be tough for us. There is an obvious difference in the value of these two clubs, but we are still delighted to play this game.
"We are up against the strongest side around and it is a derby, for which they are going to be determined as always."
The city of Turin dominated Italian football last season with Juve winning Serie A and Torino topping Serie B and Ventura hopes the occasion does justice to their efforts.
"It is a day of celebration in Turin," he said.
"There are two groups of fans with a special history.
"Our dream last season was this derby, and now we are here, ready to play it."
Juve's dreams go beyond tomorrow's derby as they prepare for a vital Champions League tie with Shakhtar Donetsk next week where a draw will be enough to see them through to the knockout stages of the competition.
However, midfielder Claudio Marchisio insists they are fully focused on the matter in hand.
"We have been waiting for this game for a long time," he told Sky Sports.
"Not only us, but also the Torino players, our fans, the city, so it is great to have such an important match again.
"We are playing (the derby) in our own stadium for the first time so we know we will have the fans behind us, and we will try to give it our best."