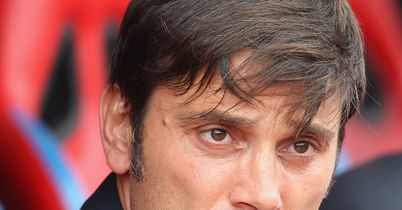 Fiorentina coach Vincenzo Montella is playing down his chances of winning the Serie A title this season as he prepares to face a former club.
The Viola host Sampdoria and are only four points adrift of league leaders Juventus, but the man nicknamed the little aeroplane from his time as a Samp striker is currently keeping his feet firmly on the ground.
"I think it's right to be realistic and understand where we come from," he said.
"Being realistic means we need to see how things develop game by game.
"It will depend on us, but also on our opponents. If they make big investments in January, then the gap between us can only grow."
However, Montella believes it could be realistic to aim for a place in the Champions League next season.
"We could aim for third or fourth place," he added in the Repubblica.
"But it's too soon to draw any conclusions."
One Fiorentina player unlikely to take part tomorrow is former Genoa striker Luca Toni while Stevan Jovetic has still not fully recovered from injury and may be forced to miss out again.
Samp are without their former Empoli striker Eder due to injury, leaving Mauro Icardi as the only fit striker on the books because of the continued absence of Maxi Lopez and Nicola Pozzi.
Icardi was one of the stars of Samp's derby win over Genoa, though, and despite being only 19, the Argentinian has already become a favourite among the fans.
Coach Ciro Ferrara will now be counting on him repeating those derby heroics in an away game.
Despite winning his last two games, the position of the former Juventus and Italy under-21 coach remains far from secure with the Blucerchiati still only five points above the relegation zone.