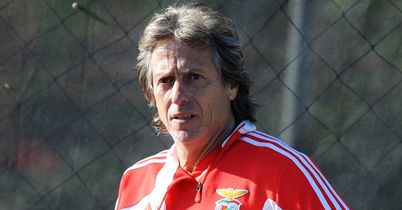 Jorge Jesus respects Bayer Leverkusen but is confident of getting the better of them when the two sides meet on Thursday.
Jesus' men got the better of their German opponents 1-0 when they faced them in their last-32 first-leg tie a week ago and, with an impressive home record behind them, look a good bet to make it through to the next round.
Oscar Cardozo scored the only goal of the game in the second half to earn the Portuguese side an impressive victory as they seek to make a European final for the first time in 30 years.
Jesus took great comfort from that performance and, despite being wary of the threat posed by Leverkusen, is confident of keeping them at bay on Thursday.
"They are a strong team and they have shown their value in Germany, which is one of the strongest championships in Europe," said Jesus, speaking to his club's official website.
"The way they play in the league shows the full value of Bayer Leverkusen and this game will put problems to us. But we are prepared for them and we are confident."
Even in spite of that, Jesus is not prepared to start looking ahead to a last-16 clash.
"Football has moments in each games where teams attack and defend," he said.
"We must know what we are doing in the field.
"The front three of Bayer Leverkusen are very strong and they can all create difficulties because they are very dangerous."
Leverkusen head to Portugal with a 2-1 win over Augsburg behind them, though.
Midfielder Stefan Kiessling was the heartbeat of that victory, scoring one and setting up another, and he does not consider the tie to be dead.
"I'm sure it's not over and that we can go and win in Lisbon," he told his side's official website.
"We showed in the first leg that we're capable of competing with Benfica.
"We are going there to progress and I have every hope we will get through to the next round."