Paper Talk - 03 November 2012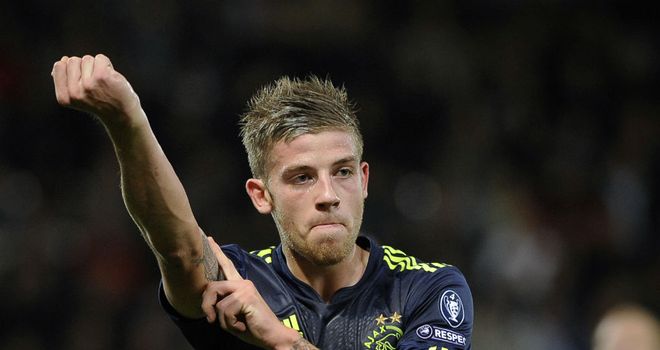 Roberto Di Matteo claims Sir Alex Ferguson has an unhealthy influence over referees.
Sir Alex Ferguson has admitted he wished he had signed Robin van Persie when he first had the chance a decade ago.
Mark Hughes has insisted he will defy the doom-mongers and keep his job, even if QPR lose to Reading tomorrow.
Brendan Rodgers believes Premier League managers need to take a long hard look at their own clubs before daring to vilify Luis Suarez.
Ian Holloway could join Crystal Palace as early as this weekend - after a final showdown with Blackpool supremo Karl Oyston.
Manchester United wideman Robbie Brady is wanted back at Hull on loan for the season.
Paul Lambert insists their is no feud with Darren Bent and says the striker's latest omission was purely tactical.
Angry referees are threatening to boycott Chelsea matches.
Sir Alex Ferguson and Roberto Di Matteo are at war over the Mark Clattenburg race row.
Roberto Mancini insists he feels no threat from the shadow of Pep Guardiola looming over him at Manchester City.
Ian Holloway was last night putting the finishing touches on his switch to Crystal Palace.
Micah Richards has been stunned by Roberto Mancini's claim he will be back from a knee operation within three to four weeks.
Fulham are weighing up a £3million bid for Porto centre-back Eliaquim Mangala.
Roberto Martinez has warned Gareth Bale a move to Spain could be a backwards step.
Kyle Walker is going back on Twitter - because he misses banter with the fans.
Manchester United wideman Robbie Brady is wanted back at Hull until the end of the season.
Roberto Di Matteo went to war with Sir Alex Ferguson yesterday after the Manchester United boss said there was no way Mark Clattenburg racially abused John Obi Mikel.
Roberto Mancini has no fears Pep Guardiola is being lined up to take his job at Manchester City.
Sir Alex Ferguson must wonder how many more trophies he might have won if he hadn't let Robin van Persie slip through his grasp more than a decade ago.
Andy Carroll is still out in the cold at Anfield - even though Brendan Rodgers wants to bring in three strikers in January.
Mark Hughes has vowed tomorrow's relegation six-pointer against Reading won't be his last match in the QPR hot-seat.
Crystal Palace are waiting to hear from Blackpool after confirming they have made an official approach for their manager Ian Holloway.
Roberto Martinez has warned Tottenham they must keep Gareth Bale if they want to play in the Champions League.
Martin Jol turned down the chance to sign Kevin Mirallas because he cost too much.
Manchester United manager Sir Alex Ferguson claims Chelsea have left Mark Clattenburg tainted for the rest of his life with their accusation of racism.
Newcastle want to secure a new contract for striker Demba Ba - with the first priority to get rid of his £7.5million release clause.
Brendan Rodgers has admitted Liverpool need to make at least "two or three" signings in January to prevent their season completely derailing.
Roberto Mancini has revealed he talked to "seven or eight" other clubs before signing his five-year contract at the Etihad Stadium.
Tottenham are considering a £9million summer move for Ajax defender Toby Alderweireld.
Arsenal will launch a £9million move to land Wilfried Zaha in January.
Mark Hughes denies that QPR's game against Reading tomorrow is his last chance to get a win at the club.
Blackpool will struggle to hold on to Ian Holloway after it emerged that family commitments are driving him towards the vacancy at Crystal Palace.
Hull want to sign Manchester United winger Robbie Brady on loan for the season.
Scunthorpe manager Brian Laws plans to make Millwall goalkeeper Steve Mildenhall his first signing.
Sir Alex Ferguson stepped into the Mark Clattenburg controversy by effectively accusing Chelsea of lying.
Brendan Rodgers says he is desperate to sign three strikers in January - but has told Andy Carroll he still has no use for him.
Roberto Martinez has warned Totttenham they must resist cashing in on Gareth Bale or forget about the Champions League.
Mark Hughes is certain that the bottom-three showdown with Reading will not spell the end to his QPR reign.
Roberto Mancini welcomes the Barcelona connection at Manchester City - and insists he is not haunted by the shadow of Pep Guardiola.
Sir Alex Ferguson is "convinced" that the referee Mark Clattenburg is innocent of the racial slurs Chelsea allege were aimed at Mikel John Obi.
Sir Alex Ferguson waded into the Mark Clattenburg race row yesterday by claiming it was "unthinkable" that the referee racially abused John Obi Mikel. Also:
Mark Hughes expects to be the manager of Queens Park Rangers, even if they lose to Reading tomorrow.
Roberto di Matteo yesterday reacted to Sir Alex Ferguson's defence of Mark Clattenburg by accusing Manchester United of being more favoured by referees than any other Premier League club.
Brendan Rodgers has argued that diving has become such an endemic disease in the Premier League it is folly to single out Luis Suarez for abuse.
A war of words erupted last night between Manchester United and Chelsea after Sir Alex Ferguson openly attacked the European champions' complaint against Mark Clattenburg.
Brendan Rodgers says the sudden Premier League clampdown on diving is proof that Luis Suarez's critics have unfairly scapegoated the South American striker.