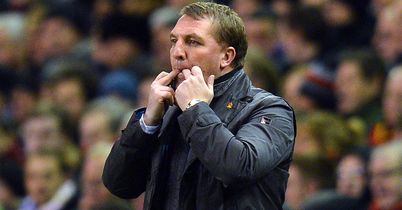 TEAMtalk tactician Tom McDermott breaks down Liverpool's style of play under manager Brendan Rodgers - and why it's not working so well.
Liverpool have struggled to adjust tactically for most of this campaign and after two defeats this week many supporters have started to question Brendan Rodgers' ability to manage the club for the first time since he took over from Kenny Dalglish last summer.
The high pressure and fluid game that Rodgers prefers hasn't quite taken off in the way he would have liked or expected and the club are stuttering in the Premier League and Europe.
The playing style in theory is simple and it's surprising that more clubs haven't cottoned on or tried it. You win the ball (ideally) as high up the pitch as possible. Or, force your opponents through pressure, into a mistake. Once you have won possession the idea is that you keep the ball in an advanced position until you create a chance.
Now, playing such a way is great if you are Barcelona or have the players to carry it out. Swansea for example, under Rodgers, delighted their supporters last season with their ability to win the ball all over the pitch and almost pass the opposition into submission. It was refreshing to see a club who had just gained promotion play with such a unique style.
The approach also requires your players to have a certain amount of tactical nous about them as well as immense levels of physical fitness because they are required to constantly hunt the opposition down around the pitch in search of the ball.
Unfortunately for Rodgers and Liverpool they have tried but haven't quite grasped the concept. The players are not capable of playing in such a way and therefore the clubs period of transition appears to be heading into another season.
So who is to blame? And, more importantly from a Liverpool perspective, what can be done?
The blame starts and ends with the manager. Rodgers insists on putting his players into positions and roles that only experienced players, or, players who are used to such a system can master. Time too is also against him. Rodgers first introduced the changes in pre-season and the 'getting used to it' period has passed. He needs results and quickly.
Ultimately, Rodgers' persistence in sticking with his style of play has cost Liverpool valuable points and if he continues it will eventually cost him his job. It IS possible to play the 'Liverpool way' a different way.
At the moment Liverpool are pressing sides when they don't have the ball. The trouble is that too many of their opponents are managing to work a way through the Liverpool lines or play it around them. Because of this pressing, the Liverpool players not only find themselves dragged out of position in pursuit of play, but by doing so, they are leaving space in other areas of the pitch for the opposition to exploit.
Of course, from time to time it will result in a goal or two for Rodgers' side. It has already this season. But, it's currently harming the clubs chances of progression rather than helping.
The solution is simple. Go back to basics. In the current system Luis Suarez works superbly through the middle, more or less on his own. His goal-scoring record speaks for itself. So, don't change it.
Behind him, that's where the surgery starts and it involves the same players just in roles that are better suited to their ability.
When the opposition has the ball line up with five across midfield, behind Suarez (I will let you decide your preferred five). This allows the side to maintain the obvious threat up front in the Uruguayan while offering more defensive cover as a unit in front of their back four.
In this system hunting the ball continues but with the emphasis as a unit in a more controlled compact fashion rather than individual players trying to close down the opposition defenders as soon as they receive the ball. The main task is to protect their defensive third and attempt to claim possession.
Then, when Liverpool have the ball the five in midfield reverts to a three, with the two wide men supporting Suarez in the final third whilst still maintaining shape further back down the pitch in the form of the other remaining three midfielders.
Depending on the type of attack one or maybe two of the remaining midfielders may offer further support from a central area.
The idea offers Liverpool shape and extra defensive security but also the flexibility to interchange when attacking. It makes the side as a whole harder to break down and provides them with more than one goal threat going forward.
It all looks very easy on paper but I believe Liverpool are guilty of over complicating their approach to games and it's proving costly.
Would a slight change in how they approach games mean they start jumping up the league table straight away? Probably not, but I am sure their current record, which includes a failure to beat a side in the top 10 of the Premier League, might read slightly differently.
Rodgers has said that his side haven't got the points they have deserved this season. But, by asking his squad to play in positions and a style they are more comfortable with in the future, may provide the Merseyside club with a better chance of heading towards the top four spot they crave.