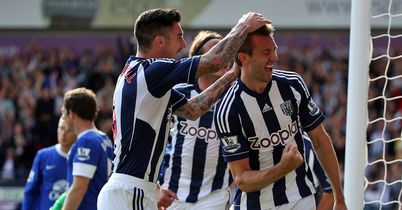 FanZone's Tom Harper believes Gareth McAuley has been the rock on which West Brom's success this season has been built - and deserves an award.
It is fast approaching the time of year when supporters are given the opportunity to vote for their Player of the Season.
Most clubs will have one outstanding candidate - you have to assume that the vast majority of Spurs fans will vote for Gareth Bale, and most Liverpool fans will probably expect to see Luis Suarez pick up their award.
However, it is not so clear-cut at West Bromwich Albion this season. Of course, there have been stand-out players at The Hawthorns, but it is difficult to choose between at least three of them.
The main contenders are Gareth McAuley, Claudio Yacob and Youssouf Mulumbu, but you could also make a case for Ben Foster and Romelu Lukaku, with both of them having enjoyed excellent campaigns as well.
In my opinion, though, the player who deserves the award is McAuley.
There was plenty of scepticism when he joined the club in the summer of 2011 as a free agent after his contract at Ipswich had expired.
Despite the club spending no money on a transfer fee for him, many supporters saw the signing of McAuley as a big risk. He was 31 years old and had not played in the Premier League before, with a lot of people basing their opinion of him on a couple of less than impressive displays for the Northern Ireland international side at the start of the season.
Having missed most of his first pre-season at the club through illness, McAuley had to wait for his chance in the side and was essentially fourth-choice centre-back, with Craig Dawson (who had just returned from a season-long loan spell at Rochdale) getting a chance in the side before him.
Since breaking into the side, though, McAuley has gone from strength to strength.
He was one of Albion's most consistent players last season, but has really come to the fore under Steve Clarke this season.
His consistency at the back has seen him arguably replace Jonas Olsson as the defensive rock on which our success is built.
McAuley might not be the fastest player in the world, but you rarely see him genuinely out-paced by a striker and his aerial ability is second to none in an Albion squad containing several players capable of holding their own in the air.
His knack of scoring important goals has helped make him a firm fans favourite at The Hawthorns, with his winner at home to Chelsea last season and crucial first goal in our 2-0 win at Liverpool this season being two that immediately spring to mind.
McAuley is now 33, but is probably the first outfield name on the team sheet every week. He is contracted to the club until next summer and based on current form, should be able to hold down a regular place in the side until then at least.
Albion fans have spent the last few months singing about how McAuley is better than JT (John Terry), and we have a point at the moment based on the form of the two players over the last year or so.
His name will not be mentioned by any national journalists or pundits at the end of this season, with most of them probably focusing on the goals of Lukaku and how they have helped our cause.
However, there is no doubt that Albion fans will continue to give McAuley the plaudits he deserves after almost every performance and I would be surprised if he does not win our Player of the Season award, even with the form of the likes of Yacob and Mulumbu this season.