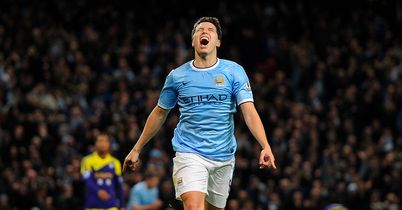 Samir Nasri's outstanding form comes as no surprise to his Manchester City team-mates, according to Gael Clichy.
Nasri is enjoying his best spell since he arrived from Arsenal two years ago, and he scored twice in the 3-0 victory over Swansea on Sunday.
The midfielder struggled and suffered much criticism last season but he appears to be blossoming under new boss Manuel Pellegrini and Clichy is pleased to see him at his best.
His fellow France international and former Arsenal colleague said: "I have known Samir for a few years now and I am not surprised that he is doing well - not just yesterday but from the start of the season.
"Some people say you need to keep a player's legs fresh but I believe that the more games you play the better you get and the more your confidence grows.
"Samir has always had this quality and the fact that he has been playing for a few months shows through his form.
"When he is like this he is hard to play against and great to play with. But it wasn't just him as the back four played really well and the strikers worked hard defensively.
"They are not an easy team to play and we had a bit of luck in the first half-hour with the chances they had but after that we deserved the three points."