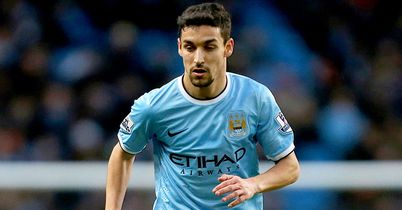 Jesus Navas admits Manchester City must outwit Chelsea boss Jose Mourinho if they are going to maintain their title charge.
City are sitting top of the Premier League after Wednesday night's ruthless 5-1 thrashing of 10-man Tottenham at White Hart Lane.
Second-placed Arsenal could overtake City at the weekend, but Manuel Pellegrini's men will move back to the summit with a win over Chelsea at the Etihad on Monday.
Navas is fully aware of Mourinho's mind games and tactical nous, having faced his Real Madrid side while playing for Sevilla.
The winger has urged City to maintain their red-hot form as they approach a crucial stage in the league.
"If you want to challenge for all the titles, you have to be ready for this type of weeks or months that are very demanding and you have very important matches," he said.
"But we are working really hard and I think we are prepared to face any team.
"Mourinho's teams work especially hard, all the players.
"He has a special, winning mentality so it is always difficult to face teams that Mourinho manages."
Navas arrived from Spain in the summer and admits he is loving life on and off the pitch.
City have plundered 69 goals in a 20-match unbeaten run and Navas is relishing his role in their free-scoring forward line.
"I am really happy here in England. I have settled down very, very well both on a professional level and personal level," said the 28-year-old Spain international.
"All of my team-mates help me very much in adapting to a new league, a new style of football.
"On a personal level, I have my family here, my wife, my daughter, so I am extremely happy.
"I love football and enjoy playing football. That's why I came here. I am very happy and cannot complain.
"We are enjoying the style a lot, not only the players but also I think the fans.
"We have to keep working like this, working really hard and, if we do it like this, then we are going to get the same results."
You can watch Manchester City's crucial match with Chelsea on Monday Night Football on Sky Sports 1, starting at 7pm.