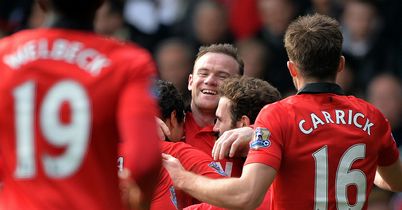 Wayne Rooney, Steven Caulker and Jay Rodriguez's stats got a boost over the weekend, while Chelsea's clinical attack was on show against Spurs.
We take a look at the key Opta statistics after a weekend which saw Chelsea extend their lead at the top of the Premier League and Fulham suffer a disastrous defeat at the bottom, while Arsenal, Sheffield United, Hull City and Wigan Athletic made it into the last four of the FA Cup.
West Bromwich Albion 0 Manchester United 3
Wayne Rooney has scored seven goals in his last six Premier League starts against West Brom.
Danny Welbeck's goal ended a move of 18 passes, making it the joint-fifth longest sequence of passes before a goal in the Premier League this season.
Wayne Rooney is the first player in Premier League history to record double figures for both goals and assists in five seasons.
He has done so in 2006-07, 2007-08, 2010-11, 2012-13 and 2013-14.
Rooney has scored or assisted 252 goals in the Premier League overall.
This was the first time Manchester United had been ahead at half-time in a Premier League away game since December 15.
Both of Phil Jones' Premier League goals for United have come in the West Midlands (at Villa and WBA).
WBA have won only one of their last 18 Premier League games.
West Brom scored five goals in this fixture last season; on Saturday they managed only three shots on target.
Cardiff City 3 Fulham 1
Fulham have gone 14 Premier League away matches without a clean sheet.
Cardiff scored only their third first-half goal in their last 17 Premier League games.
Cardiff have kept only one clean sheet in their last 13 Premier League games.
Lewis Holtby now has two Premier League goals. One for Fulham and one against Fulham.
Steven Caulker has four Premier League goals this season; the only defender with more in 2013-14 is Seamus Coleman.
Cardiff scored three times for only the second time in the Premier League this season (after doing so at home to Man City).
Fulham have conceded four own goals this season, only Sunderland (5) have let in more.
Eleven of Fulham's 14 shots in this game came in the second half.
This was Cardiff's first ever win by a two goal margin in the Premier League.
Crystal Palace 0 Southampton 1
Crystal Palace have failed to score in their last five league games against Southampton.
Jay Rodriguez has eight away goals in the Premier League this season, the joint-highest with Luis Suarez, Daniel Sturridge and Wayne Rooney.
Palace managed only one shot on target in this game and only six shots overall.
Six shots is Palace's third lowest haul in a Premier League game this season.
Southampton had a possession figure of 69% in the first half.
Eighteen fouls conceded is the third highest figure recorded by Southampton in the Premier League this season.
England star Adam Lallana created five goalscoring chances in this game, three more than any other player on the pitch.
Norwich City 1 Stoke City 1
Stoke City have taken only four points from their last 13 Premier League away matches.
Norwich have scored just six goals in their last nine Premier League home games.
Ricky van Wolfswinkel scored with his first shot at goal in the Premier League on the opening day of the season but has attempted just three shots on target (scoring none) in 18 PL apps since.
Van Wolfswinkel has now played 1015 minutes in the Premier League this season and mustered only four shots on target.
Bradley Johnson has as many goals this season (3) as the last two Premier League campaigns combined.
Stoke picked up their 22nd red card since reaching the Premier League in 2008; only Sunderland (28) have more in that period (Arsenal also have 22).
Jonathan Walters is the 13th player to score a penalty and get sent off in the same Premier League game. Gareth Barry is the only player to do this twice.
Walters' penalty was the 750th goal scored in the Premier League this season.
Chelsea 4 Tottenham Hotspur 0
Chelsea have picked up the most points on home soil in the Premier League (41) this season.
Chelsea have lost none of their last 27 home games against Tottenham in all competitions, winning 17.
In 75 Premier League home games under Jose Mourinho, Chelsea have won 59 and lost none.
A winning margin of four goals equals Jose Mourinho's best in the Premier League.
Eden Hazard has scored (22) or assisted (18) 40 Premier League goals since he joined Chelsea in 2012.
Twenty of the 37 goals Tottenham have conceded in the Premier League have come in four games.
After 29 games Tottenham have a goal difference of zero.
All seven of Samuel Eto'o's Premier League goals have come at Stamford Bridge.
Chelsea have been awarded five penalties in the Premier League this season; only Liverpool (7) have taken more.
Chelsea scored with all four shots they had on target in this game, only the 12th time a team has done this in the last eight PL seasons.