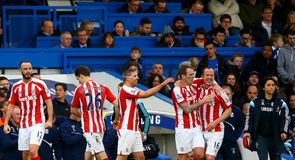 From the Editor:
Welcome to TEAMtalk's Stoke City Your Say forum - the place to be for positive Potters!
Not many people would have expected Stoke to take any points off Chelsea so the 2-1 defeat really doesn't mean a lot in the scheme of the season. And Charlie Adam's amazing goal ensured we'll have something to remember for a long, long time.
There were positives and negatives to take from the game from a Stoke point of view but the most important thing was that Chelsea did not win at a canter because that could have hit confidence hard after successive defeats going into the game.
It is now crucial Stoke build on the good and learn from the bad against West Ham because a defeat there would almost certainly spell the end to our hopes of finishing eighth this season. Win, however, and matching last year's ninth-placed finish is the least we should achieve.
With Moses back and several other players benefitting from a break, we should go to Upton Park full of confidence. Let's hope it's not misplaced!
Homzy