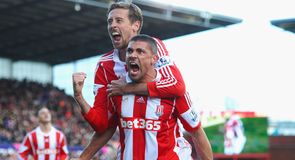 From the Editor:
Welcome to TEAMtalk's Stoke City Your Say forum - the place to be for positive Potters!
March was a month that every Stoke fan identified as being key to our chances of survival but it was the games against the teams around us that were seen as the most important of all.
That is still true to a certain extent but a win over another top team, following those of Chelsea and, ahem, Manchester United, mean there is slightly less pressure on the players going into games against Norwich, West Ham, Aston Villa and Hull.
However, take a good points haul from those four games - anything more than six points - and Stoke can forget about relegation for another season. It would be a surprise if more than 37 points are needed to stay up this time around.
Getting to that target does, of course, mean Stoke need to improve their record against the league's lesser teams.
With the more patient build-up introduced by Mark Hughes, it can be difficult to break down opponents that sit with lots of men behind the ball. Conversely, it can be easier to create chances against better sides that commit more men forward and leave spaces at the back.
However, although he didn't play against Arsenal, Peter Odemwingie has added a new dimension - pace, above all else - to the attack, while Marko Arnautovic is starting to regularly produce the sort of form we have so far witnessed only in dribs and drabs until now.
Furthermore, Stephen N'Zonzi looked back to his best in Saturday's win, while Charlie Adam had been enjoying the best run of his career at the club until a below-par performance against the Gunners. You would hope there are now enough attacking players on form to see the team to safety.
Talking of goals, it is worth pointing out that Stoke need to score only six in the final 10 games to match last season's tally of 34.
What is more interesting, though, is that the total of 19 from open play is already four more than Tony Pulis' side managed in the entirety of last season (and the 12th most in the league, which is about par). In that respect, the change of style has clearly paid dividends.
However, while Stoke scored 15 set-piece goals last season, the third highest total in the league, they have scored only six so far this campaign. Only four teams have managed less.
So, yes, there is room for improvement in Stoke's attacking play, but the biggest failing at the moment remains set-pieces, which should be a strength given the height of the team.
Ahead of these 'six-pointers', which are sure to be tight affairs, let's hope it's something Mark Hughes and co. are working on.
Homzy