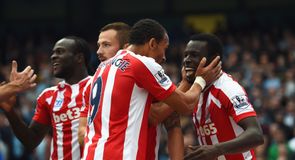 From the Editor:
Welcome to TEAMtalk's Stoke City Your Say forum - the place to be for positive Potters!
Looking at the fixtures at the start of the season, most Stoke fans would have expected more than four points after the first four games. In fact, the only defeat most people would have predicted would against Manchester City.
As it is, Stoke won at the Etihad, drew against 10-man Hull City but failed to even score at home against either Aston Villa or Leicester.
It doesn't take a genius to work out the problem. Stoke are a good counter-attacking team with players that can cause opponents lots of problems when afforded pace, but against sides that sit deep and reduce the space Stoke struggle to find a way through.
It was the case even during the good run last season - remember those back-to-back 1-0 home wins over Hull and Newcastle? - but the introduction of some new players combined with the loss of Peter Odemwingie to injury has made the problem an even bigger one.
It was hoped that Bojan would provide the sort of skill and creativity needed in tight areas to break down sides such as Leicester but, for now at least, he isn't getting the ball in the right areas enough and is being too safe with it when he does get it.
He may well turn out to be an excellent signing, but it was undoubtedly a mistake on Hughes' behalf to play him against Leicester with Charlie Adam left sat on the bench. For all his faults, Adam gives the team the urgency and impetus it has lacked in the two home games so far.
It was also a surprise to see Jon Walters start over Marko Arnautovic, who hasn't been at his best this season but still causes headaches with his dribbling skills. It is that sort of ability that is going to be crucial to Stoke breaking down deep defences.
Team selection aside, the other (long-standing) issue that Hughes needs to address surrounds the lack of goals being scored from set-piece situations. We've edged many tight games over the years with a goal from a corner or free-kick, and it isn't a side of the game we can afford to ignore - particularly when goals aren't flowing from open play.
There's no need to panic at this early stage, and there's no reason why Stoke can't get two positive results from the next two games at QPR and then at home against Newcastle. By that time you would hope Hughes had worked out his best side and that we can properly start to get excited about what this team can achieve.
Homzy