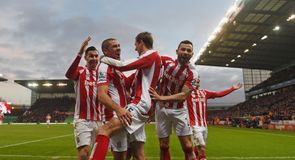 From the Editor:
Welcome to TEAMtalk's Stoke City Your Say forum - the place to be for positive Potters!
Beating Arsenal at the Britannia is something we're becoming accustomed to as Stoke fans, but there was still something very special about the way our favourite southern softies were torn apart in the first half on Saturday.
Stoke have actually played better than that this season, but there was not a single individual battle on the pitch that a player in red and white did not win.
Ryan Shawcross was completely and utterly untroubled by Olivier Giroud; Geoff Cameron and Steven N'Zonzi absolutely bossed the midfield; Jon Walters bullied Kieran Gibbs; Peter Crouch made Per Mertesacker and Calum Chambers look like a Sunday League defence; even Santi Cazorla and Alexis Sanchez failed to cause too many problems on the flanks.
Bojan, meanwhile, was absolutely unplayable. It is still very early days, but he is already - quite justifiably - being spoken about as perhaps the most talented player to represent the club since Alan Hudson. Frankly, it's hard not to get carried away by him.
It's just a shame he had a brilliant second goal - incorrectly - ruled out as, after escaping a dodgy start to the second half, it's hard not to think Stoke would have gone on to score even more after making it 4-0.
As it is, we soon went from celebrating a fourth to watching Arsenal score twice in quick succession, setting up a familiar end to the game. It wouldn't be Stoke if they didn't make it difficult!
Regardless of how it was achieved, though, it was an excellent, fully deserved and much-needed three points that takes a lot of the pressure off on the back of three successive defeats.
Injuries are stretching the squad to its limit but it has been proven time and time again that this Stoke side, regardless of who plays, can beat anyone on their day.
Here's hoping they have a few more of them to finish 2014 with a flourish.
Homzy