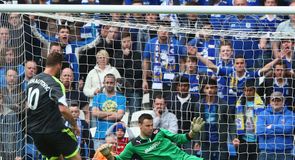 From the Editor:
Welcome to TEAMtalk's Stoke City Your Say forum - the place to be for positive Potters!
Since beating West Ham and Aston Villa last month, Stoke haven't reached the same extreme highs since.
They didn't against Cardiff on Saturday but that was never likely in an away game against a team scrapping for Premier League survival. The league table might suggest Cardiff are a poor side but on the day, given their incentive and Stoke's relative lack of it, it was always going to be a tough test.
That proved to be the case and there was a spell after Cardiff's equaliser that it seemed certain they would go on to win the game. Yet Stoke defended manfully to ensure that didn't happen and by the end were pushing to the extent that they would have been disappointed not to win the game.
At this stage of the season, Mark Hughes and his players deserve an enormous amount of credit for continuing to push themselves and continuing to put in performances, which perhaps not quite to the level of those two last month, are still superior to many of those produced in the first half of the season.
It's natural for football fans to consistently expect better, to always want more, but we shouldn't underestimate the improvement in the team over this season and we certainly shouldn't undervalue the consistency they are now showing both in their defensive and attacking play.
Every Stoke fan should be looking forward to these last three games, a possible highest-ever points total, and what I'm certain will be an exciting summer in the transfer market.
Homzy