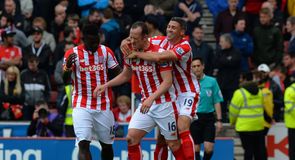 From the Editor:
Welcome to TEAMtalk's Stoke City Your Say forum - the place to be for positive Potters!
After already setting a record Premier League points total with a draw at Burnley, Mark Hughes' class of 2015 further cemented their place in the history books with a staggering 6-1 win over Liverpool to round off another fantastic season.
It was Liverpool's biggest competitive defeat since 1963 and the worst of Steven Gerrard's career in his final game in Red, but more importantly it was Stoke's most convincing win in the Premier League so far and also the first time a Stoke team had scored six in the top flight since 1966.
Six years after that Stoke won the League Cup during the club's most successful ever period, but that is a mantle that Hughes' modern-day team look genuinely capable of taking on. They have already done what no Stoke side has managed since 1975 in securing back-to-back top-half finishes in the top flight, and with money to spend, the profile of the club higher than ever and hopefully a lot less bad luck on the injury front ahead, fans are well within their rights to feel excited about the future.
There is, of course, a limit to what a club of Stoke's limited resources can achieve in the Premier League, and we certainly shouldn't become blasé about finishing in upper mid-table, certainly not with the budgets of clubs such as Everton, West Ham, Newcastle, Aston Villa and Sunderland that finished in the bottom half this season. Clubs with that sort of money are unlikely to flounder forever.
However, there is also an argument that the best clubs in the Premier League are not as strong as they once were; the fact that Stoke finished only 10 points behind Tottenham in fifth is testament to that. Putting six past Liverpool, meanwhile, no matter how shambolic they were on the day, highlights that Stoke do not need to fear the biggest clubs any more.
With more clever work in the transfer market, plenty of hard work and even more good luck, who would rule out Stoke breaking yet more records next season? Not me.
Homzy