Smith Rowe expected to stay at Arsenal despite Chelsea interest but Arteta urged to use attacker more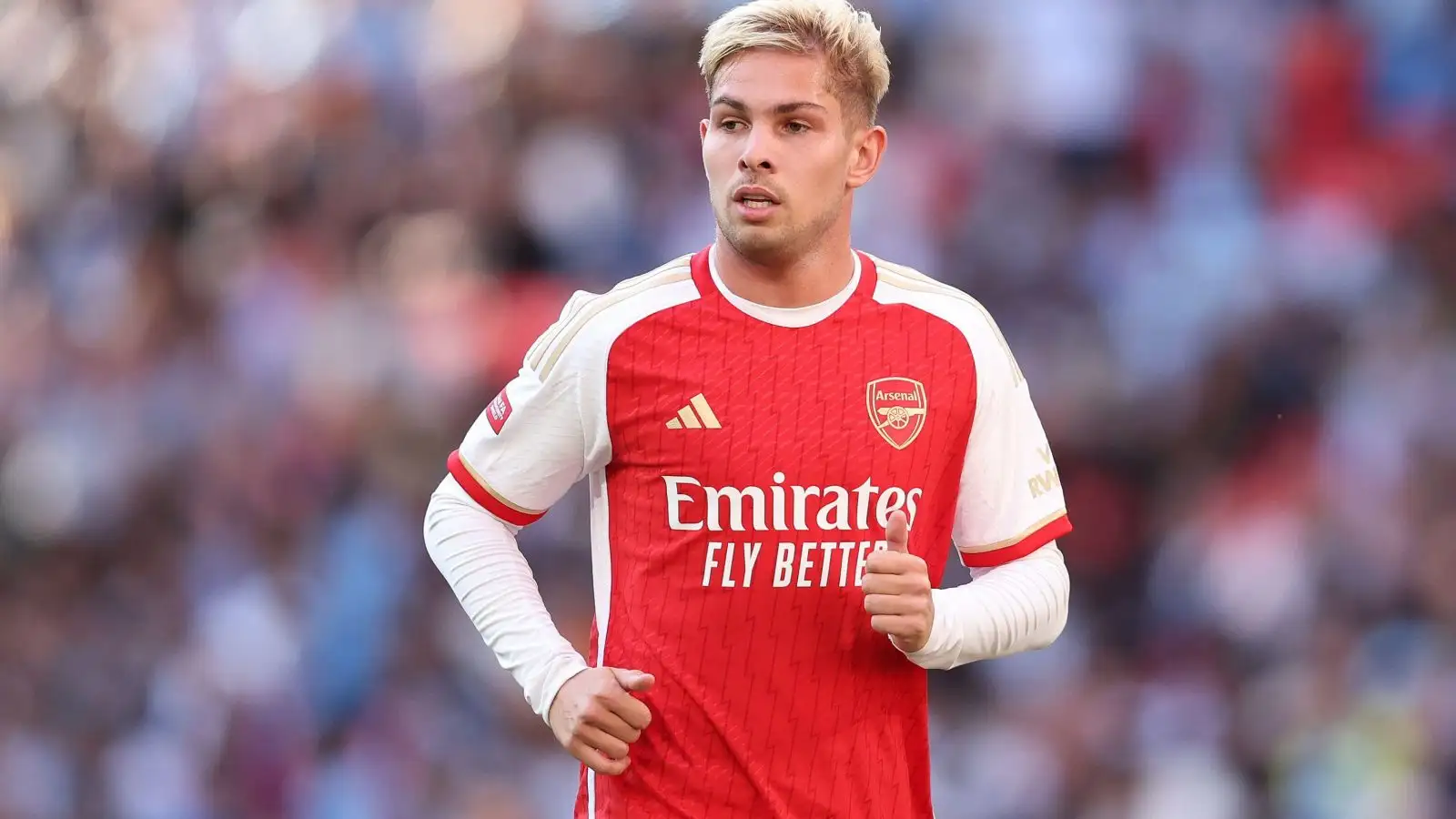 Arsenal attacker Emile Smith Rowe is expected to stay put during this transfer window despite interest from Chelsea according to Charles Watts.
Smith Rowe attracted the attention of Mauricio Pochettino's club this week as they seek to add yet more reinforcements in attack.
With Smith Rowe down the pecking order at Arsenal under Mikel Arteta, he was seen by the Blues as a realistic prospect.
However, with assurances given to the England international by his coach during talks this summer, it is likely he remains with his boyhood club while Chelsea move onto other targets.
Cole Palmer, the Manchester City winger, is the latest name in the frame with a deal expected to be finalised before Friday's transfer deadline.
"I've been speaking to people about this in the last 24 hours or so to try and find out what's going on after all these Chelsea links suddenly emerged," Watts tells TEAMtalk.
"As far as I'm aware, there was interest from Chelsea, there was never a bid or anything like that. There was just a conversation to gauge whether Arsenal would potentially be interested in it. And I was told that Arsenal made it clear that they were not interested in doing anything. And that was as far as it went.
"As it stands with a couple of days left before the window closes, I don't think he is going anywhere. But if someone comes in and puts a massive offer on the table, that might change Arsenal's thinking for a player who clearly isn't one of the first names on the team sheet at the moment."
STILL IN ARTETA'S PLANS
Smith Rowe missed the first half of last season while recovering from a groin operation but could not force his way into the lineup as Arsenal attempted to maintain a Premier League title challenge.
"Emile sat down with Mikel Arteta and his agent; they had a big meeting at the start of the summer and understandably, his people wanted to know what the plan was given his lack of game time last season," Watts continues.
"They came out of that meeting having been told that he still featured prominently in Arteta's thinking and that he wasn't going to go anywhere. We're right at the end of the summer and it doesn't seem like it. As much as there's been all the talk in the last 24 hours or so, my understanding of the situation is Emile is going to be staying at Arsenal but you can never say never. There could be a huge bid but right now he's staying."
CHELSEA THROWING DARTS
Having already signed the likes of Nicolas Jackson, Christopher Nkunku and Deivid as new forward options, Chelsea are still in the hunt for more reinforcements to their attack.
"Chelsea are throwing darts at the moment," says Watts. "It seems like they've moved on to Cole Palmer at Manchester City and, and that's a dart that might well have actually stuck.
"They never bid [for Smith Rowe] or anything like that. They were looking around for players that fit the criteria and who might be available. From the outside looking in, you probably look at Smith Rowe and think he might be available because he's not featuring for Arsenal and he's a very good player. It doesn't surprise me they're interested in him."
READ MORE: Romano confirms next Arsenal exit with £12m buy option inserted into Nottingham Forest deal
DETERMINED TO IMPRESS
With Smith Rowe having missed so much football last season, he is desperate to earn his way back into Mikel Arteta's starting XI and displace Gabriel Martinelli.
"I've been told that Smith Rowe has been working really, really hard behind the scenes, he was really determined to force his way into Mikel's thinking," says Watts.
"He's fit, which is a big thing for him after the operation. He's come back and he has not had any sort of setback from it, and is pain-free for the first time in a long time. We saw that in his brief appearances during preseason, but he hasn't had a chance yet in the Premier League.
"But with the cup competitions starting up, I'm sure we're going to see him on the pitch soon for Arsenal and hopefully make a really big impact, because I think he's a fantastic player. It'd be a huge, huge shame if he was to leave Arsenal without getting close to fulfilling his talent at this club."
THINGS CHANGE QUICKLY
The 23-year-old remains under contract with the Gunners until 2026 but unless things change there might be a difficult decision down the line.
"There's definitely going to come to a point where something has to happen with Smith Rowe because if he's not playing then it's just an absolute wasted talent there who needs to be playing at his age," says Watts.
"There will be a point where you think he's going to have to try and move on for the sake of his career, but things can change very quickly at Arsenal.
"Just a couple of years ago or slightly less than that, Smith Rowe was always playing every game and [Gabriel] Martinelli wasn't getting a look in. Everyone was thinking what's happening with Gabriel Martinelli?
"Mikel didn't fancy him and then suddenly Smith Rowe got an injury, Martinelli came in, seized his opportunity and has never looked back. So things can change. It's just about getting the opportunity.
"One of Mikel Arteta's mistakes last season was not using Emile in the second half of the season enough. There were chances where he could have given him minutes to show what he can do and he didn't give him those minutes. As a player, how are you supposed to take your opportunity if you're not given them?
"I'm hoping that this season we see Mikel use those opportunities when they do arrive in certain games, when Arsenal are winning with half an hour to go, and looking fairly comfortable, players like Smith Rowe are given an opportunity to get the minutes they need to really show that they're worth something and worth using."
READ MORE: Liverpool submit contract offer for top defensive midfielder, as Arsenal star gets offered to Klopp