Arsenal star tipped for heartbreaking January transfer with 23 y/o talent stagnating under Arteta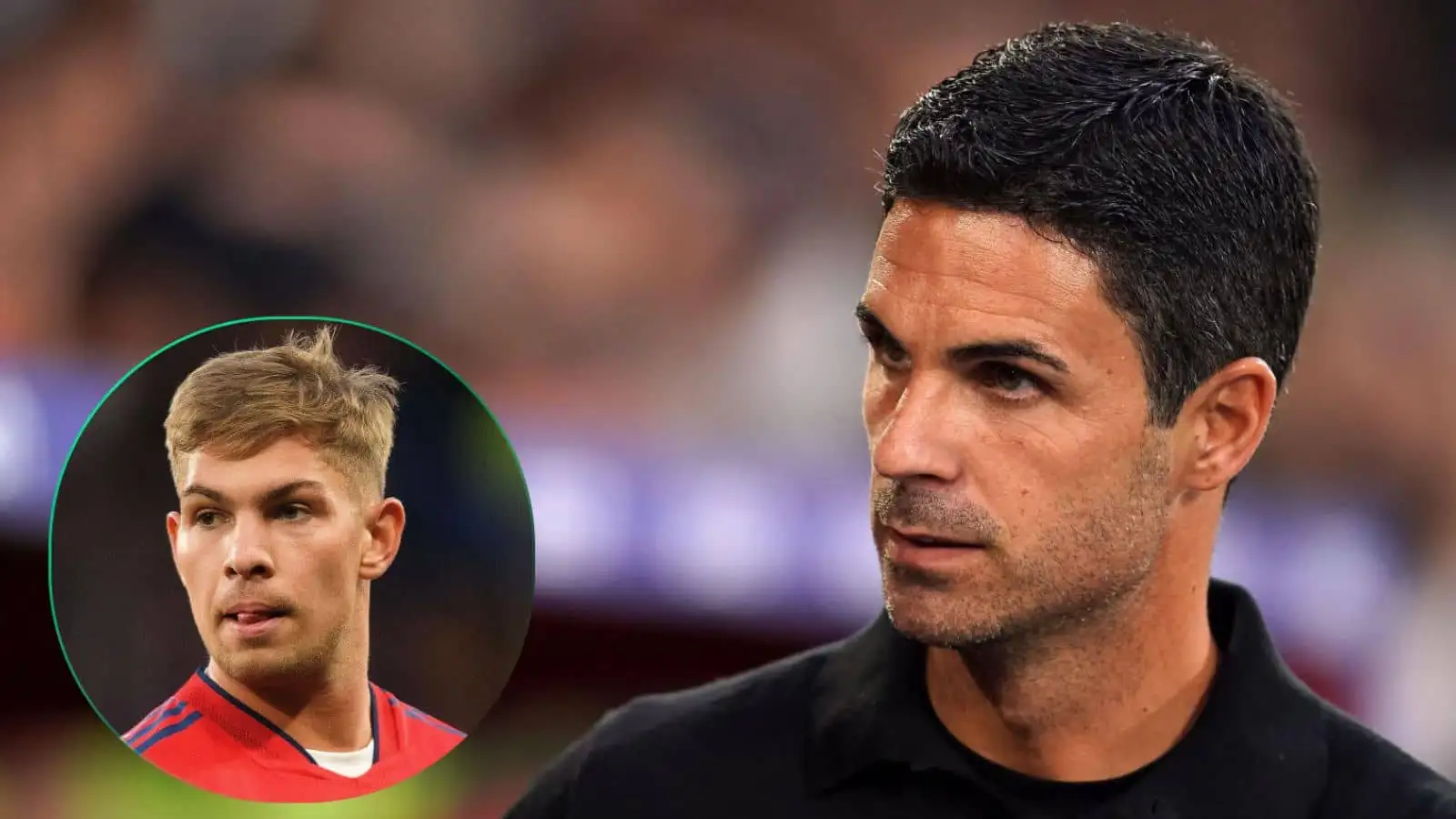 Arsenal star Emile Smith Rowe has been told why there may be no way back for him under Mikel Arteta at Emirates Stadium and that his only solution might be push through a January transfer with multiple clubs likely to be keen.
The 23-year-old star is a hugely-popular figure with Gunners supporters, having burst through the club's academy ranks to become a first-team star. Despite making his debut for Arsenal back in September 2018 when he became the first player born after the year 2000 to play for the club, it was not until Arteta's appointment as manager that Smith Rowe was to become a regular fixture in the side.
Indeed, his breakthrough season at Emirates did not come until the 2020/21 season when he made 33 appearances in all competitions, scoring four goals.
But the following campaign was certainly Smith Rowe's best yet, with the player truly fulfulling his enormous potential and making 37 appearances, scoring 11 times and weighing in with two assists.
That form also saw the creative midfield talent earn a call-up to the England squad, underlining that quality with a goal and assist for Gareth Southgate's side from three caps.
However, it was around the same time that Arsenal brought in Martin Odegaard from Arsenal, the Norwegian star signing on an initial loan from Real Madrid in January 2021.
Odegaard has since gone on to become a huge player for the Gunners, with the 24-year-old handed the captaincy and rewarded with a bumper new deal – which TEAMtalk was the first to exclusively reveal – as a sign of his enormous influence at Arsenal.
And with Fabio Vieira also joining the club in June 2022, Smith Rowe has found competition for places in the side even tougher than ever.
READ MORE: Arsenal man sixth in most chances created Premier League table
Alan Smith believes Emile Smith Rowe will have to leave Arsenal
As a result, and while injuries were a factor, Smith Rowe was limited to just 14 appearances in all competitions last season.
Now with Kai Havertz arriving this summer and presenting another option to Arteta, it seems the writing is well and truly on the wall for the 23-year-old star.
And while he has already appeared five times, he only has one start to his name, in a Carabao Cup tie against Brentford.
One observer in former Gunners striker Alan Smith feels the player is being wasted under Arteta and believes the player will have little choice but to push through a January exit to get his career back on track.
However, as he told the Seaman Says YouTube channel, he does not think Smith Rowe will be short of admirers.
"There's something about Emile that Arteta's not sure about," Smith said. "And yeah, you're right, him and [Bukayo] Saka came through the academy and they were coming up, heading for the stars. And then, Bukayo's gone like that, and Emile's gone backwards, hasn't he?"
Smith reckons Smith Rowe will not be short of admirers and that, ideally, Arteta would like to keep him around.
"He must be thinking, probably I need to move if this continues because he's too good. But if you're Arteta, you want to keep that depth of quality in your squad, so he'll like to keep him I'd imagine. He got a run-out in the Carabao at Brentford. But he's hardly getting a sniff.
"There'll be so many clubs that would have him. I don't think he's trouble or anything like that. He's a good lad. So yeah, it's just a bit of shame for him how it's gone."
Suitors queuing up to sign Smith Rowe
It's hard to argue with Smith's point. Smith Rowe has faded increasingly from the first-team picture at Arsenal which is a massive shame for a player of his quality.
However, it has now come to the point whereby he needs a move to kickstart a career that has sadly stalled badly. As it stands, he is a long way from the England picture which, for a player of his quality, is a real crying shame.
Ultimately, if he tells Arteta he wants to move on, there will be plenty of clubs willing to snap Arsenal's hand off.
Indeed, the likes of Aston Villa and Newcastle are among those to have expressed an interest.
Despite his lack of action, any deal is unlikely to come cheap. Smith Rowe is contracted to Arsenal until summer 2026 and is rated in the £35m to £40m bracket by the Gunners.
Arteta would ideally likely to keep him, as he's a great player to call upon whenever needed. However, it's now got to a situation of 'use it or lose it' with Smith Rowe now surely feeling he needs that move to kickstart his stalling career. The move will surely disappoint fans, but when a struggling Havertz was signed for big money in your position over the summer, the player will probably know the writing is on the wall.
DON'T MISS: Arsenal plan in tatters as Liverpool explode into winger chase, with Klopp landing on ultimate Salah successor